Urologic cancer surgeon Gerald Andriole brings a newer prostate cancer procedure to the Greater Washington area that promotes quicker recovery and can reduce side effects compared with traditional treatments.
Image-guided ablation, which few specialists in the area perform, is a minimally invasive procedure that uses imaging technology, including MRI and ultrasound, to precisely target a tumor and burn or freeze it, turning it into scar tissue. Compared with a prostatectomy, this procedure can reduce urinary and erectile dysfunction.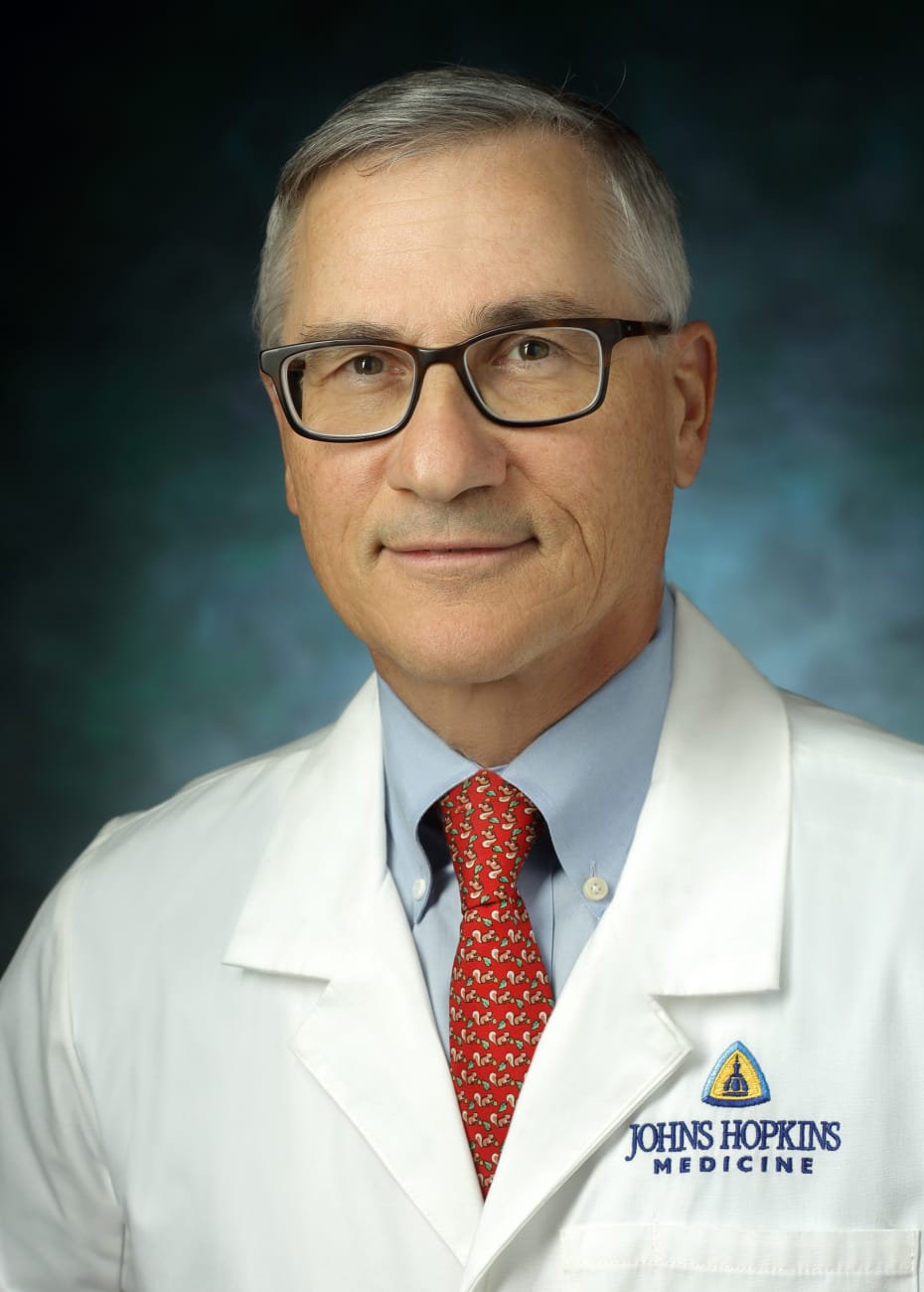 "The beauty of this procedure is that you can destroy certain men's cancer and potentially avoid the worst side effects," Andriole says. "Patients usually go home the same day, and the procedure typically takes less than an hour."
Andriole is the new director of urology in the National Capital Region for Johns Hopkins Medicine's Brady Urological Institute, which has pioneered world-class urologic care, research and education for more than 100 years. The institute's physician-scientists include some of the world's most accomplished urologic medicine specialists, including experts at The Johns Hopkins Hospital, Johns Hopkins Bayview Medical Center and Sibley Memorial Hospital.
Andriole, a national leader in research, looks forward to expanding Johns Hopkins urology services in the Greater Washington area, bringing patients the most advanced treatments for prostate cancer and men's health, and the latest in minimally invasive surgery. And, as part of the Johns Hopkins Kimmel Cancer Center, Andriole's patients who have prostate cancer have access to the full range of treatments, including clinical trials and research.
In addition to image-guided ablation, Andriole honed an image-guided prostate biopsy approach that uses MRI and/or micro-ultrasound technology that allows doctors to see a tumor in the prostate and take more accurately targeted samples. This reduces false negatives and helps to better determine the size and severity of the cancer, Andriole says.
If the imaging and the biopsy show that the tumor is small, not next to important nerve clusters or organs, and is not considered very aggressive, patients can receive image-guided ablation.
Benefits of the ablation, which is an outpatient procedure, include: it is performed under regional or spinal anesthesia rather than general anesthesia, it decreases the likelihood of the patient needing a catheter after surgery, and it reduces common side effects associated with prostatectomy.
Depending on the location of the known cancer, image-guided ablation also appears to enhance the safety of active surveillance, says Andriole. The procedure may eradicate all, or a significant number, of cancer cells within the prostate, thereby reducing the likelihood of progression on subsequent evaluations, he says.
If cancer recurs after patients undergo the procedure, they may be eligible for a repeat ablation. If not, they can proceed to conventional treatments such as surgery, radiation therapy and/or hormone therapy.
Nationally recognized for his contributions to prostate cancer screening and treatment, Andriole established the image-guided biopsy approach while he was at the Washington University School of Medicine in St. Louis, where he served as head of urologic surgery from 1999 until joining Johns Hopkins. He previously served as an assistant professor of surgery at the school of medicine and chief of urology at the St. Louis VA Medical Center from 1985 to 1999.
Andriole has contributed to more than 400 peer-reviewed publications, and serves as chairman of the prostate committee of the National Cancer Institute's Prostate, Lung, Colorectal and Ovarian Cancer Screening Trial. He is also chairman of the prostate committee of the Society of Urologic Oncology Clinical Trials Consortium.
For Andriole, with 35 years of research under his belt, his clinical and leadership approach all comes down to helping patients.
"Whatever discoveries we might make, what's most important is how they will impact patients," he says. "You have to work with patients who are struggling with these issues in real time so that you're in the best position to help them."
Education and Research
Gerald Andriole received his medical degree from the Sidney Kimmel Medical College at Thomas Jefferson University in Philadelphia, trained in surgery at Strong Memorial Hospital at the University of Rochester in New York, and completed his residency in the Brigham and Women's Hospital/Harvard Medical School Program in Urology in Boston. Following his residency, he completed a fellowship in urologic oncology at the National Cancer Institute in Bethesda, Maryland.
Andriole is principal investigator of the National Institute of Diabetes and Digestive and Kidney Diseases (NIDDK) Multidisciplinary Approach to Urologic Pelvic Pain and Symptoms of Lower Urinary Tract Dysfunction Research Network. He was chairman of the steering committee of the REDUCE Prostate Cancer Prevention Trial, as well as principal investigator of both the NIDDK's Medical Therapy of Prostatic Symptoms Benign Prostatic Hyperplasia trial and the Complementary and Alternative Medicine for Urinary Symptoms study.
Andriole is a member of the American Urological Association, the American Association for Cancer Research, the American Society of Clinical Oncology, the American Surgical Association, the American Association of Genitourinary Surgeons, and the Clinical Society of Genitourinary Surgeons, among other societies.
To refer a patient, please call 202-660-5561