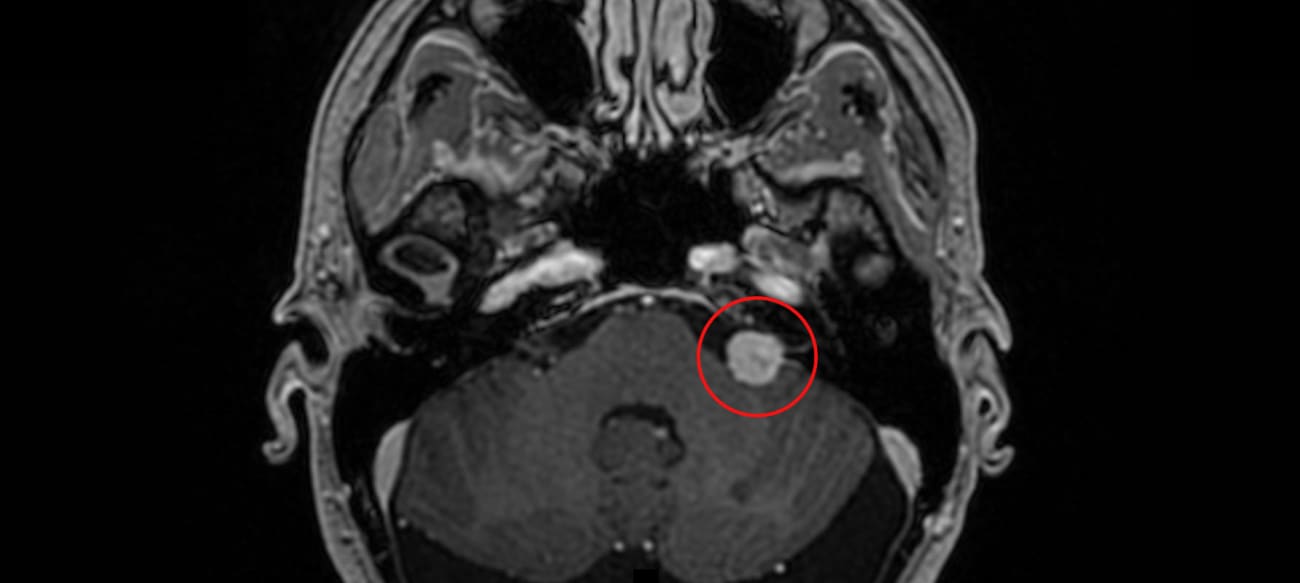 A 39-year-old patient with a small but growing vestibular schwannoma proved to be a complex case — the tumor, found incidentally during an MRI that the patient, who has multiple sclerosis, receives regularly, wasn't causing symptoms.
Radiation therapy would likely have stopped the tumor from growing, says neurosurgeon Shih-Chun "David" Lin. However, radiation carries significant risks for a patient this young, including future development of a tumor in the brain, face or neck, or hearing loss. Surgery can help avoid these issues.
Lin performed a minimally invasive, stereotactic MRI-guided retro-sigmoid craniotomy.
During the procedure, the tumor was removed through a small incision behind the ear, which provided access to the cerebellum and brainstem. Benefits of this method include less pain after the procedure than with an open craniotomy, less scarring and a faster recovery.
The nerves clustered in the area near the tumor made the surgery a difficult one, Lin says. In some patients with vestibular schwannomas, the nerve is dead, so damage is not a concern. But for a patient with no symptoms, there was a possibility the nerve would be affected.
"The challenge in this case was that she was having absolutely no neurologic deficit whatsoever," says Lin, chief of neurosurgery at Suburban Hospital. "The main concern is preserving the hearing and the facial nerves during this surgery."
The patient's facial nerve was not damaged, but her acoustic nerve was temporarily affected. She lost some hearing in her left ear, most of which has come back, says Lin.
Even though her vestibular nerve function was intact, the patient experienced vertigo after the surgery. After recovering for almost a week in the intensive care unit, she spent about two weeks in acute rehabilitation. The patient also received occupational therapy and speech and language therapy for a month and physical therapy for a few months. She was referred to a neuro-optometrist to re-train her eyes because her vision was partially affected after the surgery.
The six-hour procedure included close collaboration with otolaryngologist Wade Chien while the team monitored nerve function.
Vestibular schwannomas are rare, affecting about one in every 100,000 people in the U.S. per year. Few neurosurgeons perform operations to remove them.
Suburban Hospital (along with The Johns Hopkins Hospital and Johns Hopkins Bayview Medical Center) are among the few institutions in the region where clinicians can perform minimally invasive stereotactic MRI-guided retro-sigmoid craniotomy.
Lin says his patient "is pretty much back to normal."
"What she experienced after the surgery was normal and somewhat expected," he says, "and I'm glad that through our precision and collaboration with Dr. Chien, we were able to minimize damage to the patient's nerves and postop issues."