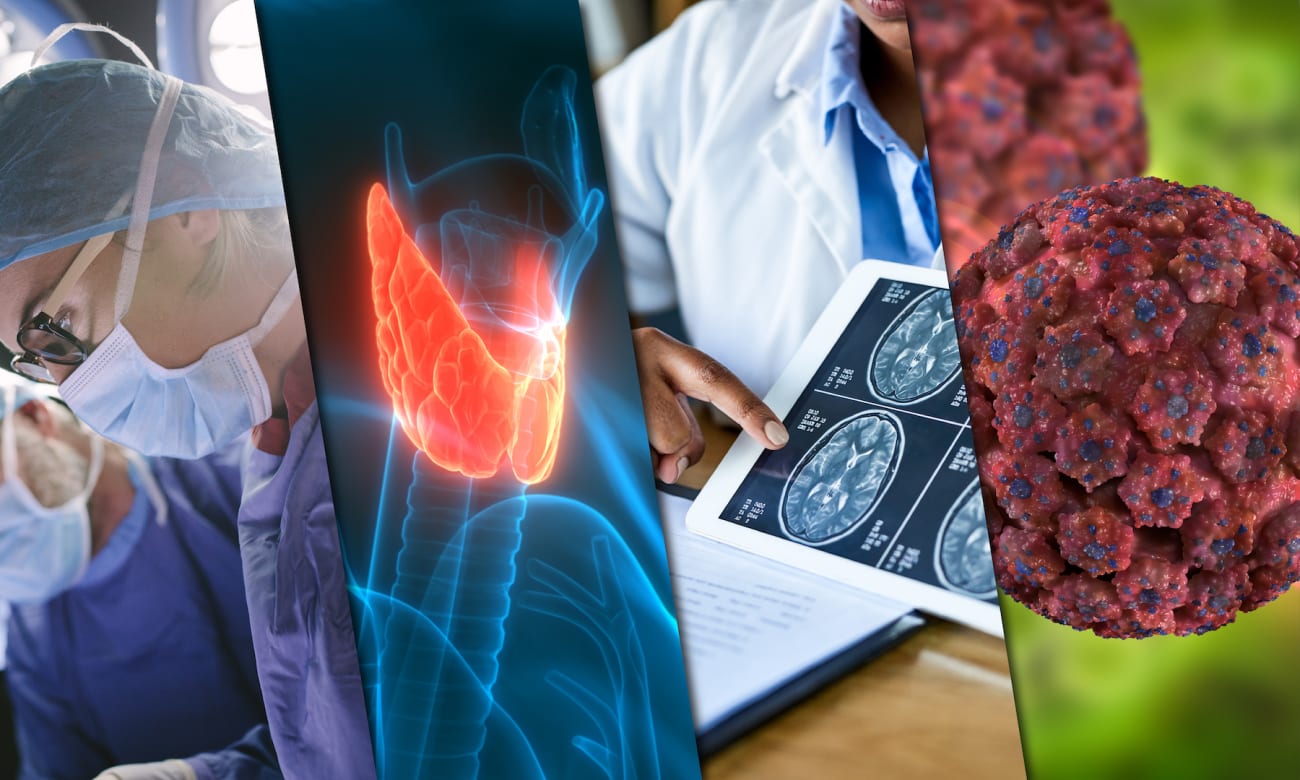 In 2021, the Johns Hopkins Department of Otolaryngology–Head and Neck Surgery once again lived up to its longstanding legacy as a leader in the field — launching a new center featuring comprehensive options for facial schwannomas, achieving national recognition for treatment of skull base tumors, and offering innovative treatments through clinical trials for small papillary thyroid cancer and recurrent respiratory papillomatosis (RRP). 
New Facial Nerve Schwannoma Center
The Johns Hopkins Facial Nerve Schwannoma Center was established to offer advanced and multidisciplinary care for facial nerve tumors. The center's focus is controlling tumor growth while improving or preserving any affected facial, hearing and balance functions. Patients with these rare and complex tumors have few options for care, which is why Johns Hopkins experts who are highly experienced in the management of these tumors joined forces to offer an array of cutting-edge treatment options to improve patient outcomes. The center includes specialists from otology and neurotology, facial plastics, head and neck oncology, radiology, radiation oncology and neurosurgery. 
Multidisciplinary Team of Distinction for Skull Base Tumor Care
The North American Skull Base Society recognized the Johns Hopkins Skull Base Tumor Center as a Multidisciplinary Team of Distinction. This center treats hundreds of patients a year, in many cases using novel, minimally invasive techniques. The center includes a collaborative team of neurosurgeons, otolaryngologists, radiation oncologists, ophthalmologists, medical oncologists, pathologists, neuroradiologists and endocrinologists. The center has a unique relationship with the National Institutes of Health, including collaborative research laboratories led by Johns Hopkins skull base physicians as well as unique clinical trials for patients with skull base tumors.
New RFA Trial for Papillary Thyroid Microcarcinoma
As part of a clinical trial, Johns Hopkins head and neck endocrine surgeons used radiofrequency ablation (RFA) to treat a patient with small, low-risk papillary thyroid microcarcinoma. The surgeons have used RFA to treat thyroid nodules for more than three years, and are now testing the procedure as an alternative to active surveillance or surgery for small papillary thyroid cancer. For patients who want to avoid scarring, the team continued to offer the transoral endoscopic thyroidectomy vestibular approach (TOETVA) — which was pioneered in the United States by Johns Hopkins surgeons.
Research into Novel RRP Treatment Option 
Clinicians in the Johns Hopkins Voice Center began enrolling participants for a nationwide clinical trial to evaluate the safety and efficacy of a novel therapy for RRP. Typically, patients with RRP undergo recurring surgeries to alleviate their symptoms. The trial is testing an intramuscular drug injection and electroporation to see if it can treat the underlying cause of the condition, based on immunologic principles and preclinical work done at Johns Hopkins. This first-of-its-kind investigational therapy is designed to initiate a specific immune response that can eliminate the cells harboring the human papilloma virus that causes RRP. Further research to develop new immunologic treatments for RRP is ongoing.