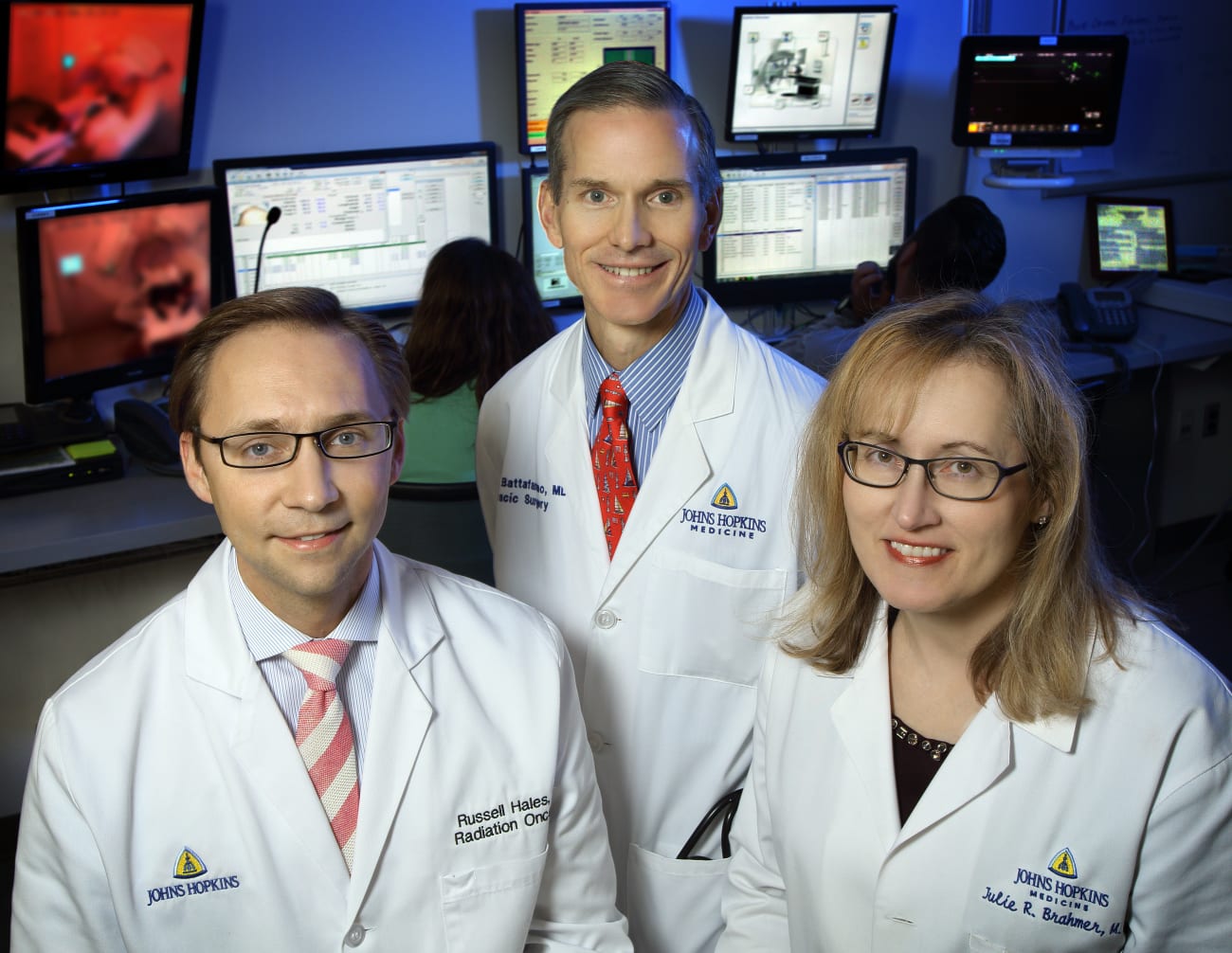 Johns Hopkins Kimmel Cancer Center offers patients with lung cancer comprehensive care at a number of locations — from downtown Baltimore to the city's northern suburbs, to Washington, D.C.
New patients who live in or around the Baltimore area are often first seen at Johns Hopkins Bayview Medical Center, home to the lung cancer program's multidisciplinary clinic, in which multiple specialists convene to review patient information and devise treatment plans in just one day. Once a care plan is developed, patients can choose to continue seeing their lung cancer specialists at Johns Hopkins Bayview, at The Johns Hopkins Hospital in East Baltimore, or at Green Spring Station in Lutherville, Maryland.
"The Johns Hopkins Bayview campus is particularly key, in that medical oncologists can see cancer patients together with radiation oncologists and surgeons, so we can save patients time and provide them with answers regarding their lung cancer treatment without them having to go to different clinics," says Julie Brahmer, director of the Thoracic Oncology Program and a professor of oncology at the Johns Hopkins University School of Medicine.
In the greater Washington, D.C., area, new patients can also be seen and treated in the multidisciplinary clinic at Sibley Memorial Hospital. "Patients receiving standard of care for lung cancer can be treated at all four of our locations very easily," says Brahmer. "We try to make their cancer care as convenient and supportive as possible."
Share Fast Facts
From a new infusion center in Maryland to a cancer center in D.C., lung cancer patients can receive comprehensive care at a number of locations. Click to Tweet
Each location has some of its own unique features, Brahmer notes. Johns Hopkins Bayview is home to a dedicated pulmonary nodule clinic staffed by an interventional pulmonologist — for patients with these nodules who need to be followed long term. Palliative care services also are offered there. At the East Baltimore campus, medical oncologists see patients at the new Skip Viragh Outpatient Cancer Building, with easy on-site access to the resources offered by the Harry J. Duffey Family and Patient Family Services Program, such as counseling services and help finding temporary housing or transportation. Thoracic surgeons see patients at the Johns Hopkins Outpatient Center nearby. In Lutherville, patients will be able to visit a state-of-the-art infusion center in Green Spring Station Pavilion III, opening this spring. And in Washington, the recently opened cancer center space has a radiation oncology center and infusion suite. Completion of an 80,000-square-foot proton facility is expected this year.
Patients also have access to innovative clinical trials at Sibley Memorial, Johns Hopkins Bayview and The Johns Hopkins Hospital, Brahmer says, and each location boasts dedicated lung cancer specialists who are full-time Johns Hopkins faculty.
For more information or to refer a patient for lung cancer treatment, call 410-955-LUNG.