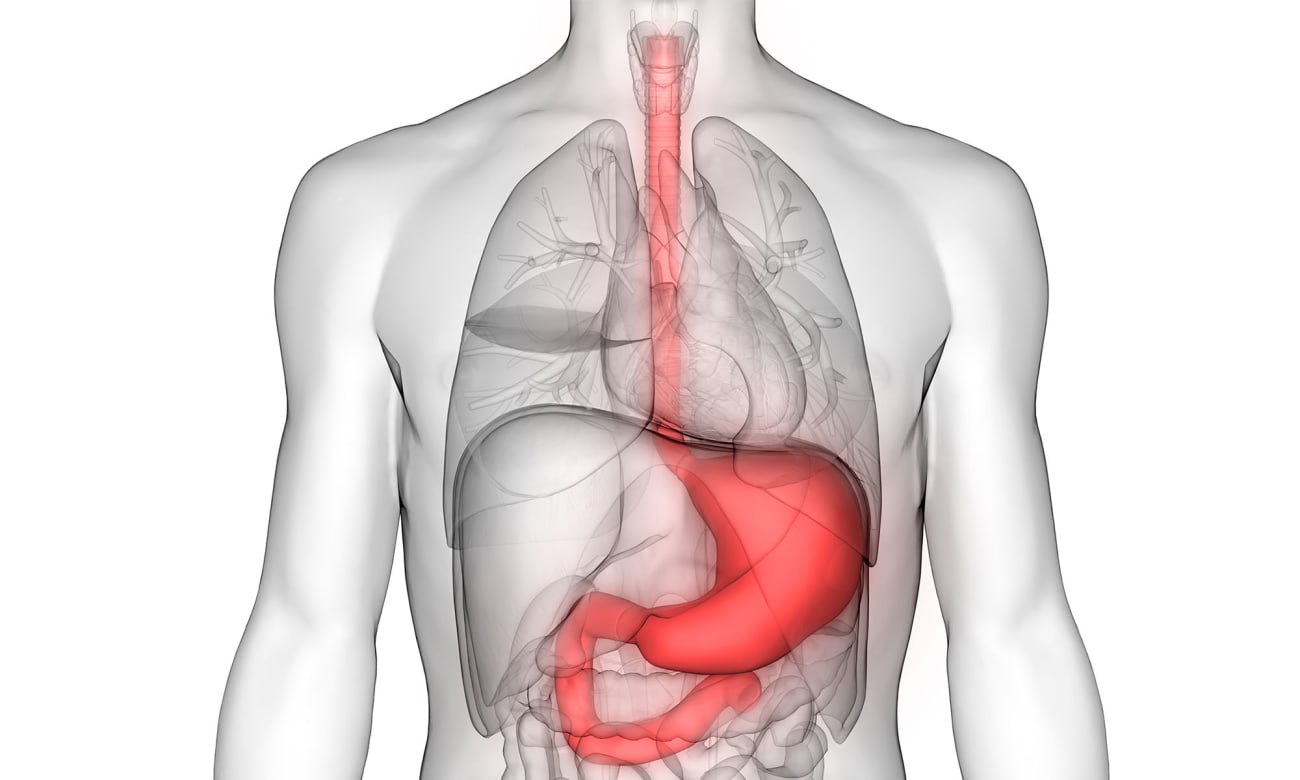 When an otherwise healthy 69-year-old woman came to Johns Hopkins after a bout with gastroesophageal reflux disease, a routine endoscopy revealed a serious problem.
"This woman had a very large precancerous lesion in her stomach," says Saowanee Ngamruengphong, a therapeutic endoscopist and assistant professor of medicine. "The biopsy told us that it was an adenoma. It had to come out."
She adds that biopsy samples sometimes don't tell the whole story.
"A sample that shows a benign, precancerous lesion does not exclude the possibility of that lesion containing cancer," Ngamruengphong says. "In fact, a significant proportion of these lesions are found to be cancer when we examine the resected specimen."
Ngamruengphong says the size of the lesion was especially troubling.
"It was 6½ by 4½ centimeters," she says, holding her two index fingers apart to indicate the lesion's size. "That's a lot more likely than a small lesion to cause cancer. It's got to be removed."
A multidisciplinary team of gastroenterologists, pathologists and surgeons at Johns Hopkins consults on all complex cases. Further complicating this case was the lesion's location: the proximal stomach, which can be difficult for surgeons and endoscopists to reach.
After a lengthy discussion, the team concluded that, if the lesion could not be removed endoscopically, it would require surgery, recalls Ngamruengphong.
"That would be very difficult for the patient," she says, "a total gastrectomy."
But Ngamruengphong felt confident she could remove the lesion with an endoscope.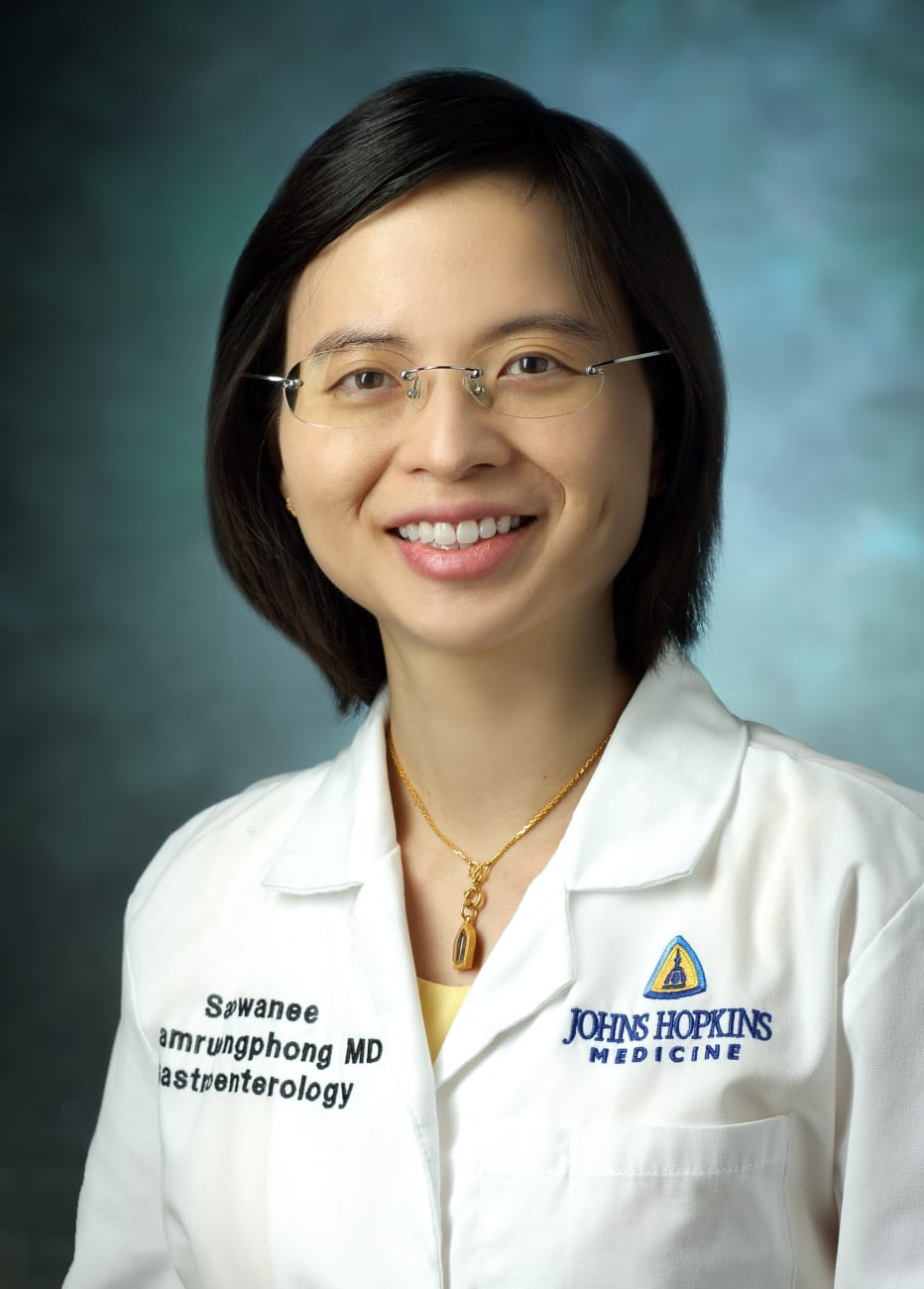 Advanced Training in Therapeutic Endoscopic Approaches
In 2017, Ngamruengphong studied advanced therapeutic endoscopy techniques at Tokyo's National Cancer Center, the world's foremost facility for innovative endoscopic removal of gastric cancers. Endoscopic submucosal dissection (ESD) is a painstaking procedure during which the endoscopist uses special tools attached to the scope to carefully remove lesions a layer at a time — sparing the organ and any muscle tissue that may be involved.
Ngamruengphong explains that gastric cancers like this one are far more common in East Asian countries.
"We don't see it as much in this part of the world," she says. "But Japan, China, Korea: It's very common there."
As a result, only a handful of physicians in North America are trained in ESD. Few hospitals perform the extremely delicate procedure, meaning patients typically must have surgery.
"A lot of people here don't know about ESD," says Ngamruengphong. "Patients find it on the internet and come to us. Many referring physicians may not even know about this option."
The Johns Hopkins multidisciplinary team agreed that, while it would be challenging, ESD was worth a try.
"The surgeons said 'go for it,'" Ngamruengphong says. "We all wanted to save the patient's quality of life if we could."
Results of the Procedure
After marking the lesion's outer edges, Ngamruengphong used the endoscope's needle knife tool to slowly and methodically separate the lesion from the muscle wall of the stomach. Taking great care to avoid damaging or cutting through muscle tissue, she peeled the adenoma away.
Four hours later, Ngamruengphong removed the lesion in one piece.
"That's much better for pathologists," she explains. "They get the whole specimen — and the margins — in one sample. That makes it easier to determine whether we got everything we needed to get."
The endoscope's electrocautery knife, explains Ngamruengphong, allows her to cut carefully, a tiny bit at a time, all around the outside of the lesion. The snare, she says, is far too small to take a lesion or tumor of this size.
"Using the snare, it would come out in many pieces," she says. "It would be hard to know you've gotten it all."
ESD is the longest endoscopic procedure Ngamruengphong performs, she says. "Usually, when it's a simple case, we can use a different technique and we're done in 10 or 15 minutes," she says. "But for ESD, because of the precision that's necessary, it takes longer."
After successful removal of the lesion, says Ngamruengphong, the patient stayed a night in the hospital for observation, then went home the next day.
"We got it all, and the margins were clear," she says. "The patient did very well. She eats normally, with no trouble."
Published in INSIDE TRACT SPRING 2021