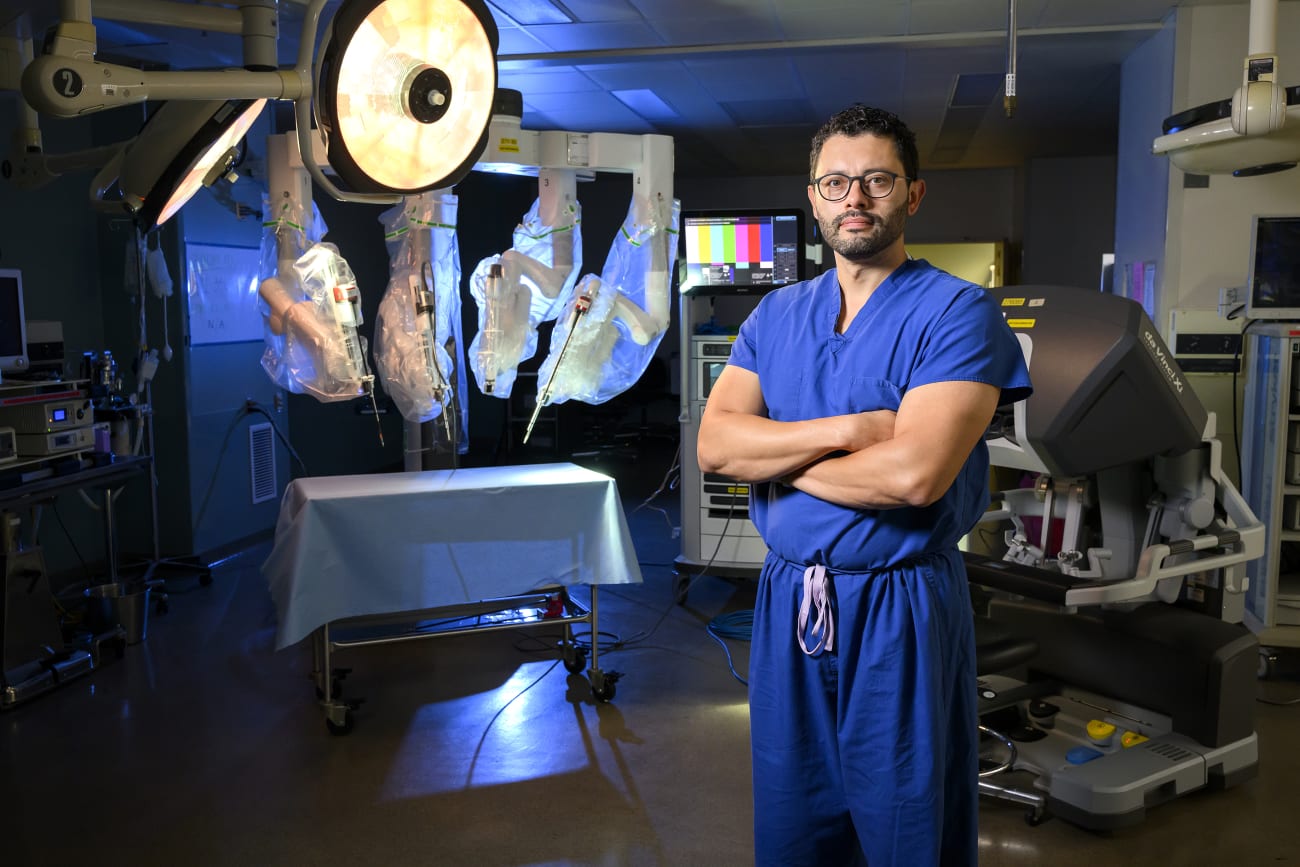 "Robotic surgery is one of our most exciting programs. And when it comes to pediatric general surgery, there are very few other programs in the region or even in the country. Hopkins has become a center for training."
—David Hackam, surgeon-in-chief and co-director of the Children's Center
Pediatric surgeon Alejandro Garcia remembers a teenage patient who was having increasing problems with myasthenia gravis.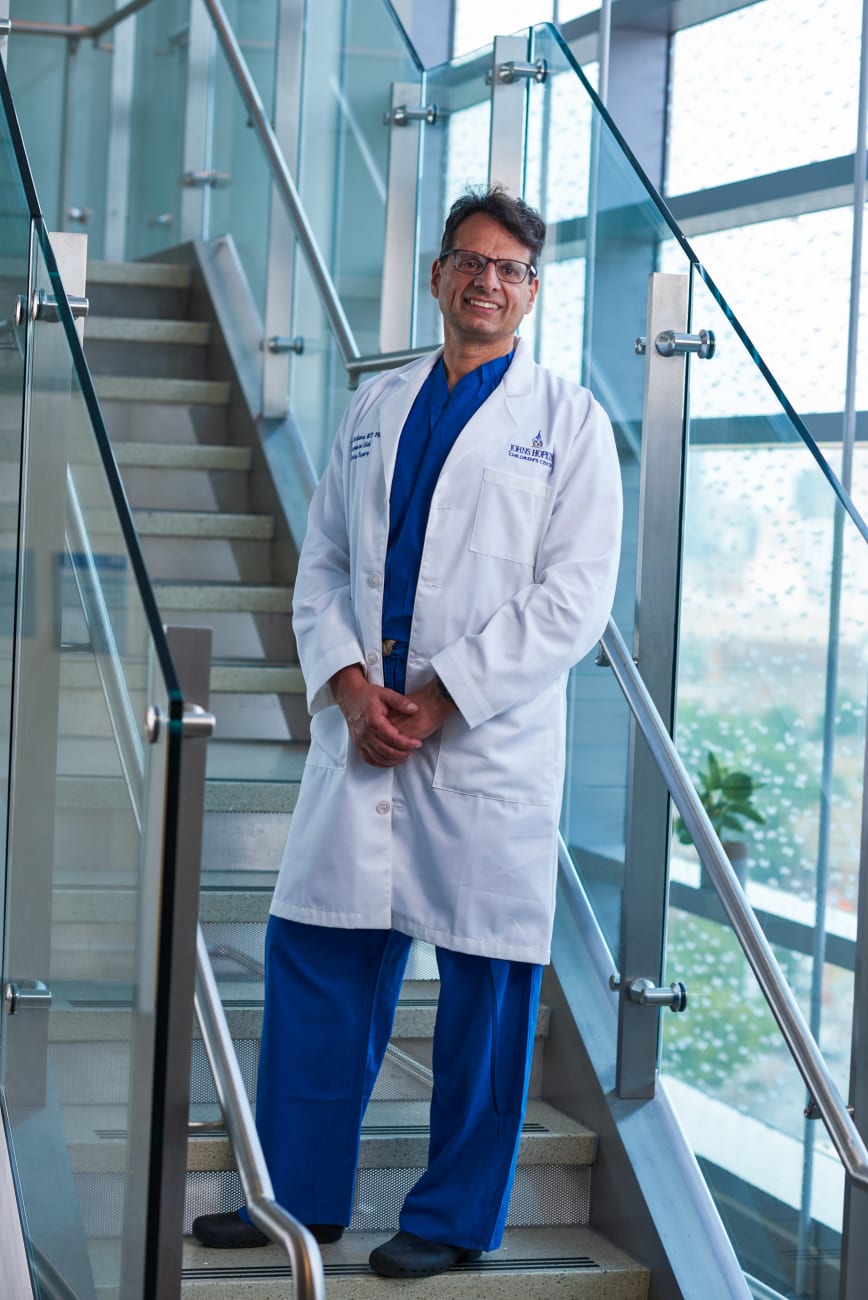 "She was having a lot of issues with swallowing and talking — even with doses of her medications," Garcia recalls. "She was struggling with how to stand up correctly so that she could drink or eat. Her voice had changed because of weakness in her vocal cords."
When pediatric neurologist Thomas Crawford recommended surgery to remove her thymus, Garcia recognized a great opportunity to use robotic surgery.
"I told the family that new technology with the robot will make it safer and easier, and should speed up her recovery," says Garcia, who directs pediatric robotic surgery at the Johns Hopkins Children's Center. "She left the hospital the next day." A month later, he says, her voice had improved, and she was swallowing better.
Although Garcia works primarily with traditional open surgery and laparoscopic techniques, he also performs robot-assisted surgeries on the upper abdominal, colon and chest areas, operating primarily on teenagers. Two of his complex surgeries were filmed and are used in a training video at Johns Hopkins.
The practice of using robot-assisted surgery in pediatrics at the Children's Center is growing. According to Chuck Lawrence, robotic surgery coordinator for The Johns Hopkins Hospital, 76 of these minimally invasive procedures have been performed at the Children's Center since FY2019; 24 procedures were completed in FY2023 alone.
"Robotic surgery is one of our most exciting programs. And when it comes to pediatric general surgery, there are very few other programs in the region or even in the country. Hopkins has become a center for training," says David Hackam, pediatric surgeon-in-chief and co-director of the Children's Center.
Precise Movements for Complex Cases
Through appropriate use of robotic surgery, the team at Johns Hopkins overcomes some of the possible drawbacks of laparoscopic surgery in certain scenarios. These may include the natural challenges of hand-eye coordination and limitations in dexterity while working in specific areas of the body.
With the robotic approach, the surgeon works several feet away from the operating table, sitting at a control console, looking through a control port and manipulating remote robotic arms located at the patient's side, which are equipped with very small surgical tools. A camera arm generates three-dimensional images with high-definition magnification of the operative fields and displays the images above the surgeon's hand on their monitor, giving the illusion that the instruments are an extension of their control grips. Foot pedals are used to control electrocautery, camera focus and instrument/camera arm clutches. The 360-degree flexibility of the robotic arms makes traditionally difficult procedures, such as laparoscopic sewing, easier and safer.
"The robotic platform has allowed us to consider minimally invasive surgery for very complex cases, such as on the pancreas and liver, that would not have been amenable to traditional laparoscopic surgery," Garcia says. "Where a surgeon might have a little bit of a tremor, there is no deviation with the robot, no variation. The camera allows you to zoom into a surgical site and do very precise movements that you couldn't do with any of the other technologies."
"Having the ability to control the visualization, the arms, the instrument, the pedals — all from one console — is really a game changer," says pediatric surgeon Clint Cappiello, who also performs robotic surgeries.
A Quickly Developing Field
Hackam says the growth of robot-assisted surgery represents a "revolution" in the field of surgery. He compares the difference between open surgery and robotic surgery to that between a rotary phone and an iPhone.
"Most people don't think of surgery as needing a revolution, he says.  "But using robot-assisted surgery allows us to do things that we could never do before."
The field is developing so quickly that most physicians entering pediatric surgical fellowships at Johns Hopkins have already received robotic training, Cappiello says. "It's wild that we're teaching them how to do pediatric surgery — which we're very good at — on a platform that they're already familiar with."
Garcia says becoming certified in robot use takes several months and requires simulator and animal testing. After completing several proctored surgeries, the Johns Hopkins Department of Surgery requires its clinicians to perform 10 robot-assisted procedures each year to maintain robotic privileges.
"Collaborating with the adult surgeons has been great," Garcia says. "It's one of the perks of being at Hopkins, where we have experts next door." Because they have been using the method longer, he says, "their advice has been extremely valuable.
"When we had a patient with recurrent bloody cough and chest pain related to an abnormal blood vessel to the lung, I was able to work with Jinny Ha from adult thoracic surgery to use the robot to identify the extra aberrant vessel, and to clip and divide it to stop the flow within it. The patient had no further symptoms."
Over the next few years, he anticipates a growing number of pediatric general surgeons and pediatric urologists will adopt the technology.   
Thinking Outside the Box
Pediatric urologist Heather Di Carlo says urology is the first specialty to make robotic surgery a main part of its physician training. She has been performing robot-assisted surgery at Johns Hopkins since 2014 and has operated on children as young as 6 months.
"The robot is really amazing for the reconstructive side of pediatric urology. We can remove part of the kidney and fix blockages. We're a center for children with major birth defects, and we use the robot for those patients," she says, noting that urological surgery colleagues Chad Crigger and Charlotte Wu also perform robot-assisted cases.
Di Carlo mentions a young patient she treated who had already had prior lower urinary tract reconstruction.
"He had a big midline incision because they had had a lot of work done on the bladder. The idea was to remove the part of kidney that wasn't doing its job and leave in the part that was.
"I counseled the family that I was going to try to do it robotically, but if there was any indication that it was going to take longer and that he had to stay under anesthesia longer, or that it wasn't safe to do because of scar tissue or adhesions, we would make an incision and do an open surgery."
As it turned out, the robotic approach went seamlessly. The surgery was so successful, Di Carlo says, that the child went home the following day, whereas a large open incision might require five to seven days in the hospital.
"If I needed surgery for my own child," Hackam says, "I would want my surgeon to think outside the box to be able to use the latest technology — and the robotic approach allows that for certain cases."