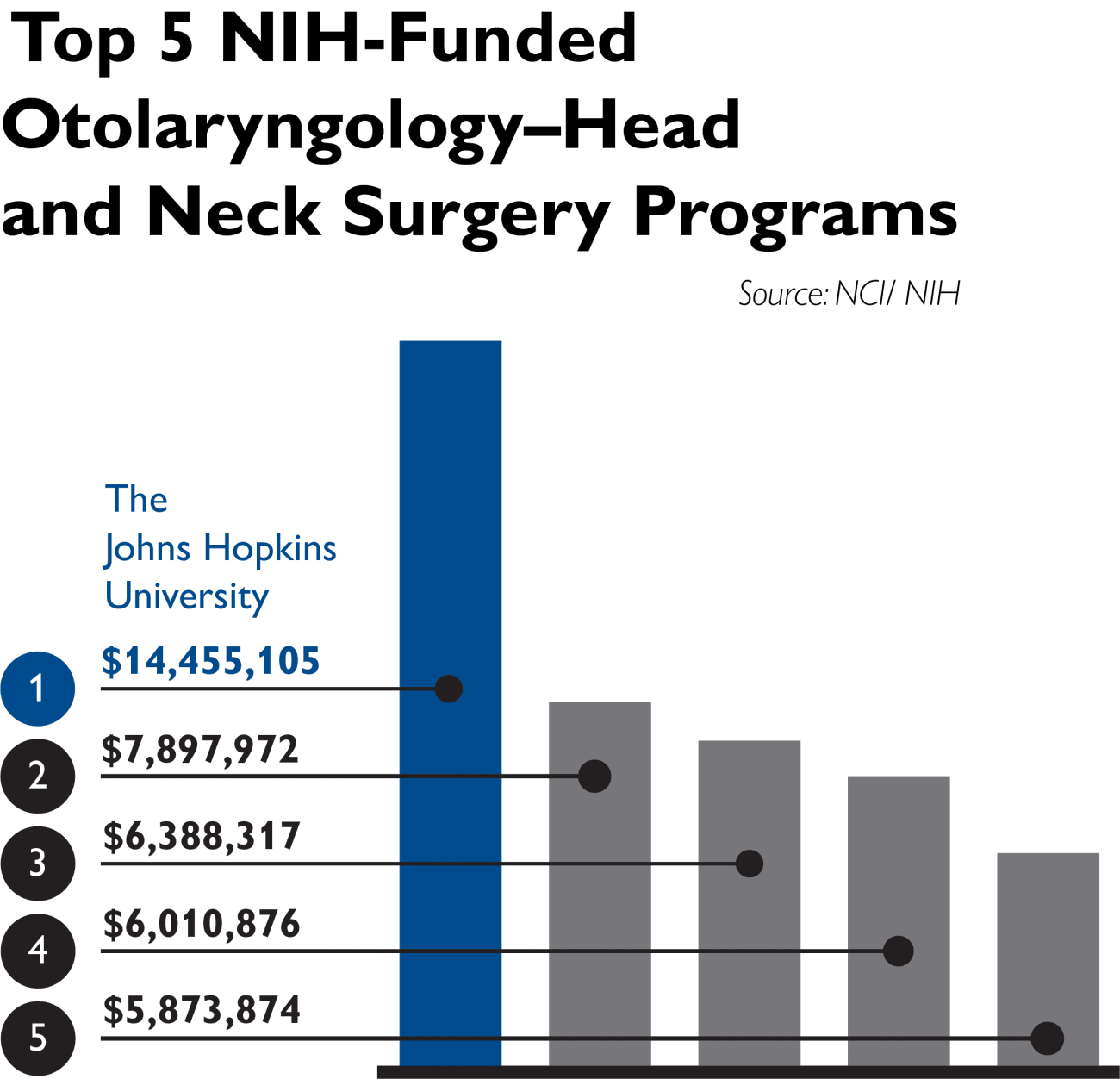 In 2021, the Johns Hopkins Department of Otolaryngology–Head and Neck Surgery received $14 million in funding from the National Institutes of Health (NIH) — more than any of its peer departments nationally — and earned more citations of its research than ever before. Across 350-plus publications, some important and timely themes emerge, says  Paul Fuchs, the David M. Rubenstein Research Professor in the Johns Hopkins Department of Otolaryngology–Head and Neck Surgery. "The breadth and depth of research is really quite outstanding," he says. 
Areas of research include vestibular implantation to treat patients with chronic dizziness after loss of inner ear function; the impact of human papillomavirus (HPV) vaccination on oropharynx cancer incidence; free functional gracilis flap (FFGF) use in senior patients; mental health as it relates to diseases of the ear, nose and throat; and more.
Sensory Processing and Repair
Otologist and neurotologic surgeon Charles Della Santina and colleagues published a study of patients with bilateral vestibular hypofunction who received implants that electrically stimulate the vestibular nerve. Assessments performed at six and 12 months after implant showed improvement in posture, gait, dizziness handicap, and quality of life. Della Santina notes that an estimated 1.8 million adults worldwide may be candidates for vestibular implantation. 
COVID-19 and the Ears, Nose and Throat
The department also published thought-leading papers on COVID-19 as it relates to the ears, nose and throat. 
In an article commentary, rhinologist Andrew Lane and colleagues call attention to preclinical studies that showed the adenovirus and mRNA vaccines prevented COVID-19 but did not stop the virus from appearing on nasal swab tests. Because patients who are vaccinated and asymptomatic may still transmit the virus from the upper airway, the authors suggested otolaryngologists and clinicians maintain precautions against viral transmission to protect patients who are vulnerable or not vaccinated. 
"Our research has demonstrated strong targeting of specific cell types in the nasal passages by SARS-CoV-2," says Lane. "Even in vaccinated individuals, it is likely that asymptomatic infection of these nasal cells still occurs and can be a source of viral transmission. Therefore, otolaryngologists should continue to mask and take precautions to avoid inadvertently spreading the virus between patients."  
HPV Vaccination and Oropharynx Cancer Incidence 
Head and neck cancer surgeon Carole Fakhry and colleagues analyzed how HPV vaccination will affect the incidence of oropharynx cancer (OPC) in the next 25 years. The team used nationally representative data sets and established forecasting methods to find that vaccination will not have an impact until 2045. The initial impact will be modest, mostly among individuals who have been vaccinated at a young age prior to sexual debut and reaching the median age of risk for OPC. These findings point to a continued shift of OPC to an older population that is not vaccinated and remains at risk for OPC. This likely means that head and neck oncologic teams of the future will be caring for an older population of OPC patients, and this has implications for treatment and health policy.
Advancements in Head and Neck Reconstructive Surgery
The department's surgeons conducted studies to develop, evaluate and refine leading surgical approaches and techniques for the most optimal head and neck surgeries.
One example is a retrospective review by facial plastic and reconstructive surgeon Kofi Boahene and colleagues to examine the free functional gracilis flap (FFGF) procedure in senior patients. FFGF is used to reanimate the faces of adults who have been paralyzed, but perceptions of inefficacy and morbidity have limited its use in older people. After reviewing long-term follow-up data, the researchers found FFGF to be effective with minimal morbidity for facial reanimation in seniors.
Mental Health and Quality of Life
One area with increasing attention in research, says Fuchs, is the association between diseases that affect patients' ears, noses or throats, and their mental health and quality of life. 
A review led by rhinologist Sandra Lin examined 24 studies with MRI and olfactory testing in participants who had mild cognitive impairment or dementia. Not only did the researchers find evidence that hippocampal volume correlates with olfactory performance in people with cognitive impairment, they also showed that olfactory functional MRI could potentially improve early detection of Alzheimer's Disease.
To refer a patient, call 833-856-0368 or email JHOtoAccess@jhmi.edu.
Top-Cited Papers from Faculty in the Department of Otolaryngology–Head and Neck Surgery 
1. 7,142 citations: p53 mutations in human cancers
2. 3,384 citations: A National Cancer Institute workshop on microsatellite instability for cancer detection and familial predisposition: Development of international criteria for the determination of microsatellite instability in colorectal cancer
3. 2,223 citations: Evidence for a causal association between human papillomavirus and a subset of head and neck cancers
4. 1,891 citations: Case-control study of human papillomavirus and oropharyngeal cancer
5. 1,843 citations: Improved survival of patients with human papillomavirus-positive head and neck squamous cell carcinoma in a prospective clinical trial
Data compiled with assistance from Welch Medical Library informationists