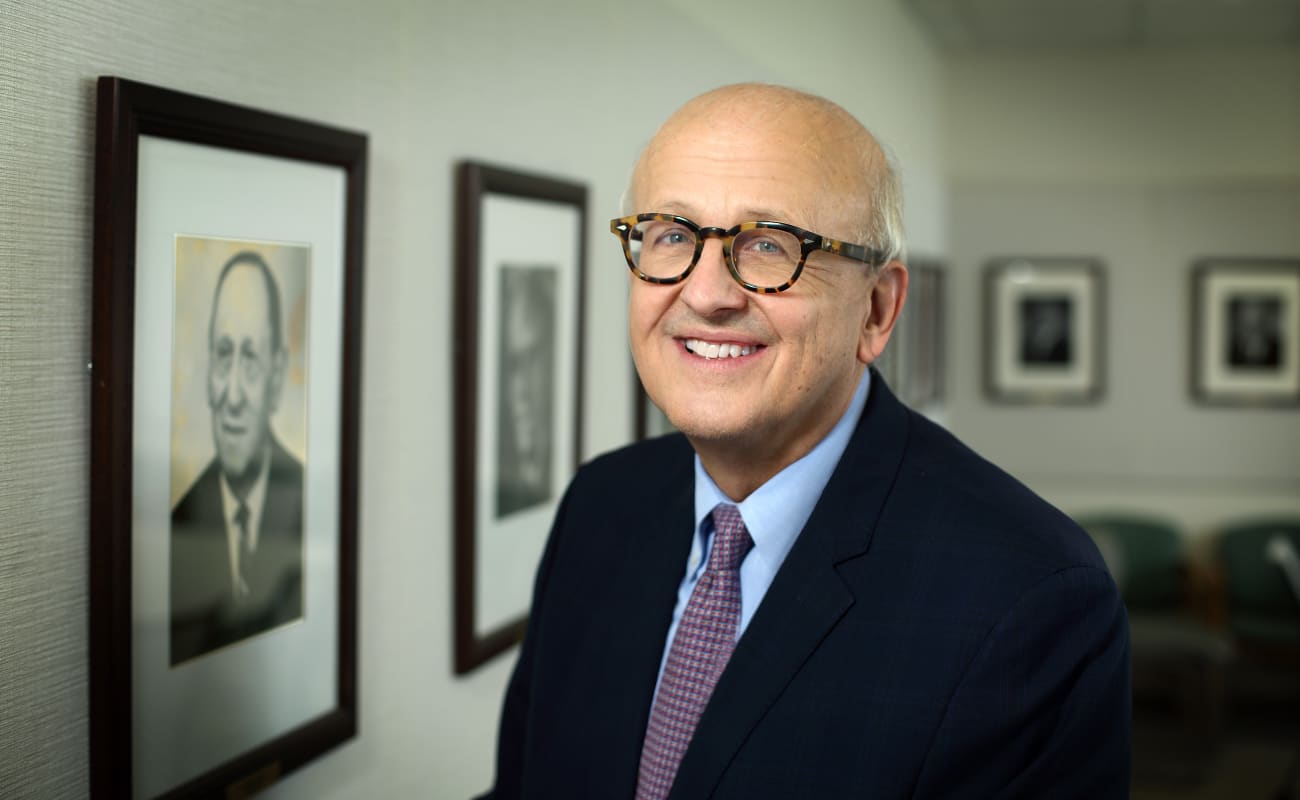 When asked about early influences that pushed him toward medicine, John Campo recalls the sudden loss of his baby brother at 4 months of age due to bronchiolitis. The oldest of four siblings, Campo, then only 8, remembers vividly the doctor trying to reassure his mother that her baby would be OK as he wrote her a prescription for valium. She persisted that something was seriously wrong.
"After that, I grew into the idea of being the family watchdog," says Campo. "That was really influential."
A watchdog takes care of people, Campo figured, so in his early school years he gravitated toward science and later found his way to medical school at the University of Pennsylvania, not far from his Scranton roots. What kind of doctor did he want to be?
"If you asked me then," he answers, "I'd say I don't know, but I do know what I'm not going to do. I'm not going to be a surgeon because I don't have that kind of hand-eye coordination, and I definitely don't want to be a pediatrician because being around sick kids really, really upsets me."
So, of course, after medical school he headed off to pediatrics at the Children's Hospital of Philadelphia with the idea of being "an internist for kids" with a specific interest in hematology-oncology. "If that tells you anything about me, I guess I can be a bit counter-phobic."
In ways, Campo has intuitively followed that path, immersing himself in that which presented the greatest blend of challenge and anxiety. During his pediatrics residency, for instance, he thought about psychiatry as a subspecialty, but is now embarrassed to recall that he had a hard time thinking of it as a "reputable occupation" for a physician. Naturally, he found a door into mental health.
"I got an introduction into how physical illness can affect emotional life and vice versa," says Campo. "It gave me permission to go into psychiatry."
Which he did at the University of Pittsburgh Medical Center. There he was drawn to the interface between pediatrics and psychiatry, and disorders such as functional abdominal pain — recurrent pain in the gastrointestinal tract with no obvious physical cause that may be provoked by psychological stress, anxiety or depression.
"It's common to see patients with illness or subjective distress but not a clear-cut disease in the traditional sense, some sort of pathology you can point to in a biophysical way where you can say, 'Aha, that's causing your discomfort!'" says Campo. "The reality is a large number of patients don't fit neatly into the biomedical model, and end up feeling terribly misunderstood and may not get the really good care they deserve."
As a pediatrician training in psychiatry, Campo found himself a referral source for these patients and parents frustrated by the lack of a definitive physical or psychological cause. Known as someone who could, in his words "dance on both sides of the equation," colleagues and referring physicians believed he would be most likely to come up with viable answers.
Troubled by what he considered to be a false dichotomy between physical and mental health built in our health care system, Campo's response was to integrate mental health services into general medical settings and develop a practice-based research network in primary care for kids with anxiety and depression. Most concerning, his growing awareness that suicide is the second leading cause of death among 10- to 24-year-olds, killing more than twice as many young people in that age group than cancer, which encouraged him to think more seriously about the relationship between suicide and lack of access to mental health services.
"How do you rescue these children — how do you prevent suicide?" asks Campo. "That's probably my biggest interest now."
Campo concluded that one answer lies in primary care medical models infused with mental health services. There, clinicians can bridge the gap between pediatrics, psychiatry and traditional medicine, integrate mental health services and create sustainable models of care. Such a model requires a strong collaborative culture, he adds, which drew him to Johns Hopkins and formed his vision for what is possible.
"Johns Hopkins psychiatry has a reputation as a great collaborative place to be if you are presented with complex or refractory problems, yet at the same time is intently focused on population health," says Campo. "We're going to take you seriously and go into great depths and be really dogged in coming up with a way to get you better."
Building bridges to existing and potential collaborators is another goal in Campo's vision. That includes the Department of Psychiatry at Johns Hopkins, the Johns Hopkins Bloomberg School of Public Health across the street and, just down the street, the Kennedy Krieger Institute (KKI). There, Campo has the additional role of vice president of psychiatric services, where a new developmental neuropsychiatry scholars' program was recently launched to leverage KKI's world-leading expertise in neurodevelopmental disorders and disabilities. At the same time, he adds, the fellowship will further enhance his division's training program in child and adolescent psychiatry.
"It's part of our blueprint to together create a division of child and adolescent psychiatry that has one unified culture of excellence across multiple sites," concludes Campo. "We want to make the whole greater than the sum of the parts."