In the fall of 2021, the Center for Music and Medicine hired Johns Hopkins' first on-staff music therapist, Kerry Devlin, and a postdoctoral fellow who is trained as a neurological music therapist, Kyurim Kang. They've worked with patients across The Johns Hopkins Hospital, particularly at Johns Hopkins Children's Center, where they partner with the Child Life Department and in the center's pediatric cardiac intensive care unit (PCICU) and the teen medical-surgical unit.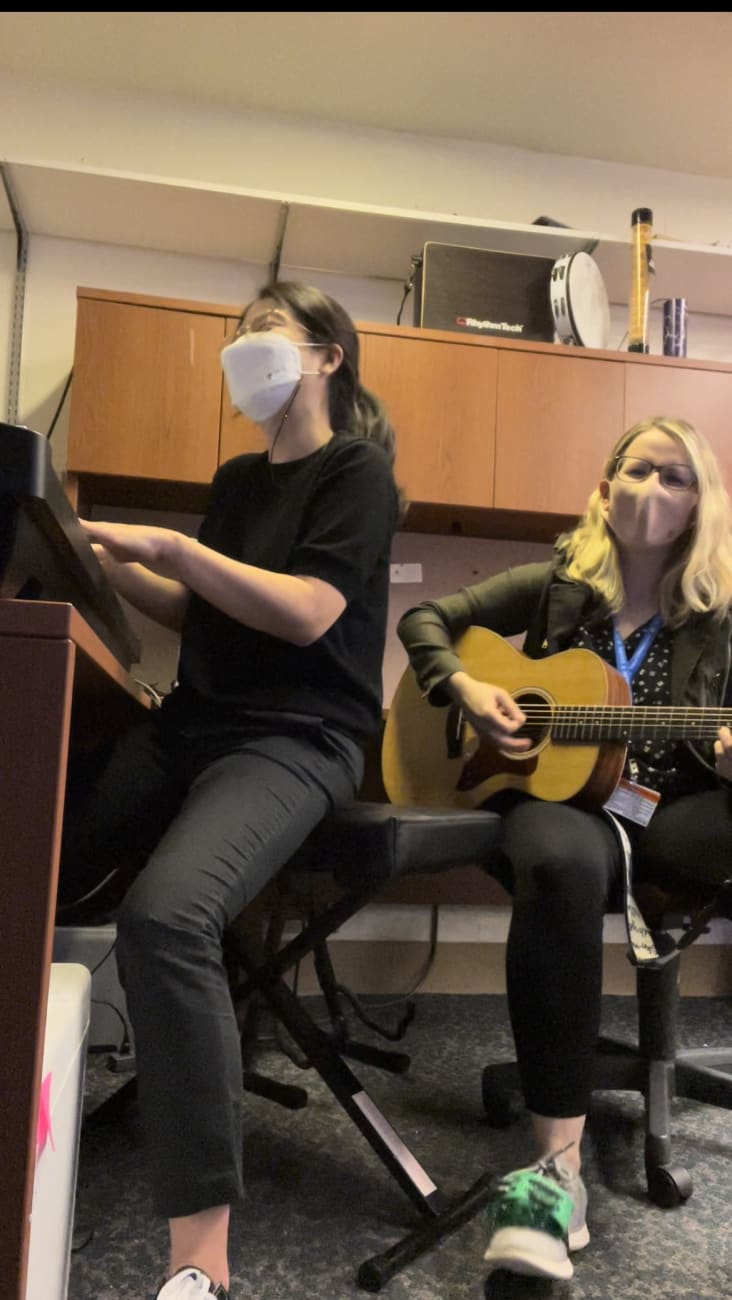 In the PCICU, Devlin and Kang use live music to improve respiration and stabilize heart rate, to provide support during neurodevelopmental rounds and to create opportunities for parent-child bonding. Elsewhere in the Children's Center, they use music to reduce anxiety, to help patients process emotions related to the experience of hospitalization, and to support the development of coping skills. Music therapy sessions can involve patients choosing an instrument that represents their pain, moving to music, making beats and even writing songs.
Devlin and Kang are involved in the center's research, and work to create partnerships across Johns Hopkins. In January 2023, the center will host a first-of-its-kind internship for a music therapy student from Shenandoah University, where Devlin is an adjunct assistant professor.
The center is also involved in the Johns Hopkins Human Aging Project, an initiative that brings together scientists and clinicians from across Johns Hopkins to work at increasing the length of time older adults spend in good health without cognitive or functional decline.
One project is Zoom music therapy for people who have early Alzheimer's disease or mild cognitive impairment, and another is testing a device that uses rhythm to try to steady gait.
The device is a sensor placed on someone's shoe that is linked via Bluetooth to a playlist in which the music plays with a metronome to the tempo of a person's walk; the idea is that a steady rhythm will help people with movement disorders walk more steadily. The device is being studied for various purposes across multiple research sites; Johns Hopkins is studying it for use in Parkinson's.
"There's evidence suggesting that as little as 30 minutes a day, five days a week, of aerobic exercise in one month could help reduce falls in Parkinson's disease, which are a major cause of hospitalization and even death," Pantelyat says. "If we could reduce even one fall per month on average, any intervention is a holy grail, because it's not clear that there's an intervention out there that can do that."