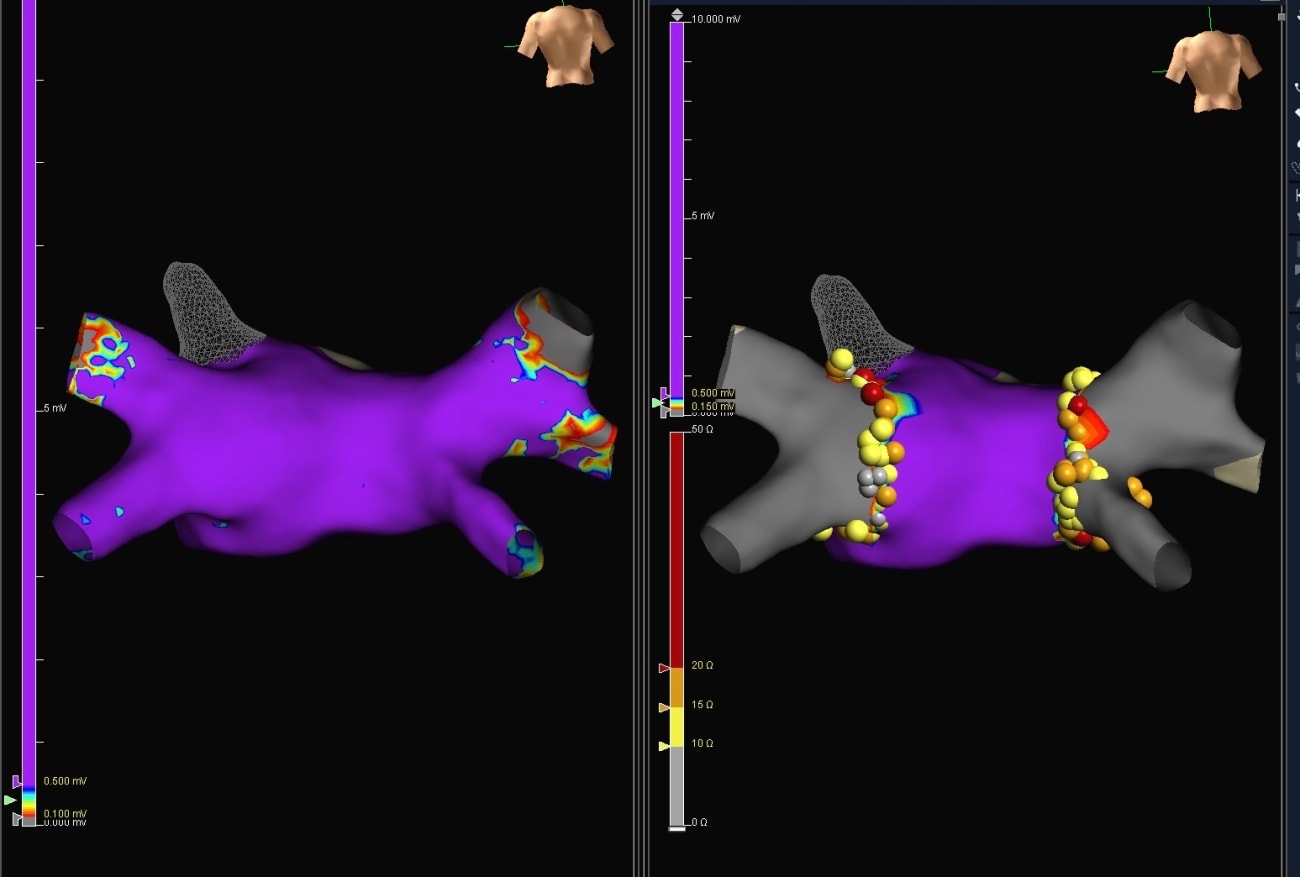 Zeshan Ahmad, Johns Hopkins' director of complex cardiac ablations for the National Capital Region, is among few in the mid-Atlantic region to perform certain procedures that improve atrial fibrillation and other arrhythmias.
After electrophysiologist Zeshan Ahmad finished his residency in internal medicine at Banner - University Medical Center in Phoenix, Arizona, he had an experience that changed the course of his career. While Ahmad was visiting a friend, his mother called and asked him to come home right away to see his father, who was sweating profusely and complaining of palpitations. Ahmad's exam showed that his father was in atrial fibrillation — the most common heart arrhythmia in the world — a diagnosis that ultimately saved his father's life.
"This field has always been very personal to me," Ahmad says.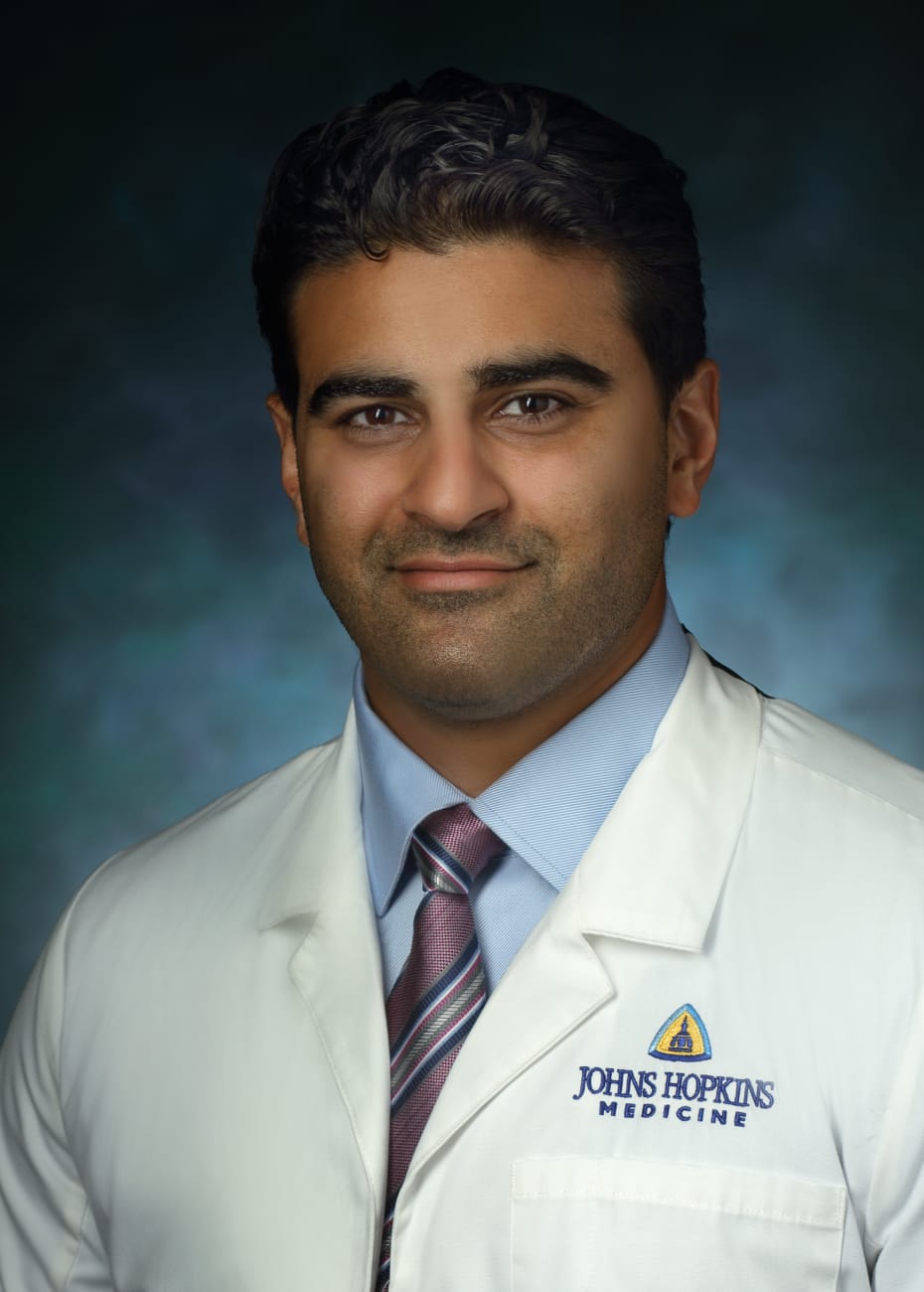 Now a new member of Johns Hopkins Medicine, Cardiology in Bethesda, Maryland, and an electrophysiology and cardiology faculty member at the Johns Hopkins University School of Medicine, Ahmad continues to focus on treating patients who have atrial fibrillation and other complex arrhythmias, specializing in improving their conditions using cardiac ablation and performing appendage occlusion procedures for stroke prevention. He regularly performs these procedures at Suburban Hospital, a Johns Hopkins member hospital.
As a cardiology fellow at Banner - University Medical Center following his residency, Ahmad performed research on cryoballoon ablation, a technique by which surgeons occlude the pulmonary vein with a refrigerant-filled balloon that kills tissue responsible for aberrant cardiac rhythms. In a second fellowship at the University of Texas Health Science Center at Houston, Ahmad trained in radiofrequency ablation, a more technically demanding ablation approach that some data suggest provides better long-term outcomes. There are relatively few cardiac electrophysiologists in the mid-Atlantic region performing radiofrequency ablation, which involves using a tiny probe to burn away discrete sections of abnormal cardiac tissue.
Any patient with symptomatic heart arrhythmias could be a candidate for cardiac ablation, Ahmad says. Although these conditions can be treated with medications that help bring the heart into a more normal rhythm, studies show that cardiac ablation is more effective than existing medications and helps avoid the need for long-term use, which can lead to detrimental side effects.
Catheter ablation of atrial fibrillation is performed under general anesthesia. Ahmad and his colleagues thread a catheter through the groin to the heart, where sensors on the catheter determine which tissue is responsible for the arrhythmia. Certain areas of the heart are then cauterized. Once the procedure is completed, many patients go home the same day or the next morning with a fairly quick recovery time. The result is significantly less time in atrial fibrillation — a condition that dramatically increases the risk of heart attack and stroke.
"We carried out a nationwide search for the right electrophysiologist to join our faculty and be based in the National Capital Region. Dr. Ahmad was selected because of his excellent clinical training, clinical skills and commitment to deliver the best patient care possible," says Hugh Calkins, director of the Electrophysiology Laboratory and Arrhythmia Service at The Johns Hopkins Hospital. "We are thrilled to have him join our team and build a first rate ablation program at Suburban Hospital."
Ahmad says patients often tell him that their cardiac ablation procedures have been life-changing, easing their palpitations and shortness of breath and giving them peace of mind. "I have had patients tell me that this is the most amazing thing they've ever been through because they feel so much better afterward," he says. "It's incredibly rewarding to be able to give them these transformative results."