James Black, chief of the Division of Vascular Surgery and Endovascular Therapy, answers questions about complex aorta care at Johns Hopkins, which is among the highest-volume centers in the nation for the condition.
Johns Hopkins vascular surgeons have some of the most extensive experience in managing patients with complex aortic disease, including connective tissue conditions such as Marfan and Loeys-Dietz syndromes. They use open and endovascular surgical techniques for aortic aneurysms of the chest and abdomen, and they carefully determine the best course of action given a patient's age and anatomy.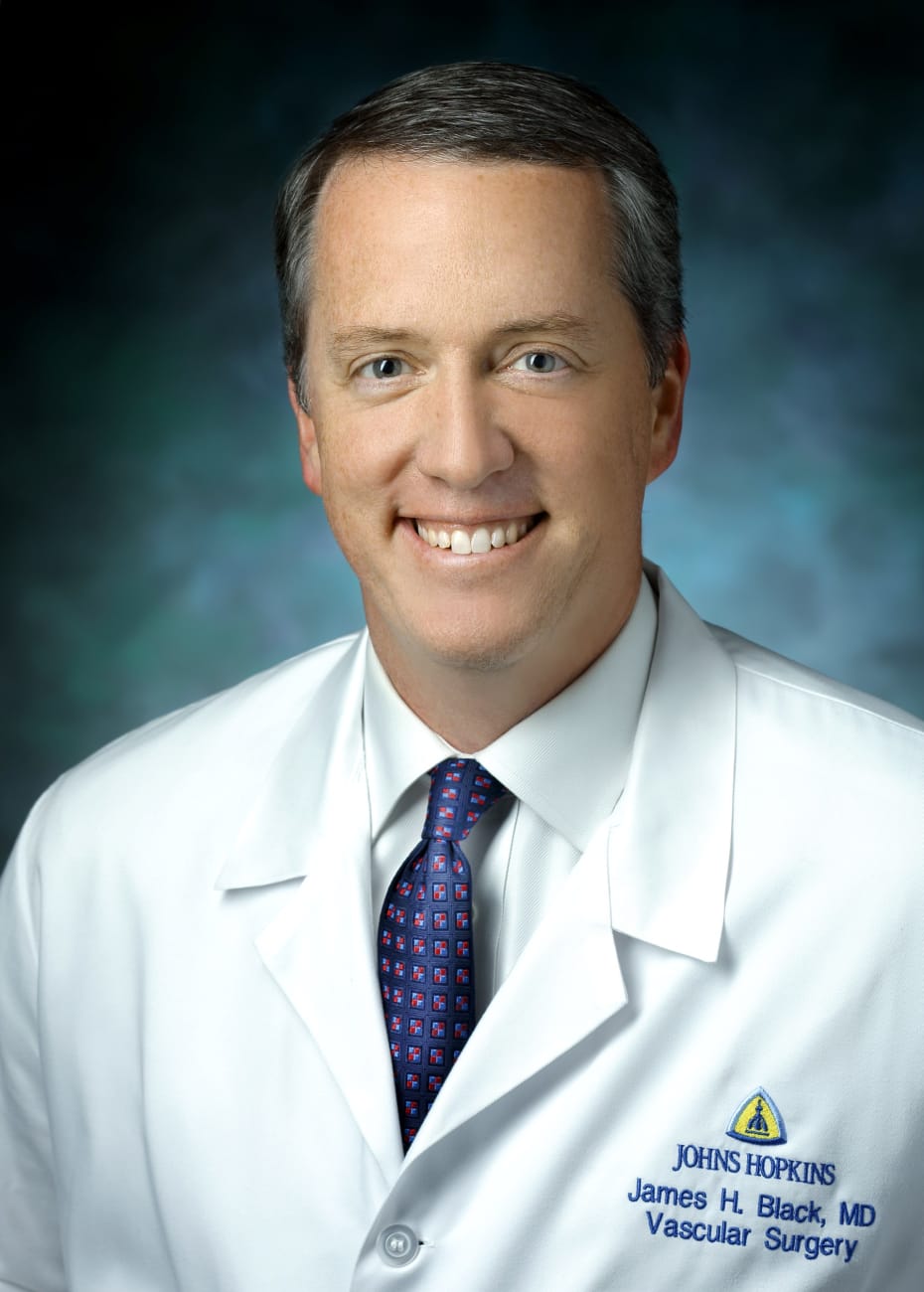 "Ultimately, patients understand that aneurysms and aortic dissections are threats to life,"  says James Black, chief of the Division of Vascular Surgery and Endovascular Therapy, "and they want to put their aortic disease days behind them. A lot of patients have relief when their aneurysm is either sealed with a stent or surgically repaired."
Black answers questions about endovascular repair and aortic dissection management:
Q: What's happening with endovascular aneurysm repair?
A: During the last four to five years, devices have become more refined, and do not need as much maintenance to sustain a successful outcome. About 10 to 15 years ago, we were only using them to treat abdominal aneurysms if they were well below the arteries that feed the kidney or intestines. Now we use devices routinely that can encompass those vessels as part of the repair. We used to say about 30% of patients weren't a candidate for stent graft therapy. Now we're down to probably 10%. In the next three to four years, we'll probably take care of that last 10%, too. 
Q: What specific techniques does Johns Hopkins offer in this area?
A: Depending upon the patient's aneurysm and configuration, we have three different ways we tackle aneurysms with stent graft technology. Fenestrated devices, approved by the FDA [Food and Drug Administration], have small openings to encompass the vessels feeding the kidneys or intestines. We use a CT scan to study the patient's anatomy and order a customized device. Another type of device, available in clinical trials, has a configuration that includes branches that connect to other arteries. Sometimes, we need to use a combination of stents or other devices, then place them in vessels in the abdomen and taper them into the aorta to a higher level, like a chimney. We are a leader in this area of complex stenting techniques and have performed more repairs than any other hospital in the state or area. 
Q: What are the challenges associated with stents?
A: One of the main issues we have with stent graft devices is delivering them to the appropriate position. Some aneurysms not only are big in diameter, but they're also very tortuous. The devices are metallic and try to go in pretty much a straight line, but we often need to make it go into different configurations — with bends and twists. We carefully select the best device for each patient. We know what works and what doesn't.
Q: What is the recovery for patients?
A: Individual endovascular techniques all have a similar recovery. They are often done with general anesthesia for patient comfort. Most repairs are done percutaneously, so patients have only a very small incision on the groin despite their entire aorta having been fixed with a stent. Patients are in the hospital one to two nights, or four to five nights if the repair is more complex. The physical recovery is very quick.
Q: What is Johns Hopkins doing to manage patients with aortic dissection?
A: The management of patients with most aortic dissections is emergency surgery, but many need ongoing surveillance for the portions of the aorta that don't need upfront surgery. Our vascular and cardiac teams are expert in following chronically dissected aortas and making sure patients receive appropriate medical therapies to help control the dissection and reduce the chance they will need future operations. Our patients become like friends and family for the surgeons and teams here, because we see them year in, year out for the remainder of their lives.