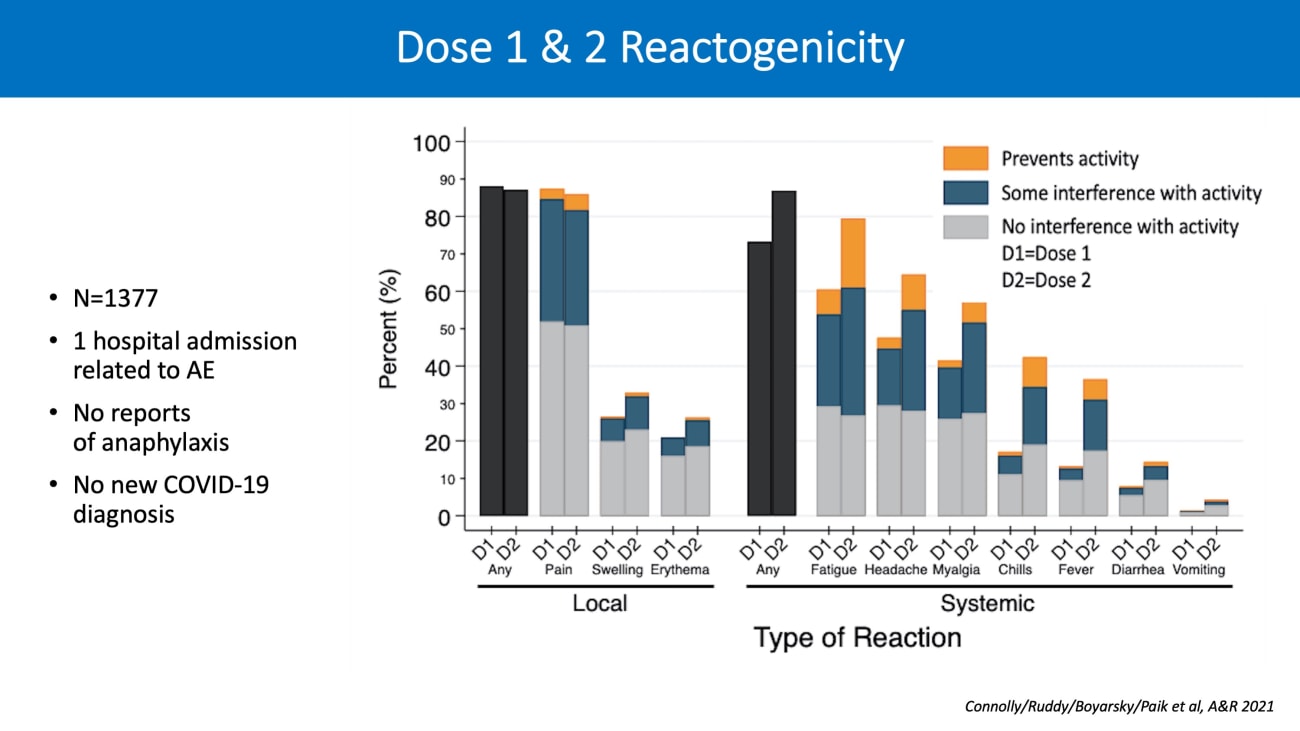 Johns Hopkins-led, nationwide study shows that patients on most immunosuppressive regimens are not at high risk for rheumatic flares following COVID-19 vaccination and produce a significant antibody response
In early November 2020, pharmaceutical giant Pfizer announced that its eagerly awaited mRNA COVID-19 vaccine was 90% effective with a strong safety profile, opening the gates for broad distribution the next month; Moderna's similarly safe and effective mRNA vaccine followed closely behind. But whether these results applied to patients with rheumatic and musculoskeletal diseases remained unknown.
"Patients like ours were purposely left out of these clinical trials because their conditions and immunosuppressive medications throw a wild card into the data," says Johns Hopkins rheumatologist Julie Paik. "Would these vaccines prompt a good humoral response? Would they cause a flare? No one knew."
To answer these questions, Paik and rheumatology fellow Caoilfhionn Connolly and their colleagues began a collaboration in early 2021 with a large Johns Hopkins-based national study to assess vaccine response and safety in thousands of patients scattered across the U.S.
Led by transplant surgeon Dorry Segev of the Epidemiology Research Group in Transplantation  team and composed of multidisciplinary colleagues including Jacqeuline Garzonik- Wang, Brian Boyarsky, William Werbel, Robin Avery, and Lisa Christopher-Stine, the study originally focused on patients who had undergone solid organ transplants and take immunosuppressive medications to prevent rejection, but was expanded to include patients with rheumatic and musculoskeletal diseases.
"Our successful work across disciplines is one example of the rich collaborative spirit that fuels excellence in both clinical care and research at Johns Hopkins," Paik says. 
The researchers recruited patients with autoimmune diseases such as lupus, myositis and rheumatoid arthritis through social media, spreading the word through support groups and advocacy foundations for these conditions. Patients who volunteered were directed to a web-based form to fill in details about their conditions and their immunosuppressive regimens.
Before they received their first vaccination of the two-dose series, these patients had their blood drawn at a local laboratory that's part of a large, national chain to test baseline antibody levels. They received blood tests after each vaccine and periodic safety questionnaires to assess side effects and adverse events.
The team's findings, published in a series of papers this year[i], revealed that most patients with rheumatic and musculoskeletal diseases showed good antibody responses to either mRNA vaccine. Flares of rheumatic or musculoskeletal disease after vaccination were very infrequent, and all were handled as outpatients and none were severe enough to require hospitalization.
However, patients on either of two medications commonly prescribed for rheumatic and musculoskeletal diseases — mycophenolate, which inhibits lymphocyte proliferation, and rituximab, which depletes B cells — produced few, if any, detectable anti-SARS-CoV-2 antibodies after vaccination. Thus, highlighting that these patients did not have an intended immune response that would offer meaningful protection.  
These results and other studies nationally and internationally have spurred change nationwide, including an update to the American College of Rheumatology vaccine task force guidelines on holding certain immunosuppressive agents during the peri-vaccination period.
"For our patients in particular, vaccinating against COVID-19 is very important, especially since our most vulnerable patients can have severe interstitial lung disease or kidney disease that at baseline puts them at risk for severe complications of COVID-19," Paik says. "If there is any vaccine hesitancy from patients, I do think it's vital to have a discussion and also explain the available evidence to them on why we think the vaccine is safe and effective."
Recently, the U.S. Food and Drug Administration authorized and the CDC recommended a third dose of COVID-19 mRNA vaccine for immunosuppressed patients based on overwhelming evidence that demonstrates poor vaccine response in many patients on immunosuppressive medications. Paik says she believes this third dose is necessary for patients with rheumatic and musculoskeletal diseases. She and her colleagues recently published results[ii] on a series of their patients who received a third dose with markedly improved vaccine response.
Learn more about the Johns Hopkins Myositis Center
[i] Connolly, C. M., Ruddy, J. A., Boyarsky, B. J., Avery, R. K., Werbel, W. A., Segev, D. L., Garonzik-Wang, J., & Paik, J. J. (2021). Safety of the first dose of mRNA SARS-CoV-2 vaccines in patients with rheumatic and musculoskeletal diseases. Annals of the Rheumatic Diseases, 80(8), 1100–1101.
Boyarsky, B. J., Ruddy, J. A., Connolly, C. M., Ou, M. T., Werbel, W. A., Garonzik-Wang, J. M., Segev, D. L., & Paik, J. J. (2021). Antibody response to a single dose of SARS-CoV-2 mRNA vaccine in patients with rheumatic and musculoskeletal diseases. Annals of the Rheumatic Diseases, 80(8), 1098–1099.
[ii] Connolly, C. M., Teles, M., Frey, S., Boyarsky, B. J., Alejo, J. L., Werbel, W. A., Albayda, J., Christopher-Stine, L., Garonzik-Wang, J., Segev, D. L., & Paik, J. J. (2021). Booster-dose SARS-CoV-2 vaccination in patients with autoimmune disease: a case series. Annals of the Rheumatic Diseases, annrheumdis-2021.