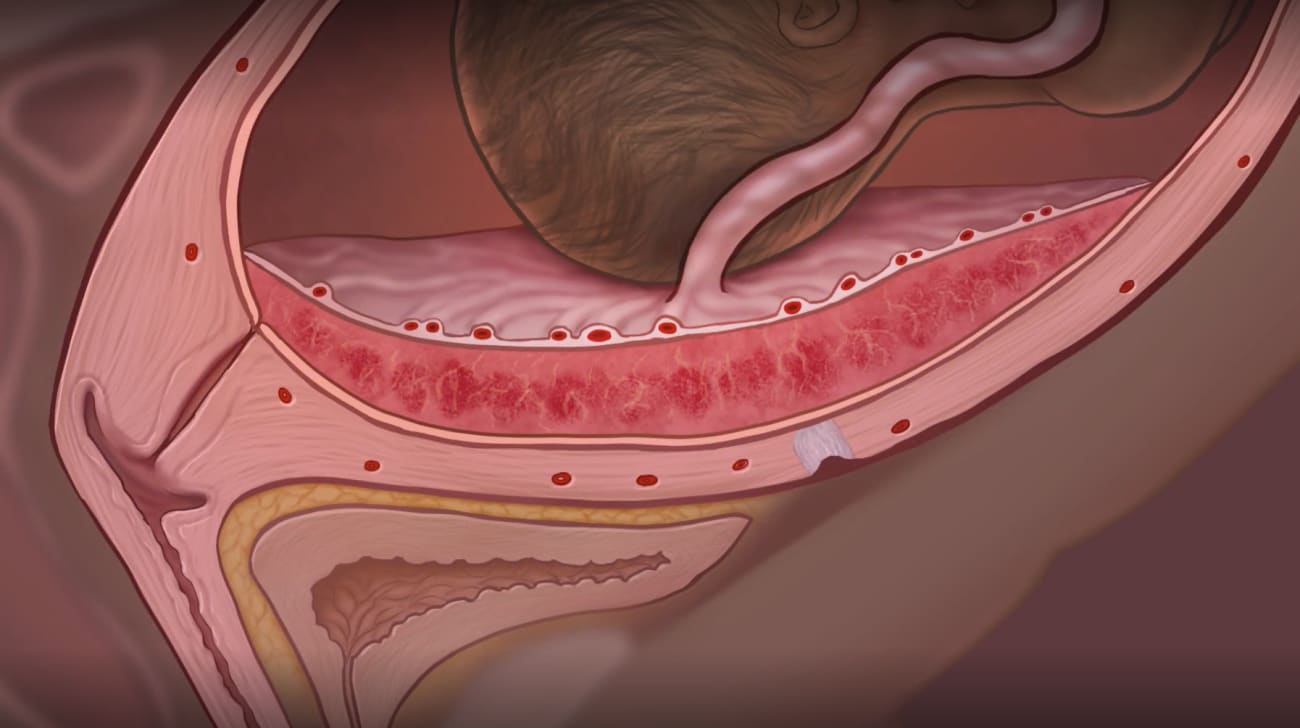 Placenta accreta is a relatively rare condition, affecting an estimated 1 in every 270 pregnancies in the U.S. But for Arthur "Jason" Vaught, who serves as the director of labor and delivery at The Johns Hopkins Hospital, it feels far more commonplace. "We're treating an average of three patients with placenta accreta spectrum here every month," Vaught says.
The significant volume of patients isn't the only difference between Johns Hopkins and other centers that treat these obstetrically complicated patients, he adds. At Johns Hopkins' Advanced Obstetric Surgery Center, Vaught and his colleagues strive to solve the problems that patients often encounter for this and other conditions, including placenta previa, prior hemorrhage, cardiac complications or previous colorectal surgery, among others.
Because these diagnoses can be terrifying for patients, who often find out at the 20-week anatomy scan that this pregnancy will be different from others they may have experienced, Vaught and his colleagues aim to call new patients less than 24 hours after referral to begin getting to know them and ease their fears as well as schedule a first appointment. If patients are traveling a significant distance to the appointment, providers coordinate to help patients combine as much care as possible into a single day, including receiving additional necessary imaging and consults with obstetric surgery, obstetric anesthesia and neonatal intensive care.
"We are big on consolidating care," Vaught says. "We realize that patients have lives outside this diagnosis, and we don't want it to consume their whole being or pregnancy."
Vaught and his team follow patients throughout their pregnancies, often in conjunction with their original obstetrician. When the time comes for delivery, Vaught explains that the center does everything possible to make sure patients are able to stay awake during surgery to meet their babies right away. Although in many cases of placenta accreta, a hysterectomy is indicated — a procedure performed after delivery and during which partners cannot be in the room — many patients appreciate being able to stay with their partners during the delivery portion of the surgery, join patients with more typical pregnancies and deliveries in recovery, and leave in approximately the same time frame as those having typical cesarean sections, he says.
Besides expertise in maternal-fetal medicine, Vaught and center colleague Torre Halscott are both board certified in critical care medicine, making them fully equipped to provide surgical care for these high-risk patients and to lead their perioperative care as well, Vaught says. Both doctors also work closely with a variety of other specialists, including urology, gynecologic oncology, general surgery and interventional radiology, allowing patients to receive a range of care while keeping Vaught or Halscott as their main points of contact.
Halscott, an expert on abdominal cerclage, performs this uncommon procedure to treat patients who experienced challenges carrying prior pregnancies to delivery, particularly those who had other types of cerclage fail. Halscott provides comprehensive care for such patients, including preconception consultations, prenatal care and surgery, and performing their deliveries.
Together, Vaught says, this combination of experience, expertise and consideration for patients can help them through one of the most difficult times of their lives.
"The best is receiving baby pictures a year or two later and having patients tell me that they think of their Hopkins care team around their children's birthdays," Vaught says. "Our relationships with patients are quick in the grand scheme of things, but they can be incredibly impactful."