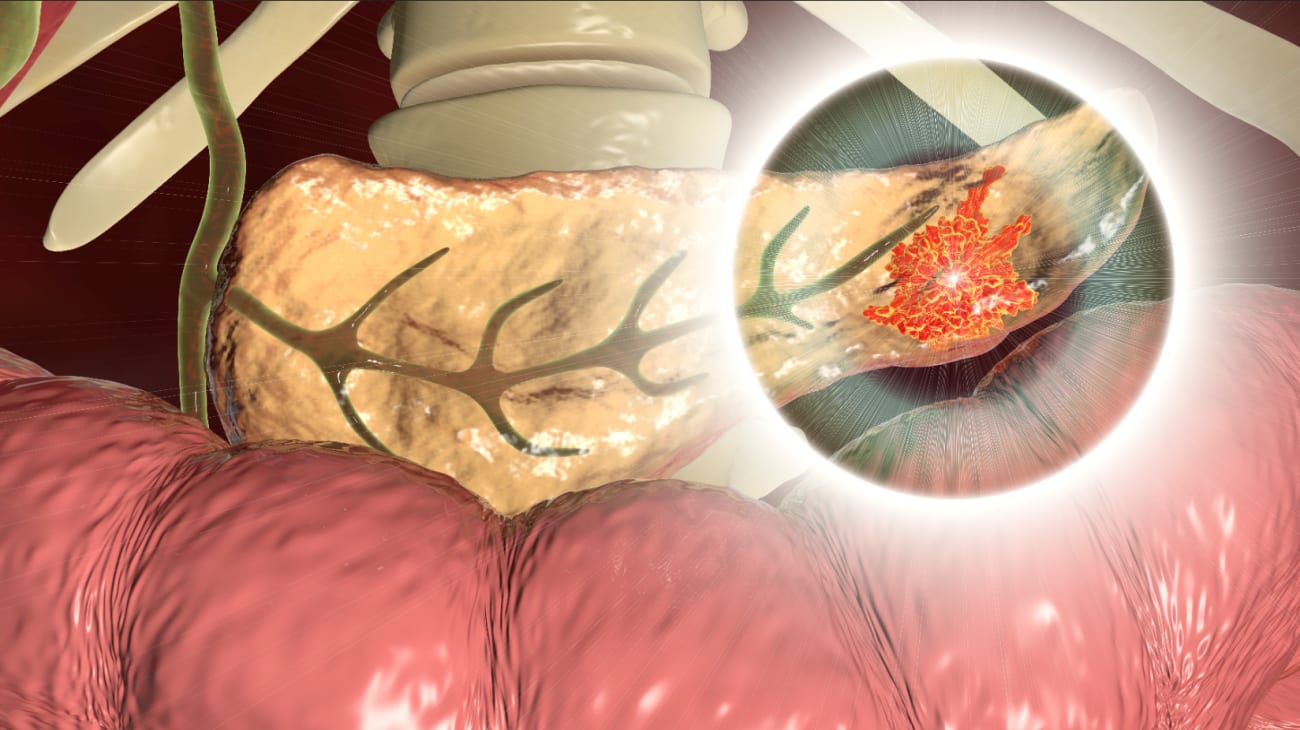 Unlike many other cancer types — whose symptoms draw attention when they're in earlier, treatable stages — pancreatic cancer tends to be asymptomatic until it's too advanced to be curable. This stealth leads to nearly 50,000 pancreatic cancer deaths every year in the U.S. alone. 
However, says Marcia "Mimi" Canto, who directs clinical research for Johns Hopkins' Division of Gastroenterology and Hepatology, the long-running Cancer of Pancreas Screening (CAPS) studies led by Johns Hopkins have shown that these statistics aren't immutable. For a select population of individuals at high risk for developing pancreatic cancer, regular screening can catch this disease in its earliest stages, or even worrisome precancerous lesions, dramatically boosting the chance that patients will survive long term.
"Even with this extraordinarily deadly cancer," Canto says, "we're showing that it's possible to find this disease at the point when surgery can still be curative."
The CAPS studies began nearly 25 years ago as an experimental way to try to increase pancreatic cancer survival. Now in its fifth iteration, the CAPS-5 study — which began in 2014 — continues to show promising results, published recently in the Journal of Clinical Oncology.
This study focused on 1,461 individuals considered at high risk for pancreatic cancer because they carry a mutation associated with this disease or have more than one first-degree relative with pancreatic cancer. Every year, patients in this multicenter study — the majority from Johns Hopkins — received screens performed by magnetic resonance imaging or endoscopic ultrasound. 
Over the course of the eight-year study, 10 of the participants were diagnosed with pancreatic cancer, including nine whose disease was detected by screening. One patient was diagnosed with metastatic pancreatic cancer four years after dropping out of the recommended surveillance. Seven of the nine remaining patients (77.8%) were diagnosed with stage 1 disease (much higher than the national average of 5%), and the other two had treatable stage 2B and stage 3 disease. Seven of these screen-detected patients with pancreatic cancer were alive after a median follow-up time of 3.8 years. Eight additional patients underwent surgical resection of worrisome precancerous, highly dysplastic lesions that rarely would have been detected otherwise.
The findings mirror those of the previous CAPS studies, which have collectively demonstrated that those patients who developed cancer were nearly universally diagnosed in early stages if they received annual screening; those who stopped this annual surveillance were nearly all diagnosed in stage 4. Unlike most patients with pancreatic cancer, who rarely survive three years past diagnosis, 73.3% of those diagnosed with annual screening survived at least five years and had a median overall survival of 9.8 years. To Canto's knowledge, this extended survival from pancreatic cancer has never been reported in early detection or treatment trials.
"The patients in our CAPS studies — even those diagnosed with cancer — often tell us that they're extremely grateful, that we have saved their lives. While under surveillance, their anxiety is decreased, and they worry about cancer less," Canto says. "The message we're spreading is that there is really hope for these patients, even those at high risk of this typically fatal disease."
To refer a patient to the Johns Hopkins Division of Gastroenterology and Hepatology, call 410-933-7495.