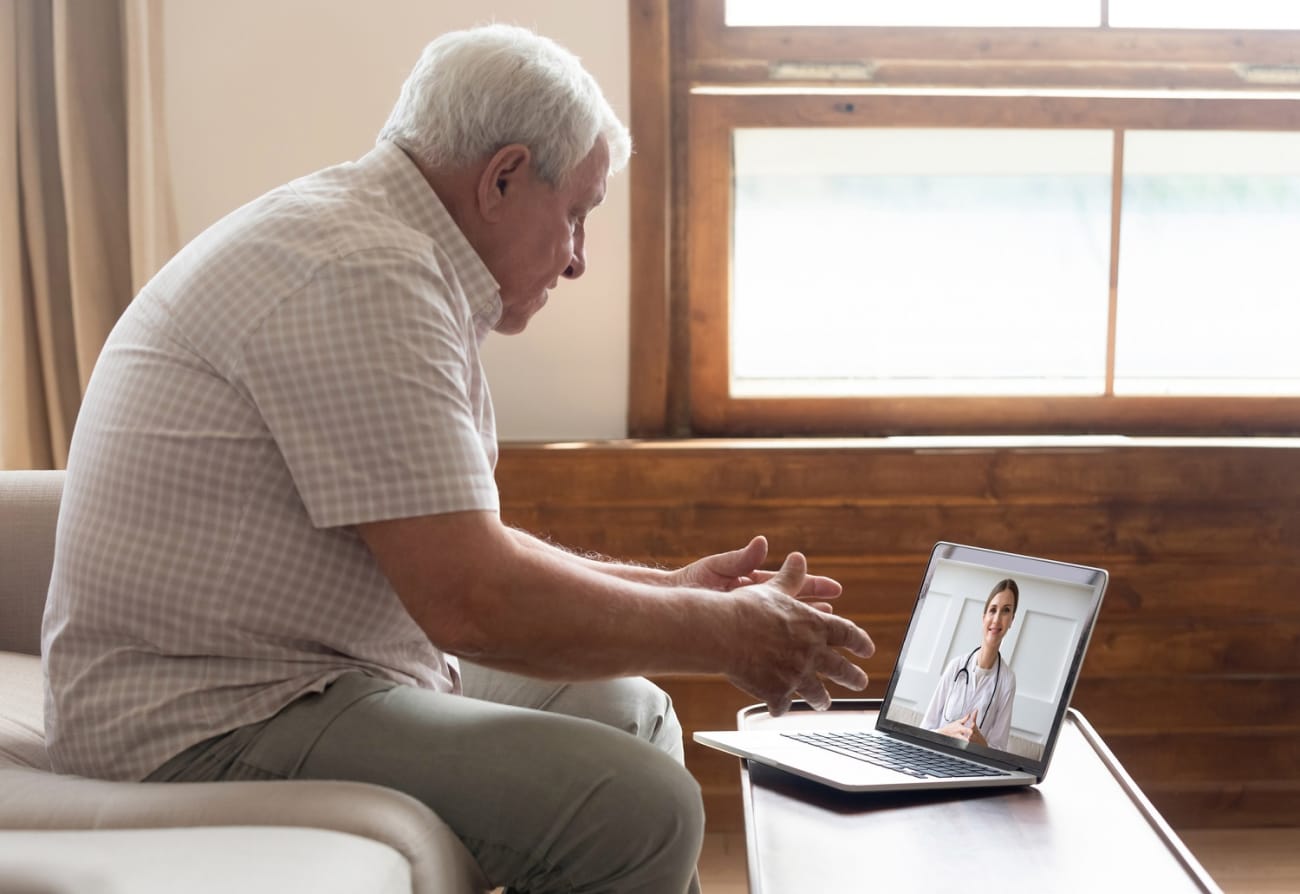 The Johns Hopkins Health System has greatly expanded its telemedicine capabilities in order to protect patients and staff members from the new coronavirus.
The technology is now being used to screen and monitor patients with the virus, as well as to care for people who would normally go to Johns Hopkins hospitals or clinics.
"It's so important that we leverage these technologies in order to keep patients home and not spreading the infection," says Rebecca Canino, administrative director of telemedicine for the Johns Hopkins Health System.
Telemedicine, which uses computers, tablets and smartphones to connect patients with clinicians, is not new at Johns Hopkins. But since March 16, the technology has been enabled for all Johns Hopkins patients who use MyChart, the portal that connects them to the electronic medical record system. (Patients who are in Epic but don't use MyChart can sign up quickly through Instant Activation.)
"Telemedicine is primed to meet the goals of 'social distancing,' to permit care to the right patient at the right time at the right place," says Brian Hasselfeld, M.D., assistant medical director for digital health innovations in the Office of Johns Hopkins Physicians and interim medical director for the Office of Telemedicine. "We are also working on additional digital tools to help meet these important public health goals."
If You Suspect You Have the New Coronavirus
Telemedicine plays an important role in keeping people who may have the coronavirus out of the hospital when possible.
Those who believe they are infected are advised to call their primary or specialty care provider to learn if they meet the guidelines for a test. "We recommend that you don't come to the hospital unless you have emergency-level illness," says Stephen Sisson, M.D., vice president, clinical operations, Office of Johns Hopkins Physicians.
"You don't need to be seen in person to arrange a test for coronavirus. If you fulfill the testing criteria, we can refer you to centers we've set up outside our hospitals."
For patients who test positive and are well enough to recover at home, clinicians can use telemedicine to help them manage symptoms and monitor for signs they are worsening and require hospitalization.
Telemedicine for Patients Without COVID-19
Clinicians throughout the health system are ramping up their use of telemedicine to treat Johns Hopkins patients from afar. "There's a pressing need to find ways to provide routine care to our patients without the risk of them being exposed" to the virus, says psychiatrist Deirdre Johnston, M.D., M.B.B.Ch.
Johnston was already using telemedicine to treat her geriatric patients for conditions such as depression and memory loss. She says the technology is ideal for connecting with older patients who may have trouble traveling to doctor's appointments. Older people are also at higher risk for COVID-19, so her office is now contacting patients to request they either cancel regular appointments or change them to telemedicine visits. "We're first of all trying to keep them out of the clinic when appropriate, while maintaining continuity of care," she says.
COVID-19 Ambulatory Response Team (CART)
Johns Hopkins has also expanded access to coronavirus testing and care through the new COVID-19 Ambulatory Response Team (CART), which allows the health system to test and treat patients who do not have a primary care doctor but are in Epic because they received specialty or emergency care at Johns Hopkins.
"Primary care will play an essential role in diagnosis and management of COVID-19," says Sisson. "But there are large numbers of patients in the system who don't have primary care." With CART, those patients can contact their Hopkins specialist and will automatically become eligible for coronavirus care at Johns Hopkins, including referrals for tests and monitoring through telemedicine.
"CART went live this weekend and received a few calls," says Sisson. "We worry about how quickly the demand will scale up. We made a choice to limit it to people with some connection to Hopkins. We need to deal with that first. But we also need to work with other health systems in the state to reach patients who have no health care."
Tips for Johns Hopkins Patients Using Telemedicine
Before you start, you'll need a MyChart account and a smartphone, tablet or computer. Download the MyChart app and select Johns Hopkins as your hospital. If you're using a computer, make sure it has an activated web camera and microphone.
During the telemedicine visit, place the device so the clinician can see your face. Position lighting so it is in front of you, not at your back.
Turn off background television or radio noise.
Let your clinician know if other people are in the room and if they will be part of the care discussion.
Learn more about COVID-19 guidelines for Johns Hopkins patients.