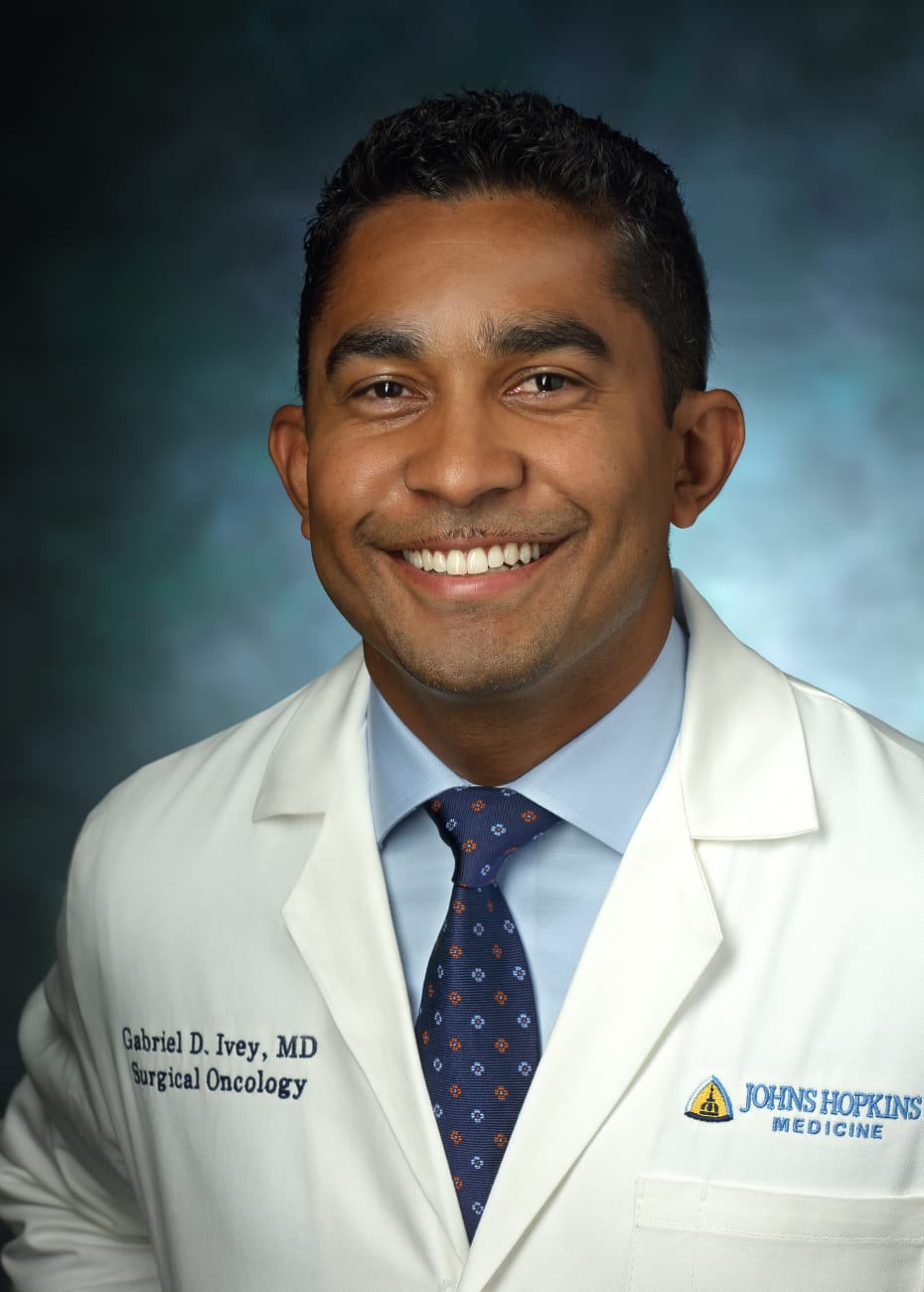 The care pathway for patients with resectable pancreatic cancer is shifting to include medical oncology intervention with neoadjuvant treatment prior to surgery.
This approach appears to improve overall survival, particularly for patients with node-positive disease, finds a study led by Gabriel Ivey, a fellowship-trained surgical oncologist with Johns Hopkins Medicine who specializes in hepatobiliary and pancreatic cancers, gastric cancer, melanoma and sarcoma.
Ivey has joined Johns Hopkins as the first surgical oncologist to be based at the Johns Hopkins Kimmel Cancer Center in the National Capital Region. He treats patients at Sibley Memorial Hospital and Suburban Hospital.
Ivey performs minimally invasive surgeries for patients with liver, pancreas, gallbladder, bile duct and gastric cancers. He also treats patients with melanomas, other skin cancers and soft tissue sarcomas.
Ivey offers robotic-assisted surgery for many cancer types, including pancreatic cancer, using the state-of-the-art equipment at Sibley Memorial and Suburban Hospital and works with a
multidisciplinary team of Johns Hopkins physicians o to determine the most effective treatment plan. His patients also have access to Johns Hopkins clinical trials, including neoadjuvant therapies, a research focus for Ivey.
Neoadjuvant therapy works to shrink tumors before surgery, allowing for a minimally invasive approach that has helped provide better outcomes to patients.
"Several studies have recently emerged suggesting an improved disease-free and overall survival with neoadjuvant therapy for resectable and borderline resectable pancreatic ductal adenocarcinoma," notes the study Ivey led, published in the World Journal of Surgery in July 2022.
Liver, pancreas and gallbladder cancers are relatively rare, so unless there is a family history or genetic syndrome that increases risk, people are typically not screened for these malignancies. That means that "unless they are caught incidentally on imaging obtained for another reason, these cancers have the potential to be very advanced by the time they are discovered," Ivey says.
That's why a comprehensive approach that considers neoadjuvant treatment as well as post-surgical chemotherapy is so important.
For example, he says, a patient may not seem an obvious candidate for surgery because the cancer is very large, but chemotherapy provided by a medical oncologist can shrink or stabilize the size of the tumor to make surgery possible.
The goal of these surgeries, he says, is to remove the cancer while saving as much of the healthy organ as possible. And for patients who are candidates for a minimally invasive approach, there is often a benefit. The smaller incisions associated with these procedures typically mean patients experience less pain and are able to heal faster than after a more invasive option.   In addition, patients recover sooner, and can start other treatment modalities like chemotherapy faster.
Even when patients are not cured, "these treatments — when performed as part of a larger multidisciplinary treatment plan — can extend their life, improve their quality of life and provide hope," he says.