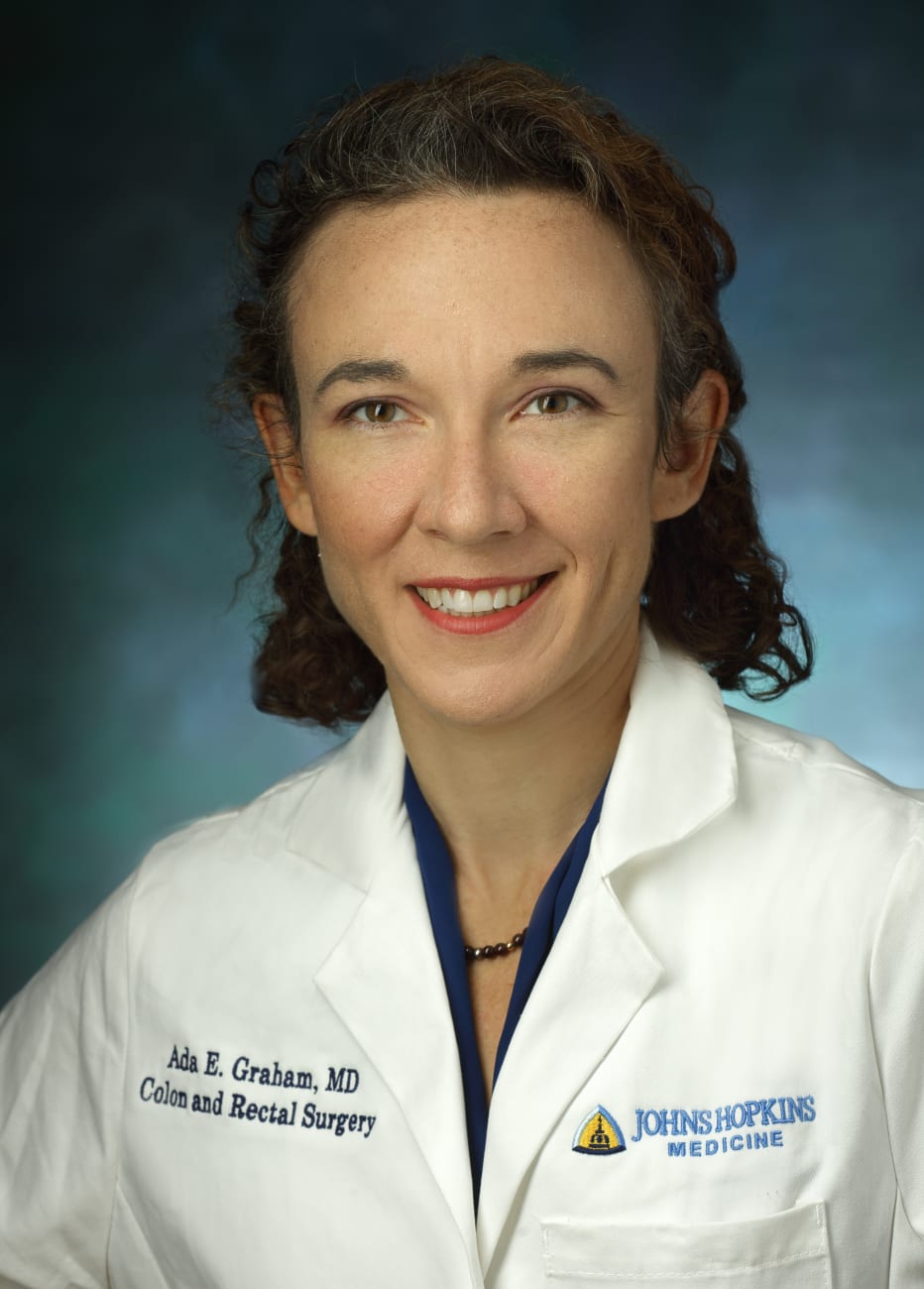 Ada Graham, a fellowship-trained colorectal surgeon, has joined Johns Hopkins Medicine in the National Capital Region. The team, led by Vincent Obias, chief of colorectal surgery in the National Capital Region, focuses on complex colorectal needs.
Graham, assistant professor of surgery in the colorectal surgery division, performs surgeries at Sibley Memorial Hospital and Suburban Hospital, treating cancerous and benign diseases including anal cancer, colon cancer, rectal cancer, inflammatory bowel disease and diverticulitis.
She also provides surgical relief for conditions including pilonidal disease, anal fistulas, hemorrhoids and anal fissures. Graham works closely with gastroenterologists to create a treatment course that is customized for each patient.
Graham's research focuses on inflammatory bowel disease.  A significant percentage of patients with IBD will eventually require surgery to remove damaged portions of the intestine despite maximum medical therapy. For these patients, surgery to remove these parts of the bowel can significantly improve their quality of life. For patients with Crohn's disease, who may require several surgeries over decades, she works closely with gastroenterologists to preserve as much bowel as possible.
Most of the surgeries Graham performs are minimally invasive. Patients are typically up and walking within a day of surgery, says Graham, a proponent of Enhanced Recovery After Surgery, a protocol used at Johns Hopkins hospitals to help patients recover from surgery as quickly and comfortably as possible. 
Graham graduated from Dartmouth College with a degree in linguistics, and earned her medical degree at the University of Tennessee Health Science Center.
After graduating from medical school in 2015, Graham completed her general surgical residency at the George Washington University in Washington, D.C., and her colorectal surgery fellowship at the University of Chicago.
She was drawn to colorectal surgery, she says, because she wanted opportunities to improve the quality of life for her patients. She also likes developing long-term relationships with her patients as well as the referring physicians with whom she collaborates on care.
"My job is to get people back to doing the things that they want to be doing, enjoying food, travel and life," she says.