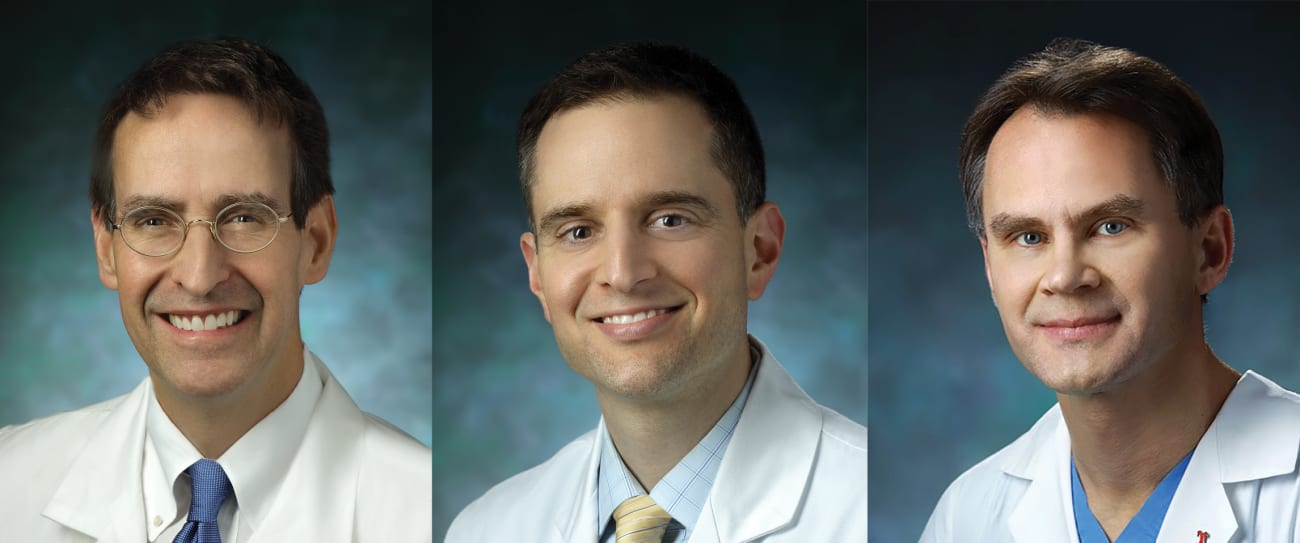 While there are multiple approaches to addressing degenerative mitral valve disease, cardiac surgeons tend to prefer repair over replacement, says James Gammie, co-director of the Johns Hopkins Heart and Vascular Institute and cardiac surgeon-in-chief for Johns Hopkins Medicine.
At Johns Hopkins, patients with the condition undergo repair in more than 95% of cases, compared with the national rate of under 80%. To recognize this achievement, the American Heart Association and the Mitral Foundation recently presented the institute with the Mitral Valve Repair Reference Center Award for its "demonstrated record of superior clinical outcomes resulting from evidence-based, guideline-directed, degenerative mitral valve repair." *
Gammie is a world expert in mitral valve disease, and he and his team perform mitral valve surgery on more than 225 patients annually. In contrast, the average surgeon in North America only performs five to 10 mitral valve operations each year, says Gammie. "Degenerative mitral valve disease is the most common condition I see among patients with mitral valve disease," he says. "Essentially, one or both of the two leaflets of the mitral valve are not supported properly, and the valve leaks when the heart beats. This causes a substantial increased workload on the heart, and leads to trouble breathing, accumulation of fluid, and enlargement and weakening of the heart, and it shortens lifespan.   
"It's much better to repair and keep your valve than to replace it with an artificial one," Gammie says. "The mortality rate at the time of surgery is lower by about half. Benefits of repair over replacement add up over time, and include a markedly lower risk of stroke, infection and reoperation. In most patients, life expectancy after a mitral repair is equivalent to an age-matched patient with no heart disease at all! Repair is the gold standard."
Work from the Johns Hopkins group, and others, consistently shows that there is a very important relationship between volume (the surgeon's experience) and outcomes. Gammie leads a team that performs more than 1,200 cardiac operations each year.
In addition, the Johns Hopkins mitral valve surgical team has deep experience in treating tricuspid valve disease as well as atrial fibrillation at the time of mitral valve surgery. 
Video shows pre-transcatheter edge-to-edge repair for severe mitral regurgitation (left), and post-transcatheter edge-to-edge repair trace mitral regurgitation.
Full Range of Options for Treating Degenerative Mitral Valve Disease
Not all patients with degenerative mitral valve disease are candidates for surgery. At Johns Hopkins, each new patient is evaluated by a multidisciplinary team that may include cardiac surgeons, heart failure specialists, cardiologists, interventional cardiologists and infectious disease experts, as well as specialists with advanced imaging capabilities. The team then recommends either medication, surgery or percutaneous management.
One option from interventional cardiology is transcatheter edge-to-edge repair using FDA-approved clip devices to reduce leakage. "These procedures work very well for certain patients," says Jon Resar, director of the adult cardiac catheterization laboratory and interventional cardiology at The Johns Hopkins Hospital. He notes that the Heart and Vascular Institute is a high-volume center that performs nearly 100 clip operations annually. "These procedures keep patients out of the hospital, and they help patients live longer and with much better quality of life."
Another interventional cardiology approach is transcatheter mitral valve replacement, or TMVR, an FDA-approved mitral valve replacement for those who have a bioprosthetic valve that has worn out.
There's also an extensive research program, which includes opportunities to enroll in cutting-edge, multisite, national and international clinical trials. For the minority of patients not suited for surgical repair, Johns Hopkins offers expansive expertise and hope for those deemed high risk due to advanced age or other comorbidities. Clinical trials offer these patients access to innovative treatments that are otherwise unavailable at present, says Rani Hasan, regional medical director of the institute's structural heart program at Suburban Hospital and director of the interventional cardiology fellowship program at the Johns Hopkins University School of Medicine.
For example, Hasan says, "The Apollo trial is a catheter-based mitral valve replacement, which can now be achieved through a femoral approach going through a vein in the leg akin to the way we do transcatheter aortic valve replacement (TAVR)," says Hasan. "This is sometimes the best option for people who are not good candidates for mitral valve surgery, and who are also not good candidates for the currently approved and currently available transcatheter mitral valve repair clip technology. So that's exciting."
The Primary Trial, an international randomized multisite trial through the Cardiothoracic Clinical Trials Network, and sponsored in part by the National Institutes of Health, compares the efficacy of traditional cardiac surgery to catheter-based, edge-to-edge mitral valve repair using new technologies for patients 65 or older who have primary mitral valve disease. "At present, we only consider patients in situations where a surgeon feels that surgery is very high risk or prohibitively high risk," Hasan says, "because historical data show that outcomes are suboptimal with these edge-to-edge repair techniques delivered through catheters with the old technologies."
During the process of determining participants for this trial, patients with primary mitral valve disease are first assessed by a multidisciplinary team and have to be deemed suitable for either mitral valve surgery or transcatheter repair, says Hasan. Those patients can then be entered into the trial and undergo randomization — a computerized coin flip between the two techniques. "We will compare the two populations of people who are basically completely comparable, who would have gotten the two different techniques, to see is there really a difference in terms of their outcomes. This will be a really important trial to help determine whether the current paradigm needs to shift, or should surgery still be considered the treatment of choice," says Hasan.
Learn more about Clinical Trials at Johns Hopkins Medicine
Addressing Racial Disparities in Structural Heart Disease Treatment
Resar, Hasan, Gammie and colleagues at Johns Hopkins are also at the forefront of studying the impacts of racial disparities in the treatment of structural heart disease. In 2021, a team led by interventional cardiologist Matthew Czarny, who directs the structural heart disease research group, published a study using a Maryland Health Services Cost Review Commission inpatient database of all patients with mitral valve disease and aortic valve disease, and showed there are inequalities related to treatment by race.
"All new technologies are often faced with severe racial inequities in terms of how they are rolled out, so it's very important for us to close that racial gap and to eliminate disparities," says Resar, noting that one result of the study is a project underway to produce guideline recommendations for primary care facilities in lower socioeconomic areas related to how echocardiograms are ordered and interpreted. "By improving that whole process, we hope to improve referral rates in those populations for these types of therapies."
Additional research into racial and ethnic disparities in patients undergoing mitral and tricuspid valve surgery is underway at Johns Hopkins.
*Mitral Valve Repair Reference Center Qualifications
Mitral Valve Repair Reference Centers must have experienced cardiothoracic surgeons and structural heart cardiologists, along with facilities and support services, to perform mitral valve repair procedures with superior clinical outcomes.

Qualified centers must perform at least 50 index mitral valve repair procedures in the most recent year. Each center must have at least one surgeon who has performed a minimum of 25 index mitral valve repair procedures in the most recent year or an average of 25 per year for the most recent two years.

Index mitral valve procedures are operations for primary (degenerative) mitral valve disease with prolapse, excluding severe mitral annular calcification (MAC) and leaflet calcification, with or without concomitant operations.
Click here to view: Standards and Best Practices for Mitral Valve Repair Reference Center
To make an appointment or learn more, please call 410 955 2800.