Surgeons at Johns Hopkins use surgical robots in nearly all oncologic procedures — enhancing precision, reducing pain and improving recovery time for patients.
When it comes to tumors of the liver, pancreas, or colon and rectum, surgeons at Johns Hopkins have greatly increased their use of surgical robots — allowing access to hard-to-reach areas, enhancing dexterity and improving view of the surgical field. For patients, this can result in more precise procedures, less risk of wound infection and blood loss, and a quicker return to regular daily activities.
"We're utilizing the robot now for almost all colorectal tumors, as long as it's not a recurrence or a very complicated situation where patients have had multiple surgeries in the past," says Bashar Safar, chief of colon and rectal surgery. "The advantages are our patients have equivalent oncologic outcomes with shorter recoveries and less pain." 
Johns Hopkins has the largest robotic surgery program in the mid-Atlantic, says Safar. The team performed over 90 robotic pancreatectomies in 2019, most for pancreatic tumors, says surgical oncologist Jin He. This includes pancreaticoduodenectomies (Whipple procedures), distal pancreatectomies and total pancreatectomies. 
Many patients with liver cancer also can be good candidates for robotic surgery, He says. This typically includes those who have cancer on the surface of the liver. Following a typical open liver surgery, patients spend five to seven days in the hospital. In comparison, He says, the robotic approach turns that surgery into almost an outpatient procedure.
"Rather than spending five days in the hospital, it's just an overnight stay and they go home," he says. "It's almost the same as gallbladder surgery nowadays, so that's a tremendous change for those patients."
Even patients whose tumors are in the core of the liver and need a formal liver resection to remove a third or half of the organ still can benefit from the surgical robot because they won't have a large incision, He says, and are less likely to experience wound infections or hernias.
The robotic approach can also be helpful for patients with colorectal cancer. Safar and He have performed a few colon and liver resections at the same time. The optics with the robot are better for rectal cancers, says Safar, allowing surgeons to see the area in greater detail.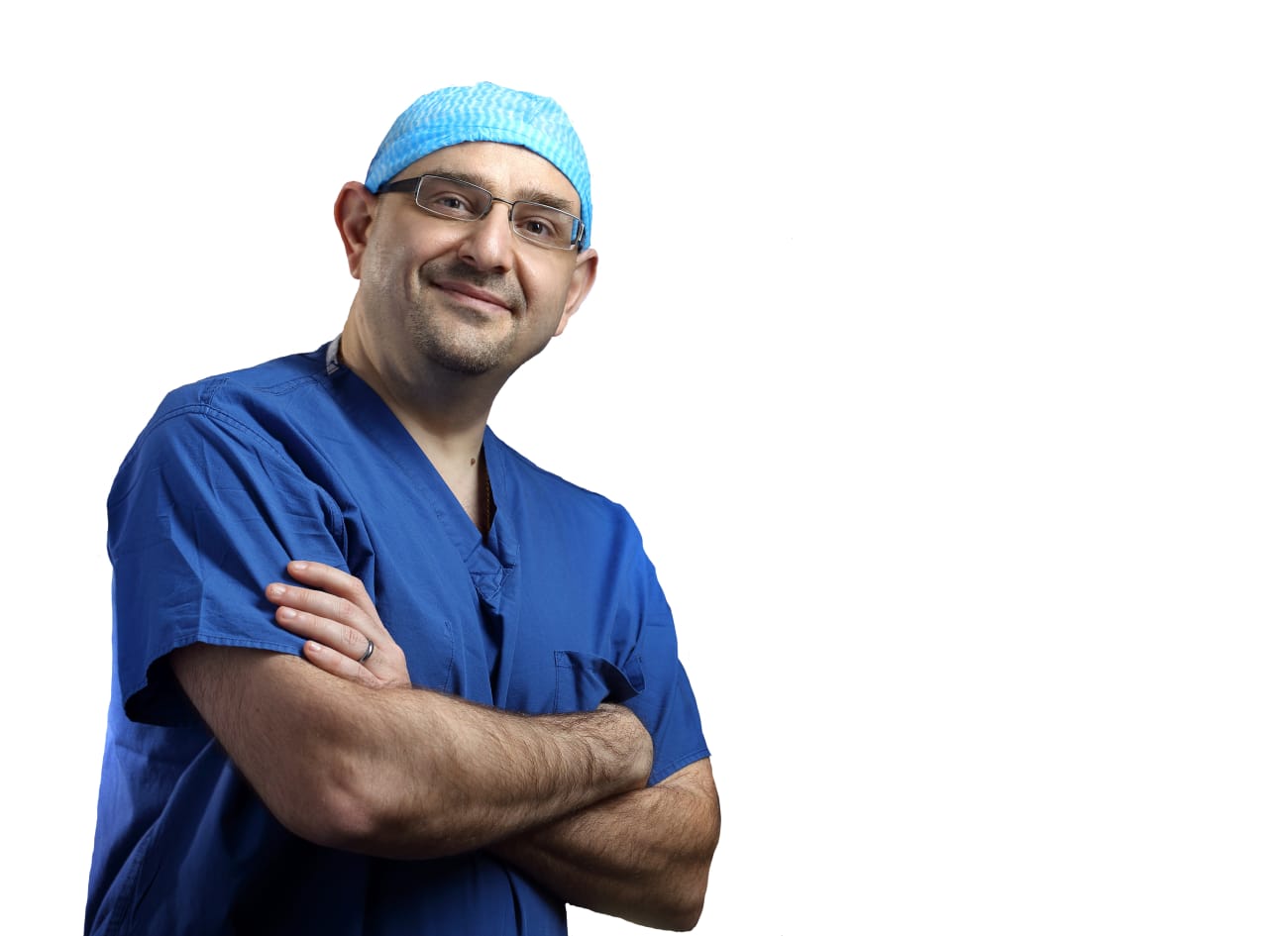 Rectal cancer patients can take part in a one-day multidisciplinary clinic that is in the process of being accredited by the American College of Surgeons. Patients see multiple specialists, including medical and surgical oncologists, on the same day and leave with a personalized treatment plan. Patients having colorectal surgeries recover in a dedicated hospital unit with experienced nurses, and participate in activities to enhance recovery, such as walking soon after the procedure.
No case is too small to refer, Safar emphasizes. "There's a notion sometimes that Johns Hopkins only sees complex cases, or only does redo cases," he says. "On the contrary, we have the capacity to take care of all referred patients. We can get them on the schedule in a very short space of time and have access to the robot right away."      
Through Johns Hopkins' Minimally Invasive Surgical Training and Innovation Center, surgeons have access to the most advanced robotic training capabilities. For example, a new robotic system called SP places three instruments together in one tube, allowing surgeons to perform minimally invasive robotic procedures through a single port, instead of the four to five currently used. SP is approved by the Food and Drug Administration for urology procedures but may soon expand to colorectal operations, Safar says.
Because of its high volumes, the program can provide patients with expert yet individualized care, says Safar. Close interaction with basic scientists and other specialists also means patients can get matched quickly to other innovative modes of therapy and clinical trials.
To discuss a case or refer a patient for robotic colon, rectal, liver or pancreas surgery, call 443-997-1508.