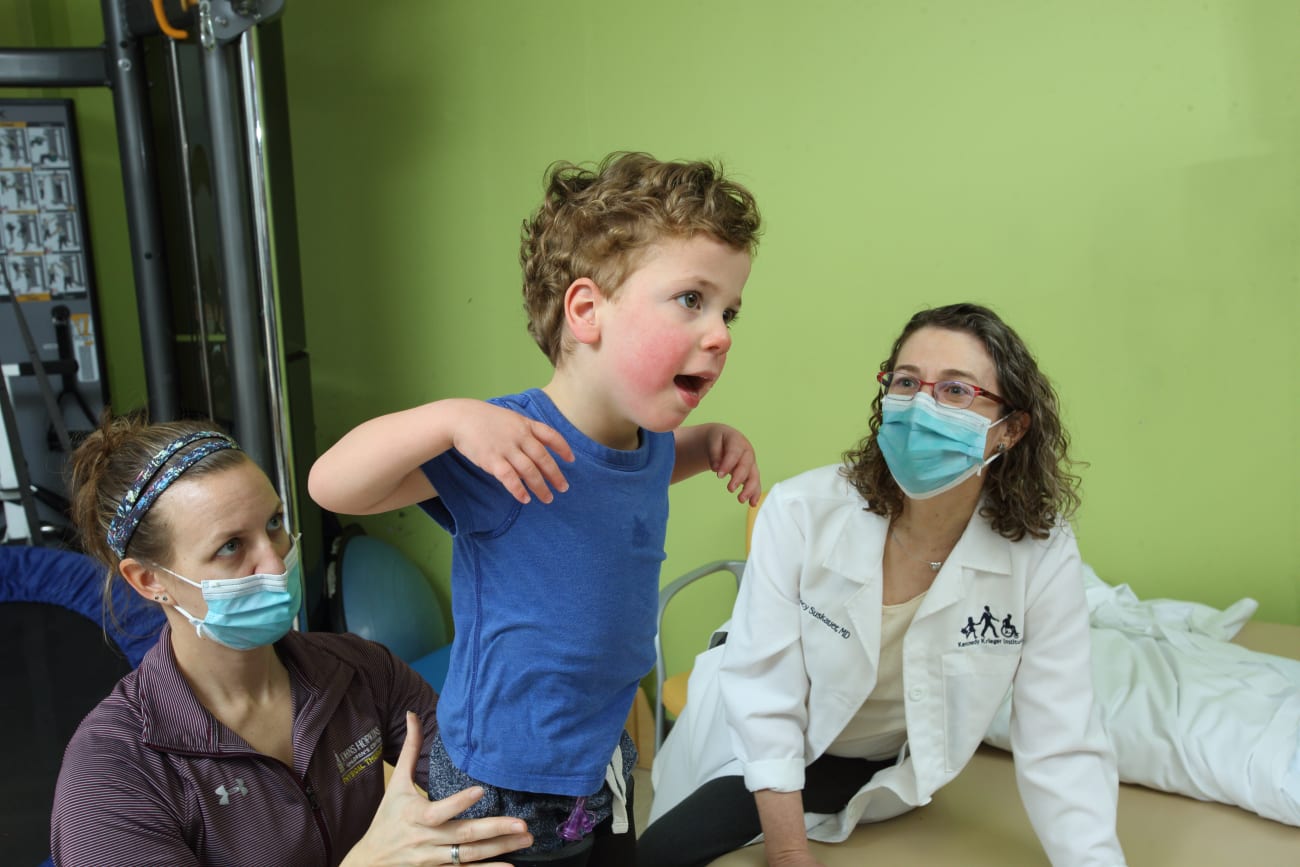 The Pediatric Rehabilitation division within the Department of Physical Medicine and Rehabilitation at Johns Hopkins Medicine is one of the largest in the nation, with 11 pediatric physiatrists plus associated specialists at four locations.
What sets it apart is "its wealth of expertise and programs," says Stacy Suskauer, associate professor of physical medicine and rehabilitation and pediatrics at the Johns Hopkins University School of Medicine. "No matter where the child is in the system, it's our Hopkins team caring for that patient."
As director of pediatric rehabilitation in the Department of Physical Medicine and Rehabilitation for Johns Hopkins Medicine, Suskauer leads a division that provides rehabilitation and physical medicine for pediatric patients who are recovering from surgeries or injuries, navigating conditions including developmental delays and motor skill challenges, and coping with cancer or chemotherapy.
Patients can access care at the department's two hospitals (The Johns Hopkins Children's Center at The Johns Hopkins Hospital in Baltimore and Johns Hopkins All Children's Hospital in St. Petersburg, Florida) and two rehabilitation facilities (Kennedy Krieger Institute and Mount Washington Pediatric Hospital, both in Baltimore). 
Kennedy Krieger Institute provides services for children, adolescents and adults with diseases, disorders and injuries that impact the nervous system. Mount Washington Pediatric, affiliated with the University of Maryland Medical System and Johns Hopkins Medicine, provides long-term care for children with complex health problems.
"Our pediatric patients move fluidly through the programs," says Nancy Yeh, a pediatric physiatrist on the inpatient rehabilitation unit at Kennedy Krieger Institute. 
A patient with traumatic brain injury, for example, might receive inpatient rehabilitation care at Kennedy Krieger Institute or Mount Washington, and then continue therapy with a day program through Kennedy Krieger Institute's Specialized Transition Program or home therapies through its Community Rehabilitation Program, she says.
"It's nice to have all these services in one department."
As an example of further collaboration, Yeh says, clinicians at Mt. Washington recently joined Kennedy Krieger Institute's low-responsiveness meetings, held on Mondays, for multi-disciplinary discussions about treatment plans for patients with consciousness disorders.
Suskauer says one of her goals is to help patients, families and referring physicians understand that physiatrists and specialists at all four locations work together to determine treatment plans, establish best practices and conduct research.
Trainees regularly rotate between the sites, and clinicians collaborate across locations, for instance by participating in Grand Rounds over Zoom. "We have amazing resources, and I consult with them regularly," says Danielle Ransom, a neuropsychologist at All Children's. 
Suskauer completed her undergraduate and medical education at Duke University, followed by a combined residency program in pediatrics and physical medicine and rehabilitation at Cincinnati Children's Hospital Medical Center and the University of Cincinnati.
She came to Johns Hopkins and Kennedy Krieger for a pediatric rehabilitation research fellowship in 2005 and joined the faculty in 2007. She has been leading Kennedy Krieger's brain injury rehabilitation programs since 2010.
Suskauer became director of pediatric rehabilitation for the Department of Physical Medicine and Rehabilitation at Johns Hopkins Medicine in September 2022, and was promoted at the same time to vice president for pediatric rehabilitation at Kennedy Krieger Institute. She remains co-director of the Center for Brain Injury at Kennedy Krieger Institute, along with Beth Slomine, professor of psychiatry and behavioral sciences.
 "We all serve children with various rehabilitation needs," Suskauer says of the group she now leads. "We have different specialties at different sites and can link our patients to the right program."
To refer a patient for pediatric rehabilitation, call 443-923-9400 for physician appointments or 443-287-9262 for therapy appointments.