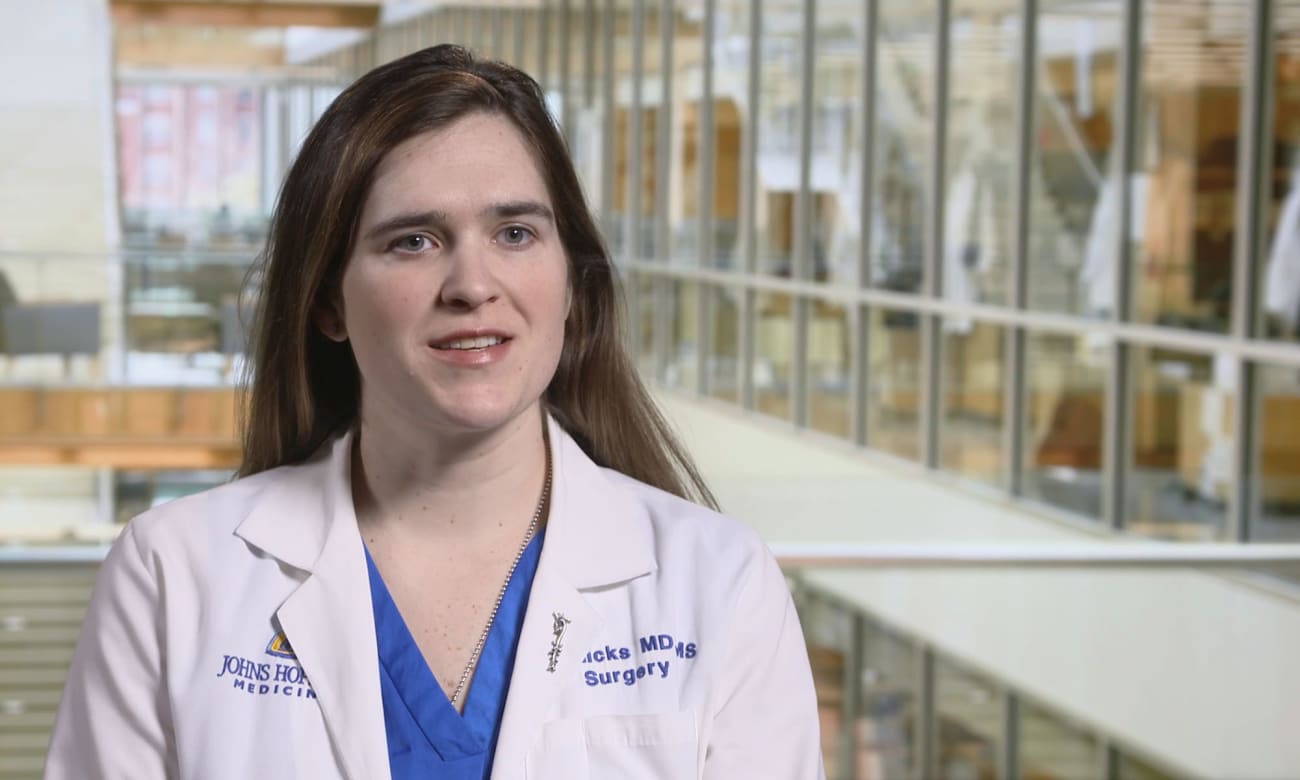 Based on the widely adopted Choosing Wisely campaign, vascular surgeon Caitlin Hicks (pictured above) and colleagues created an initiative to improve approaches to surgical treatment: Improving Wisely.

Just over a decade ago, the Choosing Wisely initiative, developed by the American Board of Internal Medicine Foundation, began a much-needed conversation among physicians in the U.S. about appropriate, high-value medical care — an effort that has now extended to more than 20 countries around the world. Although beginning that discussion was important, says Johns Hopkins vascular surgeon Caitlin Hicks, realizing significant change among individual physicians to accomplish Choosing Wisely's goals proved more challenging.
"Instead of just talking about reducing low-value care," Hicks says, "we wanted to do something truly impactful."
That's why, five years ago, Hicks began working with Johns Hopkins surgeon and public policy researcher Marty Makary and colleagues in other specialties to develop Improving Wisely, a program that uses individual physicians' metrics to help steer them to higher-value care choices. Since then, the tenets of Improving Wisely have been applied to metrics related to dermatology, gastroenterology, gynecology and orthopaedics, with organizations including the American Vein & Lymphatic Society, the American College of Mohs Surgery, the Society for Vascular Surgery and the American College of Surgeons developing it for use.
For example, in Hicks' own specialty of vascular surgery, early surgical intervention for claudication is frequently overused. Although guidelines from the Society for Vascular Surgery and Choosing Wisely both recommend offering patients this procedure only after a failed trial of medical and exercise therapy, a significant number of surgeons use it as a first-line treatment. In 2020, Hicks and her colleagues published a study in the Journal of Vascular Surgery that used data from Medicare fee-for-service claims showing that nearly 6% of physicians submitting these claims had unacceptably high peripheral vascular surgery rates for claudication, an intervention that carries significant risk for poor outcomes such as amputation and reintervention.
As part of the Improving Wisely initiative, Hicks and her colleagues are using individual physician information associated with Medicare claims to send out "report cards" to surgeons who treat claudication to inform them of how their rates for surgical intervention compare with those of colleagues nationwide. The goal of this simple intervention is to significantly decrease inappropriate early surgery for claudication, bringing outliers who excessively perform this procedure closer to the mean of U.S. vascular surgeons.
In 2021, Hicks and her colleagues published another study that tested a similar intervention for surgeons who perform endovenous thermal ablation, which can eradicate multiple varicose veins in a single procedure — but that's often used inappropriately to bill patients for multiple procedures. Mailing report cards to these surgeons reduced multiple procedures nearly 80% among outliers who performed them unnecessarily, resulting in an estimated cost savings of $6.3 million.
More recently, in 2022, Hicks organized and facilitated a session at the High Value Practice Academic Alliance's national conference called Operate Wisely, which brought in 15 speakers from a broad array of surgical specialties to talk about overuse of procedures and concrete ways to improve value for surgical care. The four-hour session helped spread awareness about low-value procedures and ways to prevent them, Hicks says, knowledge that can help physicians increase high-value care in their own practices.
"As physicians, we should provide procedures when they're appropriate, but also know when not to treat patients or to provide noninvasive interventions, which is sometimes the best choice," Hicks says. "These initiatives are getting us closer to that goal."
To refer a patient, call 410-955-5165.