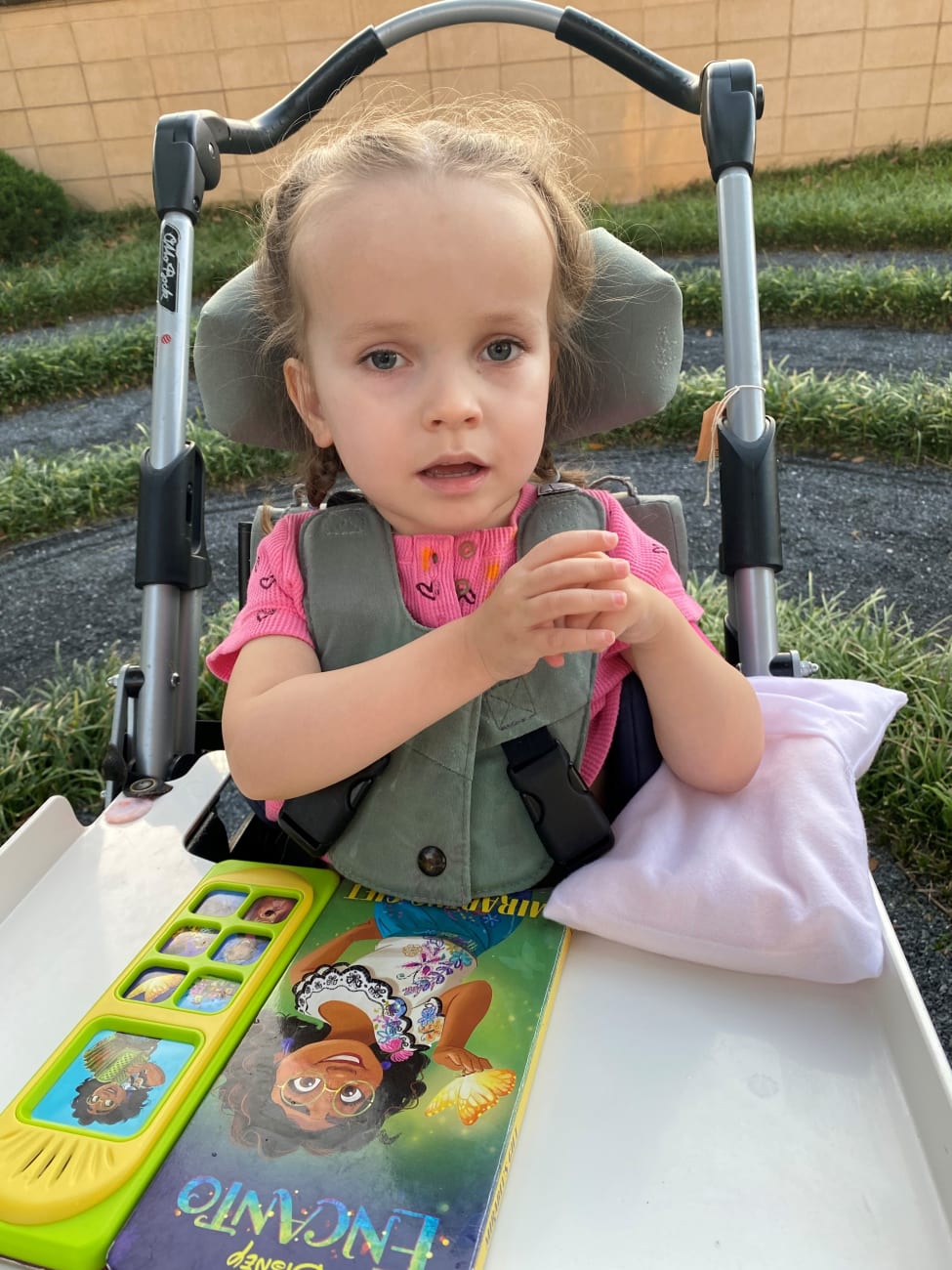 Amelia Lavenski is a 4-year-old girl from Anne Arundel County, Maryland, who has a bright personality and loves laughing and Mickey Mouse. "Every day, she smiles at something new," says Amelia's mother, Stephanie. Amelia was diagnosed with epilepsy – a neurological condition that causes seizures, which she started having when she was 15 months old. She was also diagnosed with a rare gene mutation (mitochondrial disorder) that causes prolonged seizures. Her mom says Amelia would experience one or two seizures every year that would require hospitalization. But in August 2023, an uncontrollable seizure led to a life-changing event. 
Amelia was first rushed to the emergency room, and admitted to the Johns Hopkins Children's Center Pediatric Intensive Care Unit (PICU). Despite efforts to stop her seizure with medication, the seizure continued. "This seizure was really hard to control and lasted a week," Stephanie Lavenski says. To prevent further complications, Amelia was intubated and monitored by an electroencephalogram, or EEG – a test that detects the electrical activity of the brain.
Days later, Amelia's condition improved, and she woke up from the prolonged seizure, after doctors had adjusted her medication and implemented the ketogenic diet, one of the oldest treatments for epilepsy. The high-fat, very low-carb diet can be used to help control seizures. Ultimately, Amelia's prolonged seizure led to inflammation in her brain, creating severe complications. She was no longer able to walk, move one side of her body, sit or hold up her head on her own. She remained in the PICU for two weeks, and eventually moved to a step-down unit, where her care team, which included pediatric neurologist and pediatric Ketogenic Diet Center director Eric Kossoff, M.D. formulated a treatment plan going forward. In combination with medication, Amelia would continue the ketogenic diet for now.
"The keto diet can be very beneficial, but it does not work for everyone," says Kossoff. "In Amelia's case, implementing this was a lifesaving treatment."  
Amelia was discharged from Johns Hopkins after three weeks. She then spent five weeks at Kennedy Krieger Institute for additional inpatient rehabilitation. Amelia is now back home, and has remained mostly seizure free. She initially continued on the ketogenic diet and has just recently started back on a regular diet. She completes at-home therapy and outpatient therapy, and is relearning to walk in addition to other social and motor skills.
"She is making good progress, and we are slowly getting back to things," says Stephanie Lavenski. Amelia's doctors are hopeful she will keep making strides as her recovery continues.
Amelia's mom Stephanie and Kossoff are available for media interviews.
November is National Epilepsy Awareness Month, a time to raise awareness about this common disorder of the nervous system, its challenges, symptoms and treatment options.