Dear Colleagues,
As we look back on 2019, it has been an extraordinary year for our Department of Gynecology and Obstetrics, as we succeeded in all three areas of our tripartite mission: patient care, education and research. Our department faculty members continue to be national and international leaders in our specialty and subspecialties. We have expanded our services to the mid-Atlantic region to provide more access to a larger patient population. Our school of medicine obstetrics and gynecology ranking from U.S. News & World Report improved to #2. Discovery and innovation have flourished this year, anchored by several core laboratories, research foundation grants and prestigious awards for faculty throughout the department. This year, I began a four-year term as president of the American Board of Obstetrics and Gynecology. We are very proud of our tradition and look forward to continual growth and future achievements in the coming new year.
PATIENT CARE
Expanded new programs and services include initiatives in gynecologic cancer survivorship, surgical innovation and patient safety, menopause and centering during pregnancy. And with over 92% of our hysterectomies performed with minimally invasive techniques, we continue to advance patient-centered and quality and safety initiatives related to minimally invasive gynecologic surgery.
We are expanding our outpatient clinical and ambulatory surgical services with the opening of a new ambulatory surgical center. This new contiguous space will bring more opportunities for our gynecologic surgeons to continue migrating their surgical cases from the hospital setting to the outpatient setting.
Our new director of the Division of Reproductive Endocrinology and Infertility, Valerie Baker, joined us and is leading the expansion of fertility services. The new fertility center will allow providers to offer services centrally and to offer easy access to more specialists. The center will also strengthen the broad research program to not only help current patients but also patients into the future. Johns Hopkins physician-researchers are leading translational research studies aimed at finding better interventions for a variety of conditions, including endometriosis and fibroids.
Our maternal fetal medicine specialists are uniquely trained in fetal diagnostic procedures, and two faculty members are specially trained in critical care: Torre Halscott and Arthur Vaught. We also offer a robust prenatal genetic division that includes several maternal fetal medicine specialists, with a dual specialty in maternal fetal medicine and medical genetics specialists who offer the most advanced genetic testing that is clinically available.
The Center for Fetal Therapy is one of the few in the world that have successfully performed fetoscopic spina bifida repair while reporting significant outcomes through the federally sponsored Management of Myelomeningocele Study (MOMS). The team has applied its groundbreaking research to patient care, and has reported the highest survival rate for the most severe cases of congenital diaphragmatic hernia (CDH) with fetoscopic endoluminal tracheal occlusion (FETO) balloon surgery, an experimental technique to improve lung function in babies with severe CDH.
EDUCATION
Regarding our mission of excellence in education, we are also pleased that our efforts have been recognized by U.S. News & World Report, which ranked us #2 in the Best Graduate Schools rankings for Best Obstetrics and Gynecology Programs. This rise to second place is due to our excellent people and to an increase in extramural research funding, which has quadrupled in the last five years.
Our medical student clerkships and women's health curriculum have fostered a rise in Johns Hopkins medical student applications to obstetrics and gynecology residency programs. Interest in our residency programs has never been higher, with over 800 applications for our nine internship slots. Additional recent initiatives include new fellowships in minimally invasive gynecologic surgery and global women's health research.
RESEARCH
We are excited to announce our collaboration with the Allegheny Health Network/Highmark Health. Through this partnership, we have formed one of the largest single-site research initiatives. Combined, we perform nearly 20,000 obstetric deliveries and 20,000 gynecologic surgeries per year — which will allow us to look at best practices and outcomes, and cooperate on clinical trials. We will have the chance to apply our Precision Medicine Analytics Platform (PMAP) to women's health on a scale not been done before, making it possible to seek connections between treatments and outcomes that we wouldn't see with a smaller data set. We will share knowledge through combined subspecialty conferences.
Over the past five years, our annual extramural funding totaled a little over $2 million. This year, we project nearly $10 million. These funds will support a variety of projects, including the Specialized Program of Research Excellence (SPORE) focused on ovarian cancer that will begin this fall. The SPORE programs, funded by the National Cancer Institute, pair basic and applied scientists together to speed translational research from the lab to the clinic.
Three members of our faculty — Anna Beavis, Anna Powell, and Arthur Vaught— became prestigious Building Interdisciplinary Research Careers in Women's Health (BIRCWH) Scholars. BIRCWH scholar Angie Jelin recently received an award from the National Institute of Child Health and Human Development to look at the impact of novel genes on fetal anomalies.
Maternal-fetal medicine specialist Ernest Graham is leading medical research, funded by the National Institutes of Health (NIH), on the use of photoacoustics to diagnose hypoxic-ischemic encephalopathy and stroke in the fetus and neonate. Irina Burd received an NIH award and leads the Integrated Research Center for Fetal Medicine study of the pathogenesis of fetal brain injury with exposure to intrauterine inflammation.
The Division of Reproductive Science and Women's Health Research is home to groundbreaking basic science, translational and clinical investigations. The TeLinde Laboratory, led by Ie-Ming Shih, focuses on gynecologic pathology research. The Howard W. and Georgeanna Seegar Jones Laboratory of Reproductive Sciences and Women's Health Research, under the direction of James Segars, addresses questions regarding reproductive endocrinology and benign gynecologic conditions.
The department led its successful BIRCWH application and supports programs in immune therapy for preinvasive and invasive disease, and early cancer detection. Our research endeavors are supported by the NIH, the Agency for Healthcare Research and Quality, the Centers for Medicare and Medicaid Services, and foundation grants and awards. Philanthropic support has also benefited our research, and we have exceeded targets for our current campaign with commitments over $15 million. The department has produced over 600 peer-reviewed manuscripts, reviews and chapters in the past five years.
From our team to yours, we wish you health, happiness and prosperity in the coming year!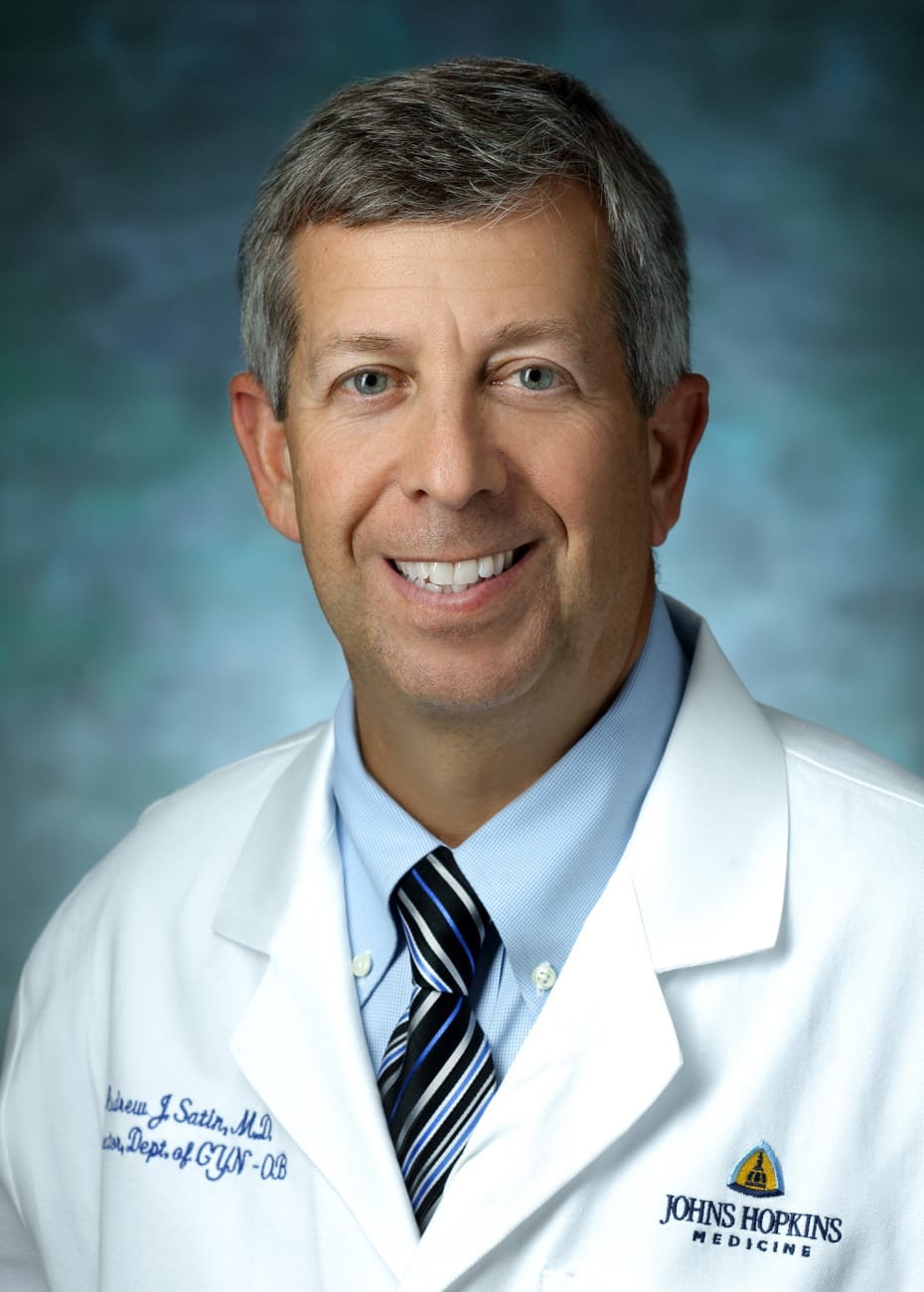 Sincerely,
Andrew J. Satin, M.D.
Dr. Dorothy Edwards Professor and Director of Gynecology and Obstetrics
Obstetrician/Gynecologist-in-Chief