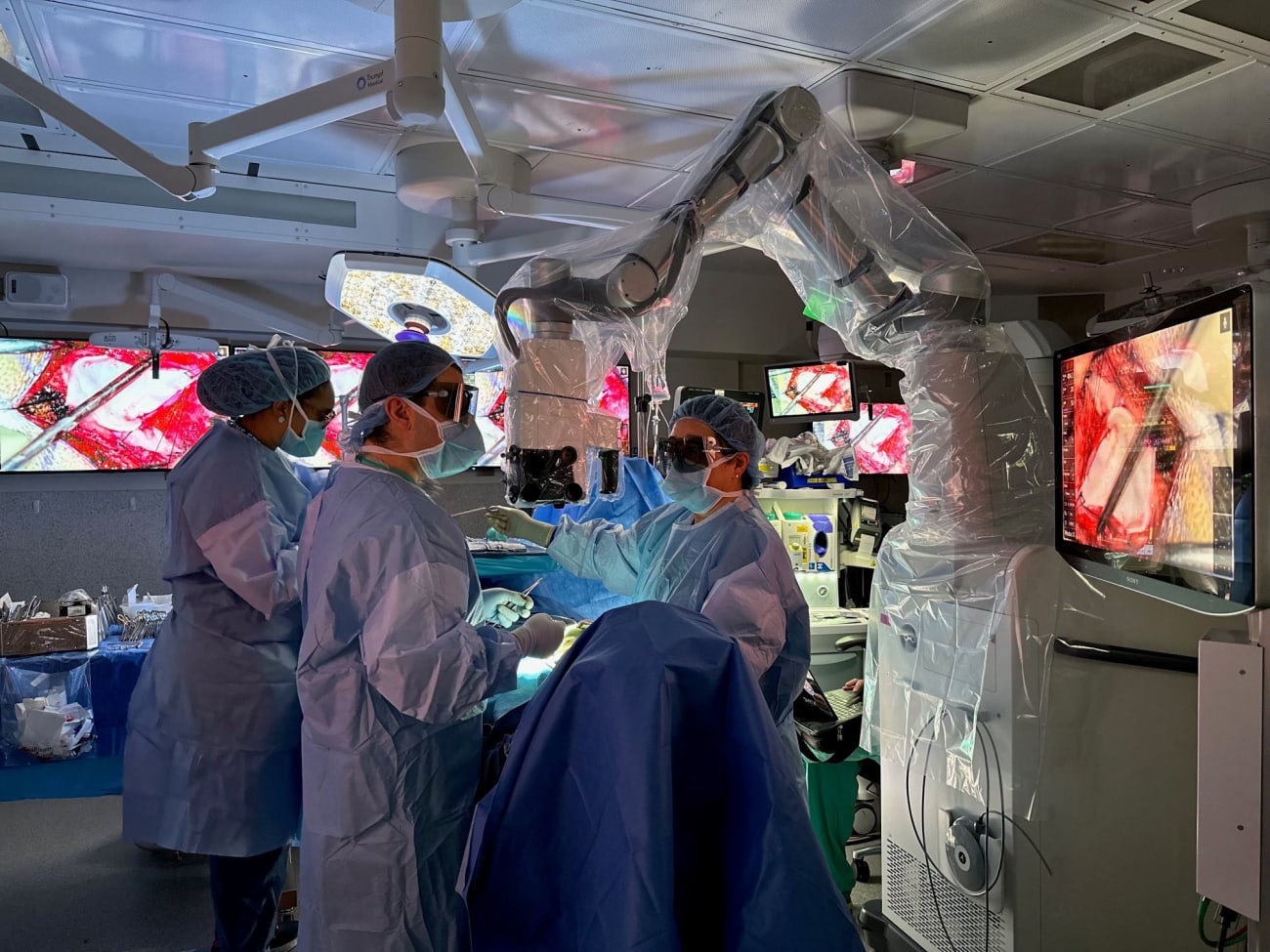 Ever since Johns Hopkins neurosurgeon Harvey Cushing performed the first successful brain tumor operations in the early 1900s, the field of neurosurgery has gradually become safer and more effective — an advance due, in large part, to better and better visualization and imaging. Johns Hopkins continues to lead the field as early adopters of new technologies in these areas, embodied by the use of two new pieces of equipment recently acquired at Johns Hopkins Bayview Medical Center. The neurosurgery team there is the first in Maryland to obtain a robotic exoscope, and one of the first in the state to obtain a mobile CT X-ray system, which combines 2D fluoroscopy, 2D digital radiography and 3D CT imaging.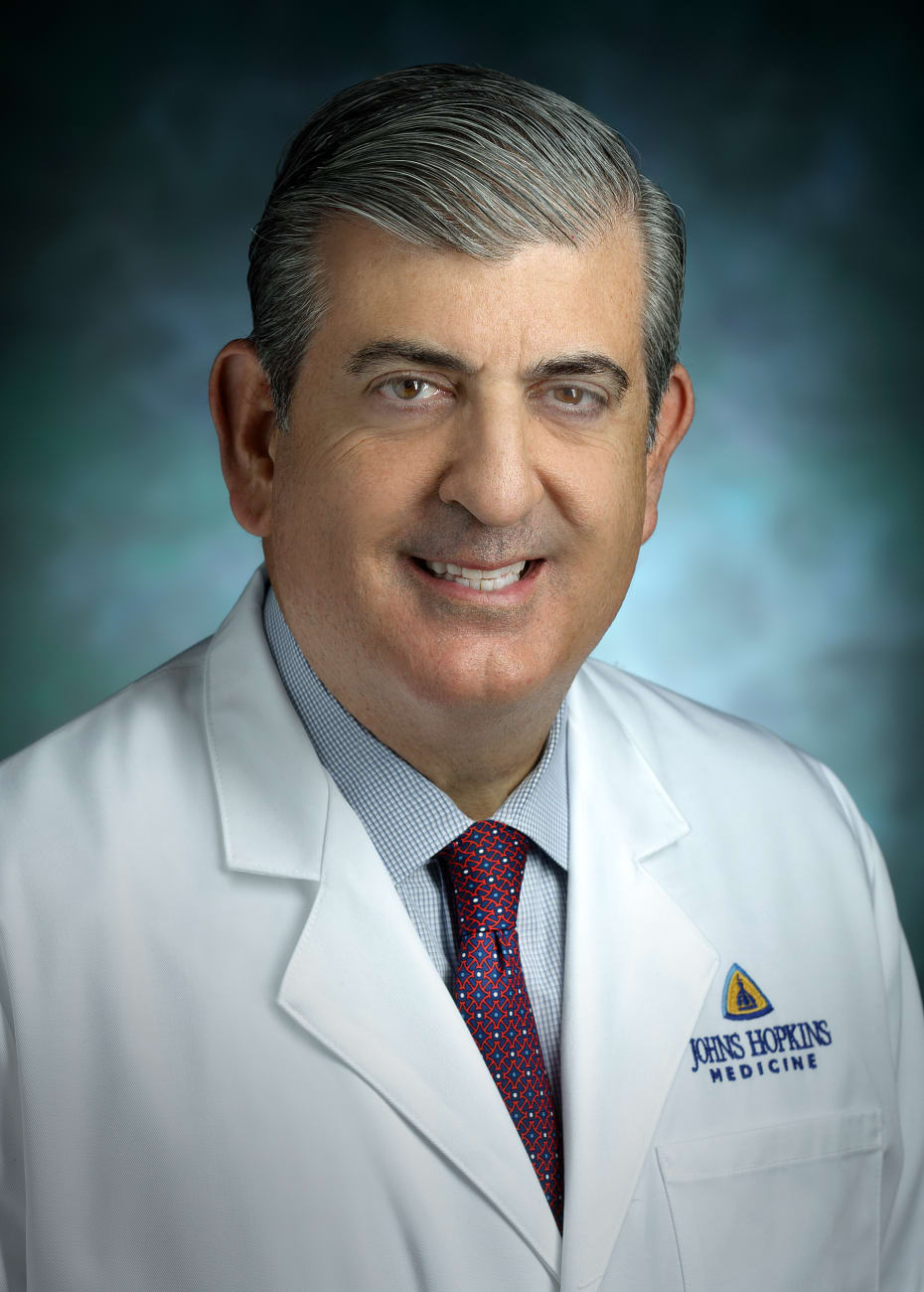 "Neurosurgery at Johns Hopkins emphasizes innovation," says Judy Huang, Irving J. and Florence Sherman Professor of Neurosurgery and director of neurosurgery at Johns Hopkins Bayview Medical Center. "When there is an opportunity to integrate cutting-edge technology into our technique, we embrace it for the benefit of our patients."
The robotic exoscope, Huang explains, improves upon the surgical microscopes that have become the standard. Although microscopes have revolutionized neurosurgeons' ability to see anatomy in high detail during surgery, they have numerous drawbacks. These bulky devices take up significant space in the operating room, and they require surgeons to bend over uncomfortably to look through the eyepieces. They must be physically adjusted using the surgeon's hands and feet, and they partially obscure the surgical field so that assistants and trainees can't view it or easily participate. 
In contrast, Huang says, "the new exoscope has a significantly smaller profile than a standard surgical microscope, and can be adjusted using voice commands." A high-powered objective snakes over the surgeon's shoulder, broadcasting images of the surgical field on monitors that allow everyone in the operating room to see. Surgeons wear special headsets that convert the 2D image on the monitor into 3D, allowing them to operate without bending over while watching the monitors. Because the surgical field remains unobstructed, assistants and trainees can view what the surgeon sees and contribute more to procedures.
The mobile, multifunctional CT is also a significant improvement on existing intraoperative imaging technology, says Nicholas Theodore, director of the Johns Hopkins Neurosurgical Spine Center. The new device significantly increases the resolution of obtained CT, fluoroscopy and radiography images and provides a significantly larger visual field, allowing surgeons to see significantly more in a single image. The resulting images can be merged with surgical navigation systems, increasing the safety and efficiency of procedures.  
Although both pieces of equipment have learning curves, the similarity of these devices to previous technologies has made them easy to incorporate into the workflow, Huang says. She and her colleagues plan to implement them to benefit patients with deficits related to cerebrovascular, brain and spine injuries or disease, including Chiari malformations, trigeminal neuralgia, arteriovenous malformations, and spine and brain tumors.
"The field of neurosurgery is constantly evolving," says Theodore. "It's incredibly gratifying to be on the forefront of innovation through vetting, adopting, and integrating technologies like these into our work."
To refer a patient, call 410-550-0465.