A new center at Johns Hopkins Children's Center dedicated to the management of infants, children and young adults with all forms of heart disease builds on a long history of advancements in pediatric cardiac surgery dating back some 75 years.
In November 1944, surgeons at Johns Hopkins performed the first landmark operation on a so-called blue baby, an infant whose heart is unable to pump blood to the lungs to provide enough oxygen to the body. A surgical team led by Alfred Blalock, with his longtime technician Vivien Thomas guiding him, implanted a shunt, or tube, to increase blood flow to the lungs. Pediatric cardiologist Helen Taussig worked with Blalock to develop the shunt. The procedure is credited with saving the lives of thousands of children and launching the field of modern cardiac surgery. It also enhanced Johns Hopkins' reputation worldwide.
In January 2020, Johns Hopkins Medicine brought multiple specialists in pediatric and congenital heart disease (CHD) into the new Blalock-Taussig-Thomas Pediatric and Congenital Heart Center, located in The Charlotte R. Bloomberg Children's Center building. A collaboration among the divisions of pediatric cardiology, pediatric cardiac surgery, and pediatric anesthesiology and critical care medicine, the center offers lifelong care for patients born with CHD.
"Johns Hopkins was the birthplace for congenital heart disease interventions in surgery," says Jamie McElrath Schwartz, co-director of the new center and division chief of pediatric critical care medicine. "We picked the name specifically to include these three pioneers, as we are building on that past and creating a new future."
Although experts from different disciplines who care for CHD patients collaborated in the past, Schwartz says this reorganization establishes a fully integrated, multidisciplinary approach at Johns Hopkins Medicine.
"We have the ability to create dedicated services like operative teams, pediatric perfusion teams, a cardiac intensive care unit and nursing," she says. "That's exciting, because these are people who want to narrow their practice to CHD, to work with these families long term and provide them excellent care."
Center co-director Shelby Kutty, who also serves as director of pediatric and congenital cardiology, says the center's structure maximizes the available expertise at Johns Hopkins Medicine, benefits patients' families and gives the institution a competitive edge for recruiting top experts, improving rankings, and garnering philanthropy and research dollars.
CHD patients are very complex, he says, often requiring a spectrum of services: "It's a very outcomes-driven specialty, and the key to having good outcomes is a dedicated team and teamwork."
Bret Mettler, director of pediatric cardiac surgery, is also a co-director of the center. He recently came to Johns Hopkins Medicine from Vanderbilt University Medical Center, where he was director of pediatric cardiac transplantation and mechanical support. Pediatric and congenital cardiac surgeon Danielle Gottlieb-Sen joined the team in April. With expertise in the genetics and prenatal diagnosis of CHD, she will have a clinical practice while directing pediatric cardiac research for the heart center.
"Our goal is to provide a service line of care, where patients and their families can call one phone number and have access to outpatient care, surgeries, postoperative care and research studies," Mettler explains. "We plan to develop the heart center into an elite destination."
Partnering with Maternal-Fetal Experts
With Johns Hopkins experts in maternal-fetal medicine and obstetrics close at hand, the new heart center will help extend full-service care for mothers and their babies. In addition, when issues are discovered early in pregnancy, fetal therapy interventions can be performed to give babies the best start in life. Within minutes to hours of being born, infants can be cared for in a specialized pediatric cardiac intensive care unit or prepped for procedures.
In the Department of Gynecology and Obstetrics, experts at the Center for Fetal Therapy, led by Ahmet Baschat, and fetal imaging, led by Jeanne Sheffield and Janice Henderson, have been able to identify an overwhelming majority of fetal neonatal congenital anomalies including CHD. By doing so, these teams then collaborate with the Children's Center's fetal program, led by Eric Jelin, and the pediatric cardiology team to allow for a smooth transition of care from treating a baby before birth to caring for the baby after birth.
Caring for Adults with CHD
Thanks to advances in pediatric cardiac care, over 95% of children born with CHD now live into adulthood. Therefore, the new center incorporates an adult CHD program, directed by cardiologist Ari Cedars, to care for older teens and young adults. It allows them to continue to manage their CHD needs as well as any adult-onset heart conditions such as coronary artery disease and arrhythmias.
"You don't stop having CHD when you transition from a pediatric age group to an adult age group, so adult CHD patients are really
optimally managed by combined pediatric and adult cardiac care services," says Cedars, noting that The Johns Hopkins Hospital is one of a few major medical centers housing both pediatric and adult cardiac care for these patients. The multidisciplinary center will have a patient-centered care approach, he says. "We actively track patient experiences between visits, using patient-reported outcomes, metrics and mobile health technologies to help inform our care," Cedars says.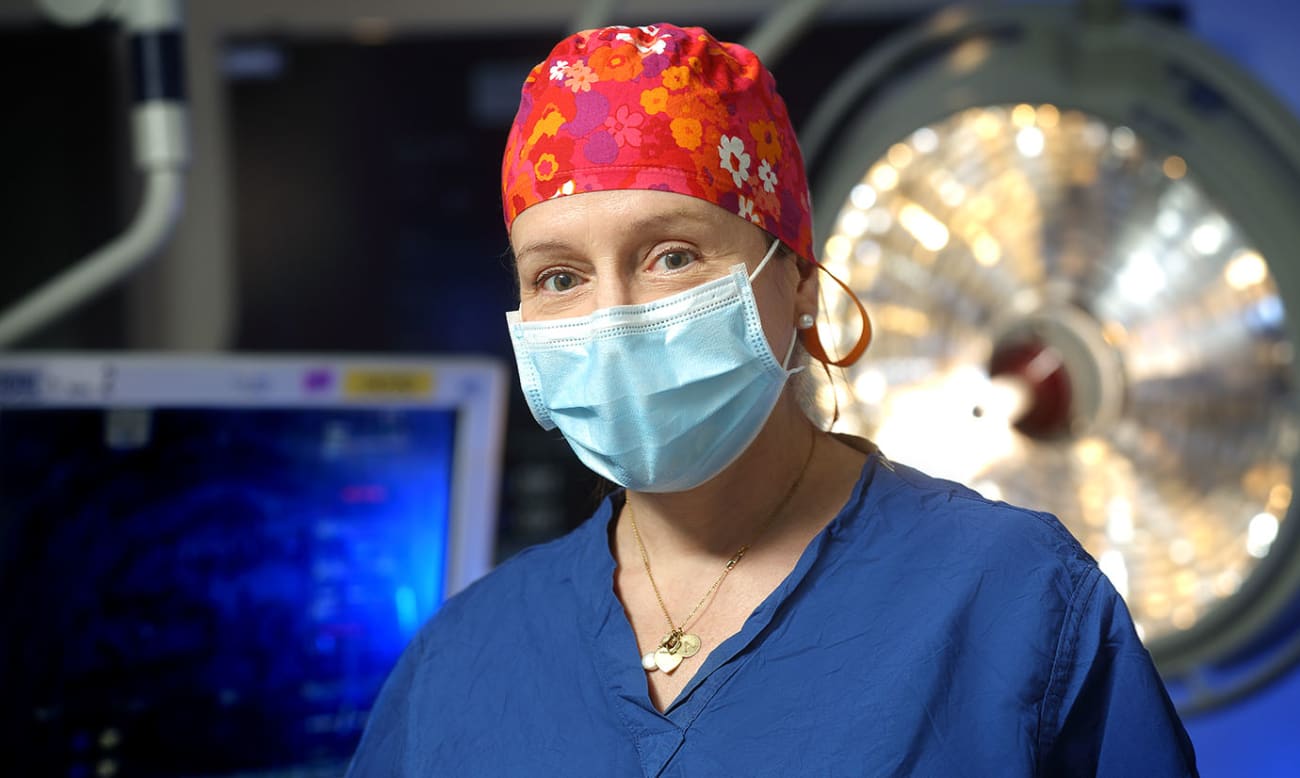 Advancing CHD Research
Because CHD affects a relatively small patient population, Mettler hopes to form clinical and research partnerships with other CHD programs. Kutty says the program also wants to expand its outreach to include pediatricians, community cardiologists and maternal-fetal medicine doctors and obstetricians throughout the region.
Additionally, the heart center has launched the Cardiovascular Analytic Intelligence Initiative, directed by Cedric Manlhiot, which uses artificial intelligence and machine learning tools to turn real-time clinical data into models that can help predict patient outcomes. "Our goal is to find better ways to utilize data and design solutions for important clinical problems, which in turn are directly evaluated at the physician and patient level," Kutty says.
Other research efforts will focus on new methods of predictive analytics technology to help tackle various cardiovascular problems, as well as innovative methods to assess heart function and evaluate outcomes in children and adults with CHD.
 PUBLISHED IN DOME MAY/JUNE 2020