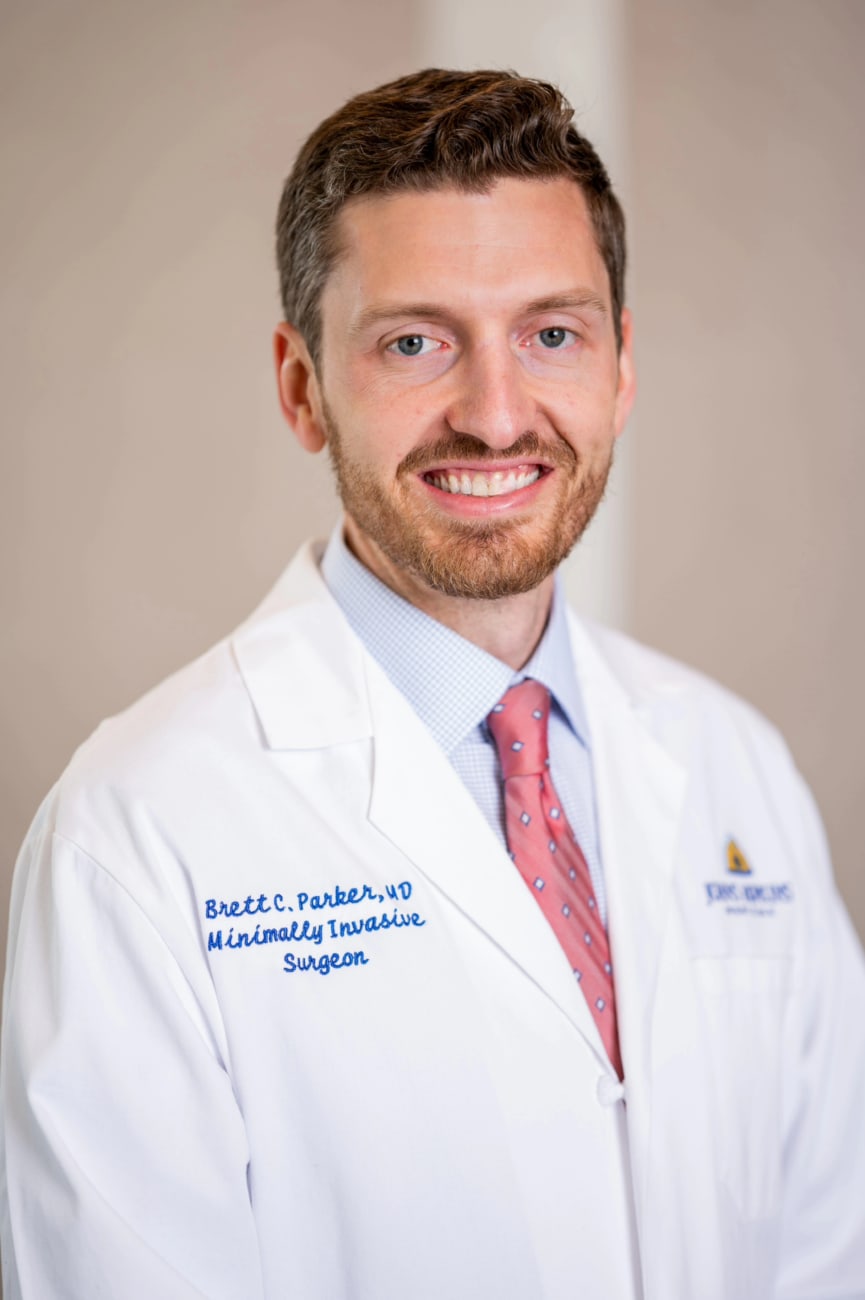 The surgical community first began offering transoral incisionless fundoplication (TIF) as a minimally invasive alternative to traditional surgeries that wrap part of the stomach around the lower part of the esophagus, recreating an anti-reflux flap valve for patients with persistent symptoms of gastroesophageal reflux disease.
But they soon noticed that some patients needed to go back on anti-reflux medications, and the outcomes weren't as robust as other surgeries for heartburn, says gastrointestinal and foregut surgeon Brett Parker. The reason? Most patients who have such symptoms also have a missed hiatal hernia, a condition in which the stomach protrudes into the chest, causing heartburn and reflux.
Enter the combined TIF, or cTIF. During the two-part procedure that has been offered at Johns Hopkins, surgeons first fix the hernia either laparoscopically or robotically. Then, during the same operation, they use an endoscope to insert a device through the mouth for the TIF portion, to re-create the gastroesophageal flap valve. Most patients stay in the hospital for one night to ensure they can stay hydrated, and go home the next day. From there, they follow a graduated diet of liquids and then soft foods for a couple weeks. By the time Parker sees them for a follow-up visit at three weeks, he says, most are eating solid foods again. Johns Hopkins is among the highest-volume centers in the mid-Atlantic region for the operation.  
At Sibley Memorial Hospital, Parker has been performing the procedure alongside gastroenterologist and endoscopy director Olaya Brewer Gutierrez, who has an interest in heartburn. Parker fixes the hernia, Brewer starts the endoscopy, and together they complete the TIF.
"It's a true joint effort between GI and surgery, which benefits the patient the most, because there is so much overlap in that population," Parker says. "The more we talk to one another, the better the patients are going to do."
Because the procedure is still relatively new (Sibley has offered it since 2020), Parker and colleagues are actively participating in a national TIF registry, in which several institutions across the country are contributing data to monitor outcomes from the procedure. Early data from the TIF registry group demonstrate that 216 patients who underwent cTIF had symptomatic and objective improvement of refractory GERD six months following the procedure. "The idea is that we're going to continue to follow these patients over the next several years, and then have data to compare to other, more well-established anti-reflux techniques to see which patient population benefits most."
Not all patients qualify for the cTIF procedure, Parker says, such as those who have severe disease like erosive esophagus or dysplastic Barrett's esophagus. Patients are given a complete foregut workup to determine the most appropriate treatment or procedure.
"We offer every technique that exists, whether it be a bypass for an obese patient, a magnetic sphincter augmentation, the standard fundoplication or the cTIF," he says. "We truly just want what's best for the patient."