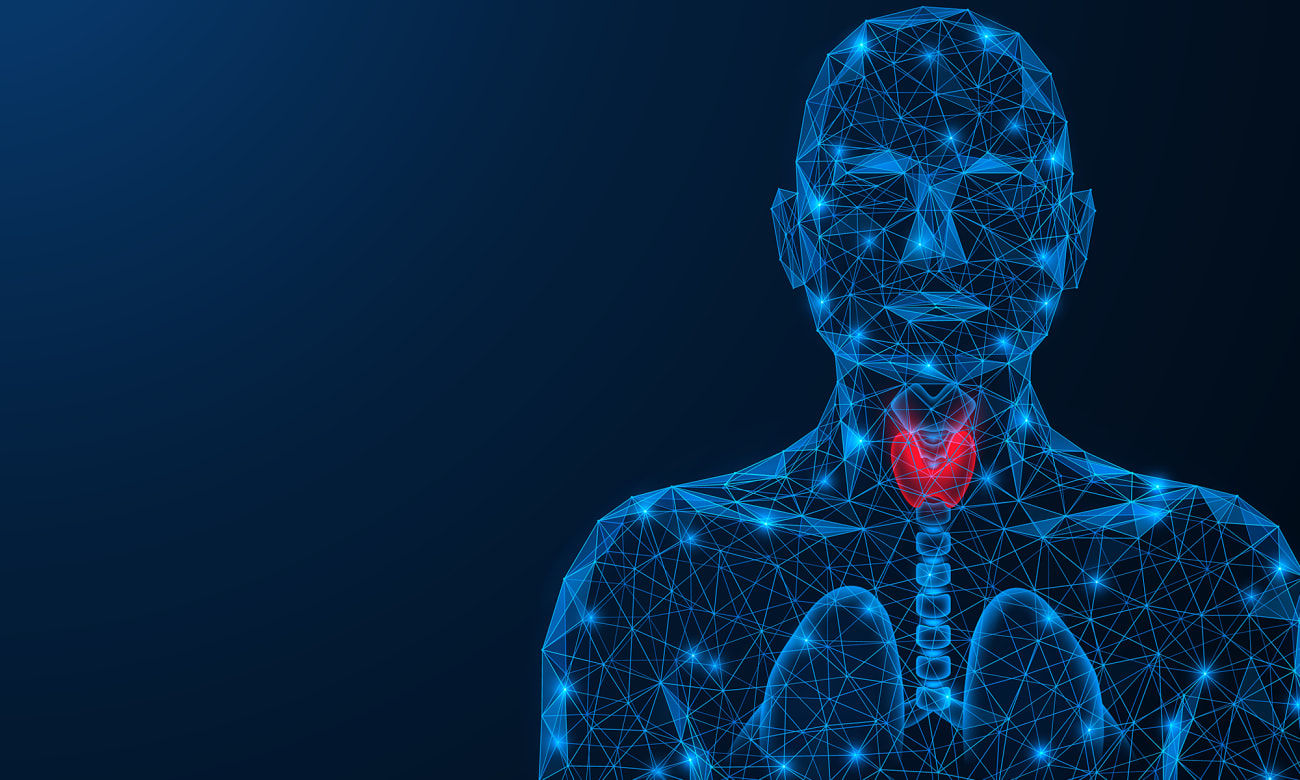 Johns Hopkins physician-researchers are leading studies on scarless thyroglossal duct removals and parathyroidectomies, fighting cancer by leveraging metabolism, intraoperative monitoring to protect the recurrent laryngeal nerve, and more.
Physicians in the Johns Hopkins Division of Head and Neck Endocrine Surgery in the Department of Otolaryngology–Head and Neck Surgery are advancing clinical research. The following are just a few advances taking place within the division.
Radiofrequency Ablation Shown to Decrease Volume of Benign Thyroid Nodules by 50%
Many patients have symptoms from enlarged thyroids. Historically, the only treatment option for these thyroid goiters has been surgery, but nonsurgical treatment is now possible. Recently, Johns Hopkins partnered with multiple academic medical centers to perform the largest study of radiofrequency ablation (RFA) of thyroid nodules in the United States to date. This study, published in Annals of Surgery, demonstrated the efficacy of RFA at treating benign thyroid nodules. The majority of patients in this study saw the volume of their nodules decrease by more than 50% after treatment, and the complication rate for this procedure was very low.
"With RFA, it is possible to shrink large nodules while preserving thyroid function, avoiding anesthesia and lowering the overall risks of treatment," says Johns Hopkins study leader Jonathon Russell, chief of the Division of Head and Neck Endocrine Surgery in the Department of Otolaryngology–Head and Neck Surgery.
Thyroglossal Duct Cyst Removals with No Visible Scarring
Remote-access surgeries have a newly expanded role in the neck. For patients with thyroglossal duct cysts (benign tumors of the central neck) who would prefer to avoid a scar, this may be an option, Russell says. These cysts are common in children and adults, and they can become infected or cause other problems when they swell. The traditional approach creates a visible incision that can be troublesome to some patients. Russell and his colleagues recently published in Head & Neck the first case series showing that a vestibular (transoral) approach could avoid any visible scarring while removing these cysts indefinitely. The case series, involving six patients with a mean age of 38 and a mean cyst size of 1.8 cm, reported no surgical complications or recurrences.
Intraoperative Monitoring to Protect the Recurrent Laryngeal Nerve
The recurrent laryngeal nerve is responsible for motion of the vocal folds. Therefore, good surgical dissection and nerve-monitoring technology are important during thyroid surgery to maintain good function of this nerve for good voice, swallow and airway function after surgery. Recently, Johns Hopkins head and neck endocrine surgeon Vaninder Dhillon and her colleagues published a review article in Frontiers in Endocrinology discussing the role of intraoperative nerve monitoring of the recurrent laryngeal nerve in thyroid surgery, a procedure that advances into endoscopic and percutaneous territory. This article discusses continuous and intermittent nerve monitoring as well as the current paradigms of their use. It also discusses the future of intraoperative nerve-monitoring technologies in scarless thyroid surgery and percutaneous approaches to thyroid pathology using radiofrequency ablation.
Patient Access Expanded for Safe, Scarless Parathyroidectomies
Parathyroid surgery can improve the quality of life in most patients, but it generally leaves a permanent scar in a very visible location. Previously, Jonathon Russell and his Johns Hopkins colleagues had demonstrated that thyroid surgery could be completed safely using a vestibular, or transoral, approach that does not leave a visible scar. In a recent international, multi-institutional case series of 101 patients who received transoral parathyroidectomies over two years, published in Surgical Endoscopy, Russell and colleagues showed that parathyroid surgery can also be completed safely through this route. Patients who need parathyroid surgery have a choice: to have a neck scar or not.
"Patients are often eligible for parathyroid surgery in a fashion that would make it difficult for the average person to know that surgery had ever happened," Russell says. "While avoiding a scar is not a priority for all patients, we have demonstrated that many patients can safely make the choice as to whether or not it matters to them."
To refer a patient to the Division of Head and Neck Endocrine Surgery, call 443-997-6467.