Orthopaedic Surgery
October 27, 2016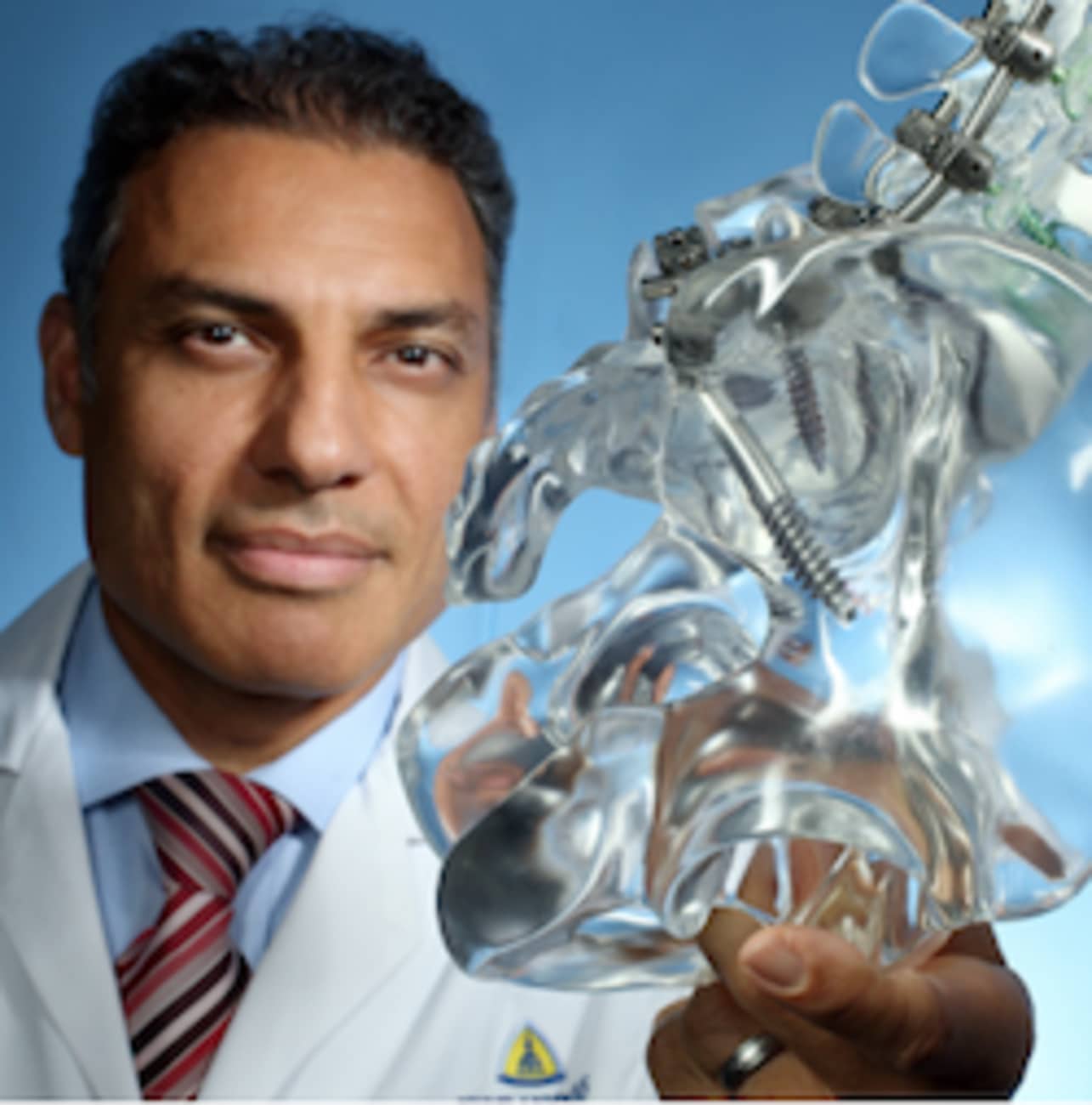 While many surgeons do not relish complicated revision surgeries for spinal deformity, Khaled Kebaish, director of the Spine Fellowship Program in the Johns Hopkins Department of Orthopaedic Surgery, welcomes the challenge. "I find revision surgery more interesting," he says. "It's not routine. There is a lot of planning you have to put into it. You have to think outside the box. Every case is different."
In one such case, Kebaish performed a patient's 40th spine surgery. "She had 39 surgeries elsewhere and was referred to us," he explains. "The main reason she had so many procedures is that they did not achieve good enough fixation in the pelvis. She could have been saved so many surgeries by simply having had this new, simple S2AI technique."
The revolutionary S2-alar-iliac (S2AI) technique was pioneered by Kebaish and Paul Sponseller, director of pediatric orthopaedic surgery at Johns Hopkins. The pelvic fixation technique involves advancing the screw through the ala, thereby providing more purchase across the sacroiliac joint and into the ilium. "Rather than just holding onto the sacrum, you now have a stable anchor in the ilium," Kebaish explains.
"This technique is more biomechanically stable than the old iliac technique," says Kebaish. "From start to finish, it is easier. Easy to connect. Easy to teach. It uses only one rod and no connectors. It is a much simpler way to reduce the deformity, correct the deformity, and then connect everything together. Additionally, we reduced the costs by using fewer implants and minimizing operative time."
Most importantly, complication rates are low with the S2AI technique. In a two-year follow-up study of more than 300 patients, Kebaish and colleagues found that "the revision rate was almost nonexistent, very low, especially revision related to the S2AI or the pelvic fixation, which in some studies was as much as 20 to 30 percent with the previous technique."
The Johns Hopkins technique not only makes pelvic fixation easier, but it also turns some "hopeless" cases into surgical candidates. Kebaish describes one such patient. "She had surgery elsewhere, and she was bent over, basically closer to the ground than upright. I did an osteotomy at L5, which you couldn't do effectively using the old technique. I reshaped the spine and straightened her spine using this technique. Today, I saw her, and she was crying and said, 'I'm just so happy.'
"She had been told she wasn't a candidate for surgery. She came to Johns Hopkins, and we did the surgery. I think that without this technique, we couldn't have achieved the same outcome," he says.
With the development of this technique, Kebaish and Sponseller have provided an elegant solution to a highly complex problem. Kebaish has taught surgeons across the country and around the world how best to use the S2AI technique.