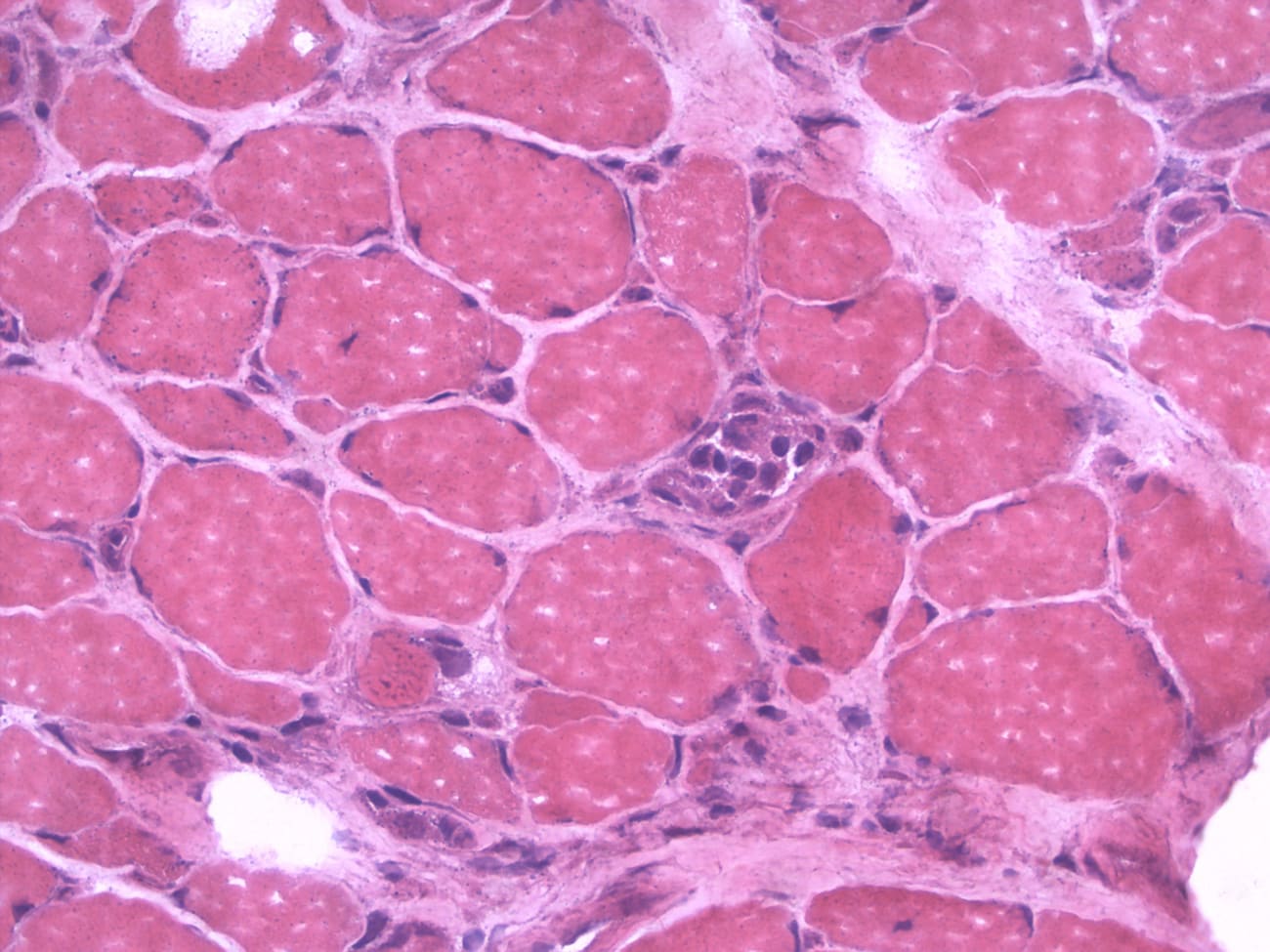 Lowering Cholesterol Levels in Patients with Immune-Mediated Necrotizing Myopathy
A small retrospective study* from Johns Hopkins shows that PCSK9 inhibitors can safely be used as statin alternatives to lower cholesterol in patients who develop the irreversible condition known as statin-associated immune-mediated necrotizing myopathy.
In general, immune-mediated necrotizing myopathy (IMNM) is a form of myositis that presents as weakness in the shoulder or hip girdle and proximal muscles of the limbs, often with drastically elevated levels of creatine kinase. Patients say it causes a deep aching pain or tightness in their muscles. Unlike most cases of myositis, IMNM involves few inflammatory cells. Instead, muscle cells continuously die and regenerate.
Some patients with IMNM produce autoantibodies against 3-hydroxy-3-methylglutaryl coenzyme A reductase (HMGCR), the enzyme inhibited by statins. Of those positive for the antibody, 63% have been exposed to statins, leading to a diagnosis of statin-associated IMNM.
Lisa Christopher-Stine is director of the Johns Hopkins Myositis Center and a co-discoverer of this version of IMNM, which was first described in 2010. She says its cause is poorly understood. "We call it 'statin-associated' instead of 'statin-induced' because we don't know what the mechanism is," she explains.
The exact incidence is also unknown, but current estimates suggest only 2 to 3 patients out of every 100,000 who take statins develop IMNM. (However, the development of other forms of myopathy is also possible.) From the initiation of statin therapy, onset of symptoms can take as little as a few weeks or months, but the average is three years. Symptoms continue even when statins are stopped, and the reintroduction of statins can lead to flare-ups. The only therapies currently available involve lifelong immune modulation or suppression, often in the form of IVIg.
Though very expensive and time consuming (eight to 20 hours of infusion/month), IVIg can be incredibly helpful in treating IMNM. However, it does nothing to treat patients' continued hyperlipidemia, leaving them as vulnerable as before to strokes and heart attacks.
PCSK9 (proprotein convertase subtilisin/kexin type 9) inhibitors, such as evocolumab and alirocumab, can lower serum cholesterol levels by enhancing the cellular uptake of LDL. Knowing that the drugs are often prescribed to patients with other statin sensitivities, Christopher-Stine and her colleagues wondered if they were safe for patients with IMNM. They searched the Myositis Center's database and found 122 anti-HMGCR-positive patients, eight of whom were receiving PCSK9 inhibitors as part of routine clinical care.
Standard data collected from the patients included serum creatine kinase levels and arm abduction/hip flexion strength measurements. The duration of follow-up after the initiation of PCSK9 inhibitors was three to 37 months, with an average of 18 months. By analyzing the data before and after treatment initiation, the researchers demonstrated that all eight patients tolerated the drugs without aggravating their myositis.
"Unexpectedly, we even had one patient who was able to stop taking his immunosuppressive medication after starting PCSK9 inhibitor treatment," says Christopher-Stine. "We'll need to do more studies to understand why."
"In the meantime, we hope this retrospective study will help patients access PCSK9 inhibitors to treat their hyperlipidemia," she says. "They're much more expensive than statins, but these patients have a testable condition that prevents statin use. And ultimately, the inhibitors are far cheaper than the financial and human cost of having a heart attack."