Erin Michos, MD, MHS
Associate Director of Preventive Cardiology
Johns Hopkins Ciccarone Center for the Prevention of Cardiovascular Disease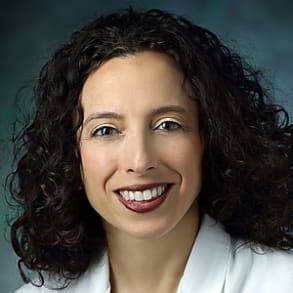 Dr. Erin D. Michos is an Associate Professor of Medicine within the Division of Cardiology at Johns Hopkins School of Medicine, with joint appointment in the Department of Epidemiology at the Johns Hopkins Bloomberg School of Public Health. She is the Director of Women's Cardiovascular Health and the Associate Director of Preventive Cardiology with the Johns Hopkins Ciccarone Center for the Prevention of Cardiovascular Disease.
She is a Fellow of the American College of Cardiology (FACC), a Fellow of the American Heart Association (FAHA), a Fellow of the American Society of Echocardiography (FASE), and a Fellow of the American Society of Preventive Cardiology (FASPC).
Dr. Michos has authored or co-authored over 400 manuscripts in peer reviewed journals and is an internationally known leader in preventive cardiology and women's health.
Her research focuses on (1) CardioObstetrics and cardiovascular disease in women  (2) physical activity and nutrition; (3) risk prediction for cardiovascular disease including the use of coronary artery calcium scores, markers of inflammation, and other biomarkers, (4) lipids and statin therapy, and (5) vitamin D and other supplements 
She is the co-Editor in Chief for the American Journal of Preventive Cardiology and a Guest Editor for the journal Circulation.
Dr. Michos completed medical school at Northwestern University in Chicago, IL, and then completed both her Internal Medicine residency and Cardiology fellowship at the Johns Hopkins Hospital in Baltimore, MD.  She also completed her Masters of Health Science degree in Cardiovascular Epidemiology at the Johns Hopkins Bloomberg School of Public Health.
As part of the Johns Hopkins cardiology faculty, her clinical duties entail seeing patients in the Preventive Cardiology outpatient clinic and the Echocardiography lab. She also teaches students at the Johns Hopkins University Medical School and the Bloomberg School of Public Health. 
Dr. Michos is the recipient of independent investigator funding through the National Institutes of Health (NIH) R01 mechanism.  She is a co-investigator in the NIH-funded Multi-Ethnic Study of Atherosclerosis (MESA) and Atherosclerosis Risk in Communities (ARIC) studies.  She is the Training Director for three AHA Strategic Focused Research Networks (SFRN) at Johns Hopkins in Women's Cardiovascular Health, Cardiometabolic Disease, and Health Technology.  Dr. Michos was the 2019 recipient of the David Levine Mentoring award presented by the Johns Hopkins Department of Medicine.
Dr. Michos also is a contributing author for the US News and World Report Health Section and for the Johns Hopkins Medicine's Healthy
---