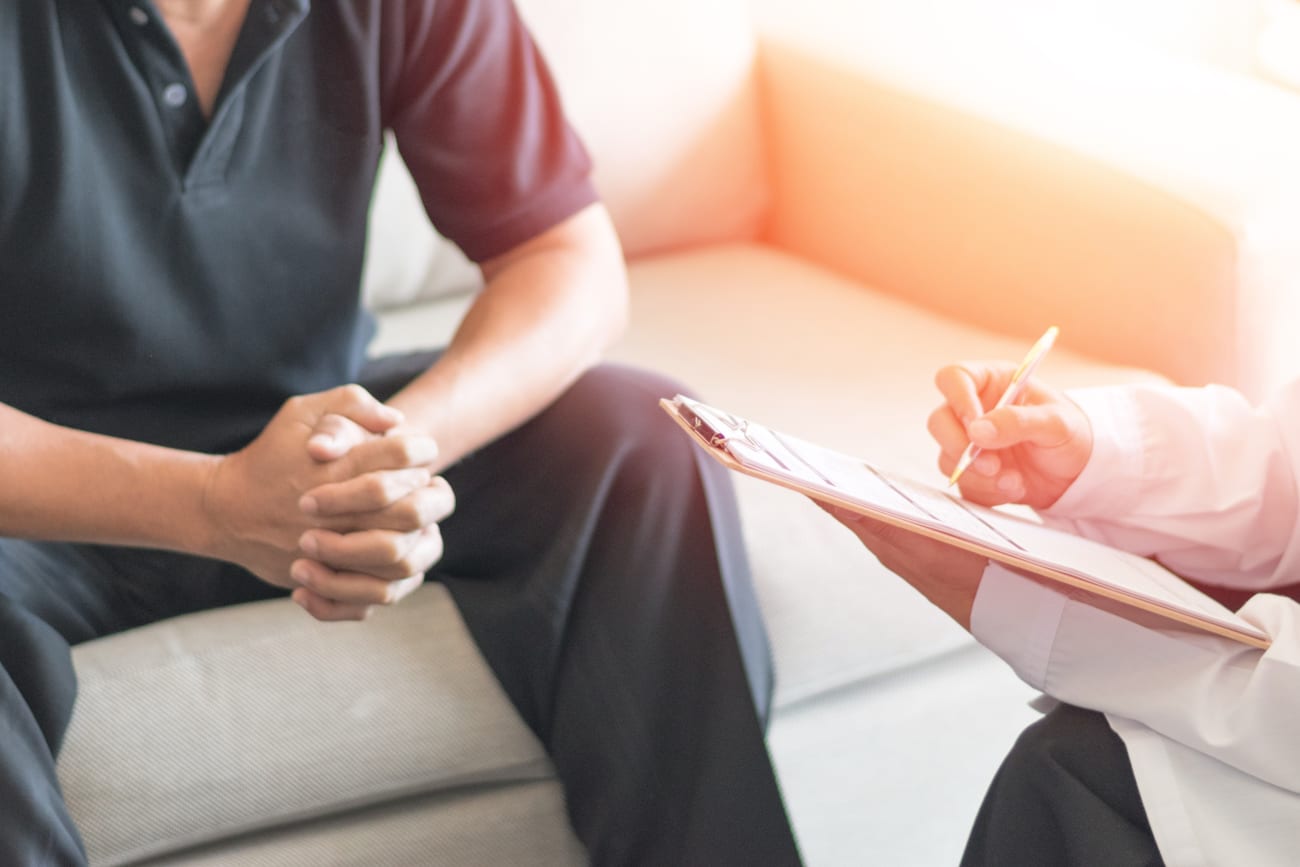 Proton Therapy FAQs for Prostate Cancer
The outlook for patients diagnosed with prostate cancer has improved in recent years. Through advancements in technology, imaging, and treatment delivery, researchers have found ways to better characterize tumors and tailor treatments to each patient. No longer are there one size fits all treatment solutions. The multidisciplinary prostate cancer treatment team can discuss care strategies that might include surgery, hormone therapy, chemotherapy, immunotherapy, and various forms of radiation.
Radiation is a powerful tool in the treatment of prostate cancer. It is a curative alternative to surgery or may be indicated after surgery to treat patients with high risk features or biochemically recurrent prostate cancer in the adjuvant or salvage setting. It can also used to treat oligometastases sites of spread or considered to retreat areas of previous disease.
Why Radiation Therapy for Prostate Cancer?
Radiation therapy kills cancer cells and surrounding tissues using high-energy photons or particles.  Radiation therapy may be used:
To eradicate early-stage cancers confined to the prostate gland
As a treatment to prolong survival for men with advanced or recurrent prostate cancer
Alone or in combination with other treatments, such as androgen deprivation (i.e. hormone therapy), in more advanced cancers that may have spread beyond the prostate
As a way to slow cancer growth and palliate pain or bleeding in cases of advanced cancer
Radiation therapy can be delivered in a variety of ways, including external beam therapy (such as intensity modulated radiation therapy (IMRT), proton therapy, or stereotactic body radiation therapy (SBRT), brachytherapy (using radioactive seeds or catheters), and radium-223 (a systemic radiopharmaceutical treatment).
Share Fast Facts
Why proton therapy for prostate cancer? Get the answer from @HopkinsKimmel and @brady_urology experts. Click to Tweet
Why Proton Therapy for Prostate Cancer?
Investigators at the Johns Hopkins Proton Therapy Center have found success in the utilization of proton therapy for prostate cancer in both common and uniquely challenging clinical scenarios.
Proton therapy is an FDA-approved form of radiation treatment that utilizes focused beams of proton particles to treat cancer. Unlike conventional photon (x-ray) therapy, such as intensity modulated radiation therapy (IMRT), protons have no exit dose after their maximum dose dispersal, known as the Bragg peak. For prostate cancer, this allows for improved tumor targeting while reducing the dose exposure to the surrounding normal tissue and organs at risk, mainly the rectum, bladder, bowel, femoral heads, penile bulb, and soft tissues. Considering the excess radiation dose to normal tissues from IMRT, proton therapy can also reduce the risk of treatment related secondary malignancy, which may be particularly relevant for younger men electing to undergo radiation treatment. It is non-invasive, completely outpatient-based, and generally very well tolerated. During treatment, patients may often continue to work, exercise, and perform their other routine daily activities without restriction.
Current National Comprehensive Cancer Network (NCCN) Clinical Practice Guidelines in Oncology note that proton therapy is an effective and acceptable form of external beam radiation. To date, most studies of proton therapy for prostate cancer have shown that photon and proton therapy are equally effective at eliminating prostate cancer. Two national trials comparing the toxicity profiles of IMRT and proton therapy are ongoing, including the COMPPARE (COMparative Study of Outcomes with Proton and Photon RAdiation in PRostate CancEr) study (www.comppare.org and https://clinicaltrials.gov/ct2/show/NCT03561220), which is available at the JH PTC.
The historical form of proton therapy known as passive scattering has been successfully utilized for the definitive treatment of intact prostate cancer for several decades with a low incidence of side effects, however it has been rarely used in more challenging clinical scenarios such as the treatment of pelvic lymph nodes for patients with high risk prostate cancer, or post-operative adjuvant or salvage therapy to the prostate bed for patients with biochemical recurrence after a radical prostatectomy. The more modern form of proton therapy, known as pencil beam scanning, has facilitated treatment of complex shapes and targets and revolutionized the utilization of proton therapy for challenging sites across the body. With this pencil beam scanning technology as well as novel image guidance tools, proton therapy treatment at the Johns Hopkins Proton Therapy Center is amongst the most advanced in the world.
Most men who are candidates for IMRT, SBRT, or brachytherapy, for prostate cancer will also be candidates for proton therapy. These include men with:
Newly diagnosed prostate cancer
Biochemically recurrent prostate cancer
Lymph node positive prostate cancer
Post-operative prostate cancer needing adjuvant therapy
To review representative prostate cancer cases that were treated at our center to serve as an example of the potential of proton therapy, please see Proton Therapy Case Studies for Prostate Cancer.
Proton Therapy Prostate Cancer Experts
References:
Liu Y, Patel SA, Jani AB, Gillespie TW, Patel PR, Godette KD, Hershatter BW, Shelton JW, McDonald MW. Overall Survival After Treatment of Localized Prostate Cancer With Proton Beam Therapy, External-Beam Photon Therapy, or Brachytherapy. Clin Genitourin Cancer. 2020 Aug 28:S1558-7673(20)30199-3. doi: 10.1016/j.clgc.2020.08.009. PMID: 32972877.
Barsky AR, Carmona R, Verma V, Santos PMG, Both S, Bekelman JE, Christodouleas JP, Vapiwala N, Deville C Jr. Comparative Analysis of 5-Year Clinical Outcomes and Patterns of Failure of Proton Beam Therapy (PBT) versus Intensity-Modulated Radiotherapy (IMRT) for Prostate Cancer in the Postoperative Setting. Pract Radiat Oncol. 2020 Nov 23:S1879-8500(20)30271-X. doi: 10.1016/j.prro.2020.11.005. PMID: 33242634.
Deville C Jr, Hwang WT, Barsky AR, Both S, Christodouleas JP, Bekelman JE, Tochner Z, Vapiwala N. Initial clinical outcomes for prostate cancer patients undergoing adjuvant or salvage proton therapy after radical prostatectomy. Acta Oncol. 2020 May 18;:1-5. doi: 10.1080/0284186X.2020.1766698. [Epub ahead of print] PubMed PMID: 32421456.
Santos PMG, Barsky AR, Hwang WT, Deville C, Wang X, Both S, Bekelman JE, Christodouleas JP, Vapiwala N. Comparative toxicity outcomes of proton-beam therapy versus intensity-modulated radiotherapy for prostate cancer in the postoperative setting. Cancer. 2019 Dec 1;125(23):4278-4293. doi: 10.1002/cncr.32457. PubMed PMID: 31503338.
Deville C Jr, Jain A, Hwang WT, Woodhouse KD, Both S, Wang S, Gabriel PE, Christodouleas JP, Bekelman J, Tochner Z, Vapiwala N. Initial report of the genitourinary and gastrointestinal toxicity of post-prostatectomy proton therapy for prostate cancer patients undergoing adjuvant or salvage radiotherapy. Acta Oncol. 2018 Nov;57(11):1506-1514. doi: 10.1080/0284186X.2018.1487583. Epub 2018 Jul 20. PubMed PMID: 30028227.
Bryant C, Smith TL, Henderson RH, Hoppe BS, Mendenhall WM, Nichols RC, Morris CG, Williams CR, Su Z, Li Z, Lee D, Mendenhall NP. Five-Year Biochemical Results, Toxicity, and Patient-Reported Quality of Life After Delivery of Dose-Escalated Image Guided Proton Therapy for Prostate Cancer. Int J Radiat Oncol Biol Phys. 2016 May 1;95(1):422-34.
Fang P, Mick R, Deville C, Both S, Bekelman JE, Christodouleas JP, Guzzo TJ, Tochner Z, Hahn SM, Vapiwala N. A case-matched study of toxicity outcomes after proton therapy and intensity-modulated radiation therapy for prostate cancer. Cancer. 2015 Apr 1;121(7):1118-27. doi: 10.1002/cncr.29148. PubMed PMID: 25423899.
Deville C. Chapter 46. Proton Beam Therapy. In: Mydlo JH, Godec CJ (eds.) Prostate Cancer: Science and Clinical Practice, 2nd ed. Elsevier Press, 2015.